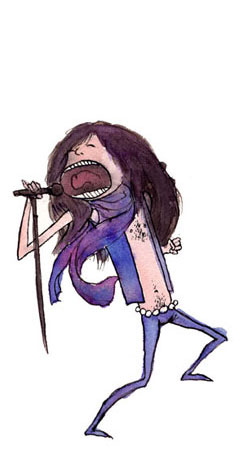 Carignane
You're like an aging rebellious rock star. No one can question your work ethic, Grampa, but possibly your temperament hasn't mellowed. As the leader of the Central Valley ensemble, you rarely find time to pursue solo projects. Undeniably, you're a workaholic; nobody was involved in as many smashing productions as you, during your heyday in the late 1970s.

Crowds enjoy your colorful costumes and raspy tannic edge, but your penchant for the jug-bunch has gotten you in trouble more than a few times. Your unwillingness to play outside of warm dry venues adds to your down-home reputation, but seriously limits your marketability in the up-market yuppie world of today. For the most part, you continue to play the Central Valley bar scene. It's a shame we haven't had many opportunities to see how you perform on the broader stages of America. You wouldn't be the first geriatric rocker to make a comeback in a new group with a "Euro-image".

Appellations Growing Carignane Grapes
Appellations producing the most Carignane wines:
Carignane (aka. Carignan, Carinena, Tinto Mazuela)

Thriving in warm climates, Carignan was until the late 1970s, the most widely-planted red variety in California. Today, this high-yielding, thick-skinned grape is still important for the blended jug wines of California's hot, dry Central Valley, and in France's Midi, where it is usually the main component in basic 'vin de tables'.

Carignan is one of the world's most prolific wine varieties. In both the Golden State and in its home territory (the Mediterranean coastal regions of Spain and France), its role has been similar – to produce oceans of simple, everyday wine. Hailing from Aragon, Spain, this grape is capable of deeply-colored, extracted and tannic wines of considerable alcohol. It is a late-budder and does not ripen until late in the season. Highly prone to mildew disease, it requires long, dry growing conditions.

Carignan rarely enjoys a marquee presence on a label as a varietal wine. Instead, its principal use is as a blending component with other, more anemic, hot-climate varieties, like Grenache and Cinsault, which typically lack the deep pigment and extract which Carignan brings to the blend.

St. Helena ~ Napa Valley
A 30 Year Education in the Terroir of St. Helena: An Interview with Bill Collins
By
Alan Goldfarb