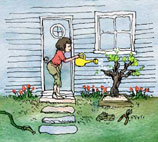 With more than a million residents, the suburban sprawl of Contra Costa County is always a threat to this region's long history of viticulture. Located below Suisun Bay and just east of the Oakland Hills, it's no wonder this region has seen much of its vineyard land transformed into suburbia. Thankfully, not all the vineyards have succumbed to the pressures of urban development as the county is still home to some of California's premiere old vine Zinfandel vineyards. Thanks to producers such as Cline, the area has also made a name for itself based on Rhone varietals such as that winery's critically acclaimed Ancient Vines Carignane and Small Berry Mourvedre.

Vineyards in the region benefit from large diurnal temperature fluctuations from cool coastal bay winds scurrying through the county on a west to east journey to the Central Valley. The vineyards are also comprised predominantly of old vines which have escaped the scourge of Phylloxera as the deep sandy soils provide an inhospitable environment for the louse. This soil also forces the vines to dig deep to find nutrients.

While wines that carry county appellation designations rarely have a defining terroir character, this cannot be said of Contra Costa County. The earthy, dusty and leathery quality of the region's big reds is evidence of a definitive Contra Costa style.

Bi-State Upper Hiwassee Highlands an AVA
By
Roger King
August 6, 2014
In the southern Blue Ridge Mountains of North Carolina and Georgia vineyards are small and few, yet the establishment of the Upper Hiwassee Highlands could bring much more.  [>] continue

Remote Manton Valley New California AVA
By
Roger King
July 31, 2014

WAWGG Banquet Explores Washington State Terrior
By
Roger King
February 2, 2014

Taking Focus on Appellation
By
Clark Smith
December 9, 2013

A Day in the (Rutherford) Dust
By
Barbara Trigg
August 2, 2013

Whitehall Lane Winery, A 20 Year Story of Vineyards
By
Roger King
July 15, 2013

Embracing Virginia's Terroir
By
Richard Leahy
June 2, 2013

Shake Ridge Ranch - Gem of the Sierra
By
Roger King
May 16, 2013