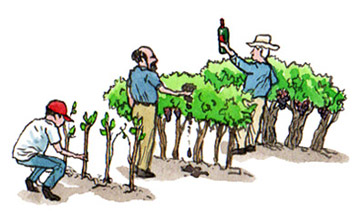 St. Helena ~ Napa Valley (AVA)
A 30 Year Education in the Terroir of St. Helena: An Interview with Bill Collins
"The whole viticultural scene has changed enormously. It's been an education. As far as terroir was concerned, nobody spoke in those terms back then."
by Alan Goldfarb
November 3, 2006
---
<!>
Alan Goldfarb (AG):
Why did you buy vineyard land on Big Tree?
Bill Collins (BC):
As an investment. I bought it in two increments because we couldn't afford to pay for it all at once.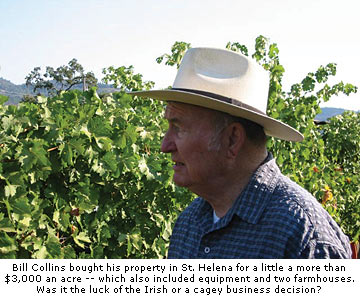 AG:
Forty years ago, I bet you paid $1,000 an acre?
BC:
Actually, it was a little more than $3,000, but that included farm equipment and two small farmhouses. It was a very auspicious time to buy vineyard land. This was long before the
Napa Valley
became as popular as it is now.
AG:
How has the vineyard changed in all these years?
BC:
We replanted the whole vineyard starting in 1998 and finished in '03 except for the old vine
Zinfandel
.
AG:
What clones did you use?
BC:
When it was originally planted, this clone thing was not very important. Originally, it was on AXR-1 now we have 1103P, 110R. The Cab is planted to clones 4, 337, 8, and 15. The Merlot is on 181, the Franc 312, and the Aglianico is on 110R.
AG:
How did you come to plant Aglianico? I don't know anyone outside of Campania, Italy who grows that variety.
BC:
We were in business with a big Italian electronics company and the Italian Grape Commission invited us to pour wines at the Rainbow Room in New York. One of the people there was from Lodi (in the Lombardi region of Italy) and I tasted his wine. I thought it was a Cab and it had a wonderful nose and I thought, "Oh, boy, we're in trouble." It was Aglianico.
UC Davis had two vines and I planted a half-acre and now have replanted and we have a little more than one acre.
AG:
I know Chris Dearden across the road at Benessere makes an Aglianico from your grapes. Is there a future for Aglianico in California?
BC:
Yes, I think so. What's interesting is that in the early 1980s when we started this, there were only a couple of people making Aglianico in Italy. I think it would be a niche wine, no question about it. Unfortunately, it's a rather late maturing grape and you might get caught with the rain. But it's got potential.
AG:
Did you know the terroir of your vineyard when you bought it?
BC:
No, we just enjoyed the Napa Valley wines. When we started, as the saying goes, "You had to speak Spanish to grow grapes and be Italian to sell it." I was referred to as "that crazy damned Irishman."
The whole viticultural scene has changed enormously. It's been an education. As far as terroir was concerned, nobody spoke in those terms back then.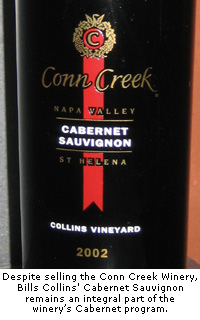 AG:
What have you learned about your terroir?
BC:
Well, it's very dependable, for a start. Of all the varieties and all of the blocks in 40 years, we've never failed to mature the grapes to the desired sugar levels. So even in poor years, this vineyard always manages to mature its grapes.
AG:
Even in 1972, when almost the entire crop was lost to torrential rains?
BC:
Even in '72. I remember it very well. We had this planting which we called
Barbera
and that grape was the last to mature and it would mature at 22.5 (Brix, a measure of sugar). We had just finished delivering the last load to the wineries and it started to rain.
AG:
You got it all in?
BC:
That's right. Our Merlot, for instance, matures early. We picked it last week (second week of September) and it was in the 25 range. This is extremely rocky soil and we put in drain tiles. (Collins' vineyard sits about 60 feet above the Napa River.) We're in a notch here and we get much more rain than the city of St. Helena (about three miles south). The vineyard not only matures the grapes as far as sugar goes, but we also have good acid and good color.
AG:
Why do you think that's so?
BC:
It's the combination of soil and climate. The whole vineyard is in the sunshine, and frequently has very cool mornings and very warm afternoons. The vines grow healthier and better in this vineyard than in the loamy soils in the vineyard in Yountville.
I think it's a combination of soil, drainage, and the general location within the valley where we get a lot of rain in the wintertime. It's reasonably cold in the wintertime. In the summertime, it's cool at night and gets into the mid-90s most days.
AG:
What are the soil types?
BC:
Bale gravelly loam.
AG:
Could you compare it to the vineyard in Rutherford that you've been leasing?
BC:
It's all to Cabernet. It's slower to mature. It's colder here than in Rutherford (about eight miles south), but you rarely have to fight a frost. The quality of the Cab from this vineyard (in St. Helena) is superior to
Rutherford
.
We made Cabernet also from Yountville and we had better color (from the St. Helena vineyard). With the tannins and flavors, we make a better wine. I attribute it to the soil and to the combination of the weather. Rocky, old bale soil produces a better Cab. It's a big, strong Cab that tends to have a chocolate kind of a flavor, and it lives a very long time.
AG:
So, do you consider yourself good or lucky that you bought the St. Helena property in '66?
BC:
Lucky as hell. It's known as the luck of the Irish. We've tried to take very good care of this vineyard. For some reason, the vines are very healthy and that's not necessarily the situation in Rutherford or Yountville.
The winemakers are the ones who will give you all the fancy terms, but when it comes to wine choice, the Cab from this vineyard would be chosen more frequently than others, say, in Rutherford.
~ Alan Goldfarb, Regional Correspondent – Napa Valley
To comment on Alan Goldfarb's writings and thoughts, contact him at
a.goldfarb@appellationamerica.com