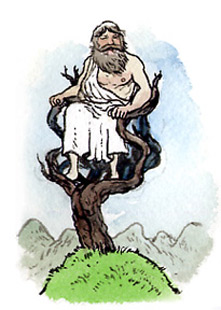 Aglianico
You rule southern Italy with quiet strength, from a knarly throne perched high in the hills of Campania. While you choose to govern with the humility one would expect from an Oenotrian deity, we shouldn't mistake this for a demure personality. For those poor impetuous souls that have dared to imbibe your vinous wares before they were ready, your vengeance has been a tannic bolt aimed at their palate.

Appellations Growing Aglianico Grapes
Appellations producing the most Aglianico wines:
Aglianico

Along with Sangiovese and Nebbiolo, Aglianico is considered one of Italy's three noble grape varietals. Aglianico was originally transplanted from Greece to southern Italy in the 7th century B.C. The early Greeks recognized that the volcanic soils and climatic conditions of the region were ideally suited to viticulture. Despite the early plantings of Aglianico in Campania and further south in Basilicata, until very recently, Aglianica has been overlooked by the international wine buying public. However, a renewed interest and investment in south Italian wines has brought a new level of recognition to Aglianico. The best expressions of the grape come from Campania's Taurasi DOCG and Basilicata's Aglianico del Vulture DOC. The former are often referred to as the "Barolo of the South".

The wines themselves are extremely high in both tannins and acidity. Often closed in youth, with time, Aglianico develops rich game, earth and dark fruit qualities. In Taurasi, the wines must be aged for a minimum of three years before release and are allowed up to 15 percent of other grapes, such as Piedierosso and increasingly Merlot, in order to soften the wine's rougher edges.

The limited acreage devoted to the Aglianico grape in California is centered around Paso Robles and Amador County. However, given the renewed interest in Aglianico based wines in Italy, it should only be a matter of time before Cal-Ital producers begin to plant more significant acreage of this grape in the state.

Texas Hill Country
From Tuscany to Provence in Texas Hill Country
By
Eleanor & Ray Heald

St. Helena ~ Napa Valley
A 30 Year Education in the Terroir of St. Helena: An Interview with Bill Collins
By
Alan Goldfarb