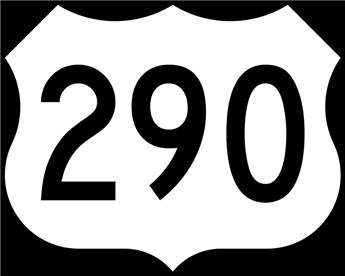 From Tuscany to Provence in Texas Hill Country
by Eleanor & Ray Heald
June 12, 2009
---
Here are a trio of winery snapshots from
Ray and Eleanor Heald's Excellent Texas Hill Country Wine Tour.
Grape Creek Vineyards
, originally founded as a 20-acre vineyard by Ned Simes from Houston in the mid 1980s, has witnessed recent unique development. Artifacts such as arrowheads and spearheads offer evidence that in the distant past, the property was a Comanche campground. Current owner Brian Heath, purchased the property and winery from Simes' heirs in early 2006. Although the Comanches are one of the most important native American cultures from Texas, their history was farthest from Heath's mind.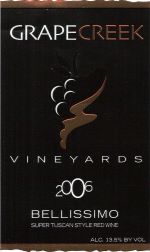 He rebuilt the winery in the style of a Tuscan Villa and erected a large sign on U.S. Highway 290 declaring: "Tuscany in the Texas Hill Country". An ambitious program of vineyard retrofitting and new plantings (Montepulciano, Aglianico, Chenin Blanc and Petit Verdot) significantly improved Grape Creek Vineyards wines, now made by winemaker Jason Englert, a Texas Tech University biology major with a chemistry minor who was first hired to run the lab at Llano Estacado winery in Lubbock (Texas High Plains AVA).
"With Chenin Blanc (the first time in 20 years that it was planted in Texas), we'll make some still wine, but the long-term plan is to make sparkling wine," Englert predicts. Heath adds, "Since the Fredericksburg climate is subtropical with cool winters and hot summers, current thinking is that Fredericksburg has the proper climate for Mediterranean varieties and (that's) the reason we planted Montepulciano and Aglianico."
Projected from the 2009 harvest are 8,500 cases, with the winery eventually maxing out at 10,000 to 12,000 cases sourced from estate and contracted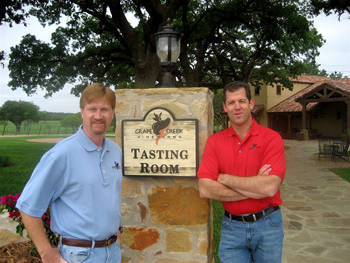 grapes outside the Fredericksburg AVA, but within Texas Hill Country and others in the Texas High Plains AVA.
Soil research in the Fredericksburg AVA within the Hill Country AVA indicates four different soil compositions, dominated by 90 percent clay loam with the remainder principally loam, silty clay and clay. Bedrock is found at depths greater than 6.5 feet with sandy clay loam at depths ranging between 6.5 and 8.2 feet. "The region," says Englert, "has a good water table and annual average rainfall of 30 inches, yet we still irrigate as needed."
To date, Grape Creek Vineyards has not bottled any wines using the Fredericksburg AVA. "We use Texas and Texas High Plains AVAs," Heath notes. Among the most promising Bordeaux varietal blends is Mosaic 2006, which is 40 percent Cabernet Sauvignon, 35 percent Merlot and the balance Cabernet Franc. It's mellow with sufficient spine and appealing mouthfeel.
Opening its doors with its first vintage in 2004, Torre di Pietra Winery
(also with a Tuscan theme) has more grapes planted in Gillespie County of Texas Hill Country than any other producer.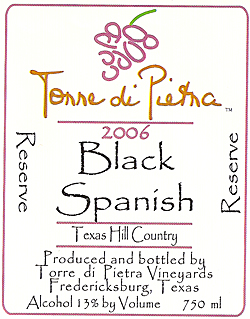 Although there are 11 planted acres at the winery's U.S. Highway 290 location, another vineyard in the village of Doss (about 40 miles away) supplies Torre di Pietra, to help with its current annual production of 5,500 cases.
"Doss is a great location to grow grapes," comments owner/winemaker Ken Maxwell, "yet it's not a good spot for a winery and tasting room. If you study the demographics of the tourists who come to Fredericksburg, it's those who buy wine – mainly females with upper-bracket incomes and higher education from larger metropolitan areas (Dallas, Fort Worth, Houston, Austin and San Antonio). Fredericksburg built a reputation as a wonderful place to come for a women's weekend and has more B&Bs than any other Texas city. According to an Orbitz survey, this has raised the Texas Hill Country AVA to be the second leading wine destination in the U.S. after California's Napa Valley."
Maxwell, whose first career was in the semiconductor business, says "The challenge of potential expansion of the Texas wine industry is insufficient vineyard plantings. Before my wife and I started a winery, we wanted to be certain that we had our own source of Texas-grown grapes. The Fredericksburg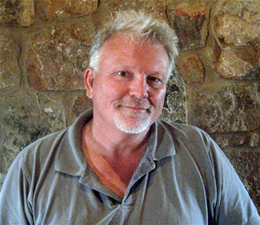 area is a hotbed for Pierce's Disease (caused by a strain of bacteria spread by vine xylem-feeding leafhoppers, known as sharpshooters)." Thus decisions were made to plant Pierce's Disease resistant Cynthiana (aka Norton), Black Spanish (aka Lenoir) and Blanc du Bois on the Fredericksburg site and
vinifera
varieties (Zinfandel, Primitivo, Petite Sirah, Cabernet Sauvignon, Malbec, Mataro, Touriga Nacional and Moscato) in Doss. Because of a sandy, clay loam soil composition, and high chalk and limestone content, the preferred rootstock is 1103P for vines grown on bilateral cordon and vertical shoot position (VSP) trellis.
Torre di Pietra wines, sold principally through the tasting room, use Texas Hill Country AVA or Texas High Plains (from growers in this AVA). Wines are styled as fruit forward. Blanc du Bois 2008 has gobs of baked green apple and clover honey characteristics. Medium long, it finishes clean and bright. Sangiovese 2005 is all about red berry fruits with slight leather and tobacco accents. Mataro 2006, the best seller of all Torre di Pietra wines, sports cherry and pomegranate notes. Intensely colored Black Spanish 2006 is a generously structured wine that finishes mellow with complex flavors.
If Grape Creek is Tuscany in Texas Hill Country, Becker Vineyards is like a respite in Provence, France.
To create this feel, owners Bunny and Dr. Richard Becker planted 10,000 lavender plants spanning three acres behind their winery, founded in 1995 (first vineyard planting in 1992), just off U.S. Highway 290. There, 40 acres of
vinifera
varieties,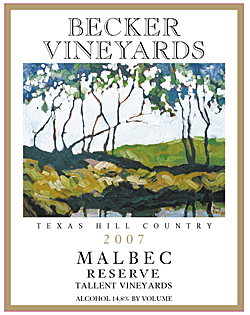 including Sauvignon Blanc, Syrah, Petite Syrah, all five Bordeaux varieties (Cabernet Sauvignon, Merlot, Cabernet Franc, Malbec, Petit Verdot) and Ruby Cabernet have been planted in a mix of deep sand and granite soils at 1,500 feet elevation. Chosen rootstocks include 5C and 5BB. White varieties are bilateral cordon pruned on a VSP trellis. Reds, however, are cane pruned for bud fruitfulness.
Plans to ramp up production to the 2009-anticipated production level of 75,000 cases of 30 different wines began as far back as 1997 when the Beckers purchased the 29-acre Bluebonnet Hills Vineyards in Ballinger, TX. Varieties include Sauvignon Blanc, Chenin Blanc, Gewürztraminer, Riesling, Chardonnay, Scheurebe, Müller-Thurgau, Cabernet Sauvignon and Merlot. Contracts with 14