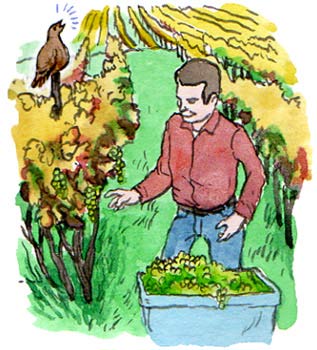 Understanding the Terroir of the Santa Cruz Mountains: An interview with Fernwood Cellars' Matt Oetinger
"With the term Santa Cruz Mountains, people have at least a vague understanding of where it is, on a global level."
by Laura Ness
November 3, 2006
---
<!>
Laura Ness (LN):
How many acres of vineyards do you have planted and what varieties? You mentioned plans for expansion. What additional varieties do you plan to add?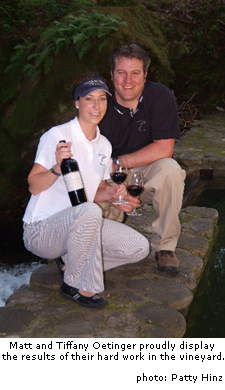 Matt Oetinger (MO):
On our estate vineyard, I have 4 acres of Cabernet Sauvignon, 2 acres of
Zinfandel
, and 2 acres of
Syrah
, along with about 1/2 acre
Petite Verdot
. I'd love to put in a little
Grenache
and maybe some more Zin.
LN:
What drove the decision to plan the varieties you did? Were there any which didn't meet with success?
MO:
We planted our vineyard mainly by looking at what was growing successfully in the surrounding vineyards. We planted only small amounts of Syrah and Zin because we weren't sure how they'd grow. All of the grapes which we have planted (in 1999) have garnered Gold medals, Best of Show, etc.
LN:
Describe the characteristics of the Cabernet Sauvignon from the Redwood Retreat vineyard.
MO:
I feel that the Cabernet Sauvignon from the Redwood Retreat area is spicy and has great structure for ageability. It has a somewhat classic Bordeaux flavor profile, with earthiness and tannin, but still some briar fruit notes which will blend nicely with the aging and diminishing tannin profile, as time goes on.
LN:
How would you compare Redwood Retreat Cab with Cab fruit from Bates Ranch?
MO:
I think the only difference is the age of vine, giving the Bates ranch fruit a little more subtleness which lends itself to a silkier mouth feel.
LN:
What other Cabernet vineyards in your area reflect a similar style or profile?
MO:
Well, the vineyard Cabernet Sauvignon is yet to have its first vintage but we're looking forward to its flavors. The Martin Ranch fruit has similar flavor profiles as well.
Editor's note:
Matt began managing the Vanumanutagi vineyard in 2005, and grafted over the Petite Sirah that Jeff Emery from Santa Cruz Mountain Vineyard so loved to Cabernet Sauvignon and Syrah, which have yet to produce their first vintages.
LN:
Describe the characteristics of the fruit coming from the vineyards you use for your Small Vineyards Merlot: Que Sereno Vineyard, Ryan Vineyard, Bentley Vineyard, Boesenberg Vineyard, Baldwin Vineyard. Are they all located in the Redwood Retreat area?
MO:
The small vineyard Merlot comes from vineyards tucked against the mountains in Los Altos Hills, Saratoga and Los Gatos. I purposely hang small crops and vigorously leaf pull to make a big Merlot. I'm not interested in making a watery Merlot like so many out there. The typical response to my Merlot is: "I don't like Merlot, but I like that one!" People are surprised that Merlot can be so big.
LN:
Do you make Chardonnay from the Vanumanutagi vineyard? What is the clone grown here?
MO:
Yes, 2005 was the first vintage for us with the Vanumanutagi fruit. We believe the Chardonnay is Clone 4, based on when it was planted and where the stock came from.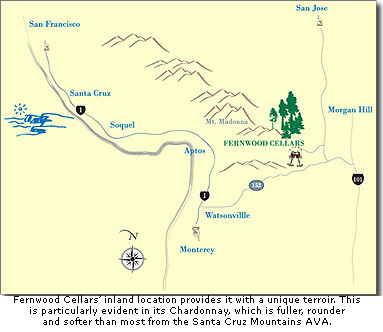 The clone typically is not a very exciting wine producer, tending to produce huge crops of flat wine. However, the vineyard location is so tucked up in the canyon, that it is perhaps one of the latest ripening Chard vineyards in the state. It is typically harvested in late October. This gives it lots of hang time and increases the complexity of the resulting wine.
LN:
How is this vineyard distinctive compared to other Chardonnay vineyards in the appellation?
MO:
I think that this wine differs from other SCM Chards in the acid. Most SCM Chards tend to have a nice, relatively high acid level which lends itself to wines which are crisp. Vanumanutagi tends to have mellow acids, giving you a wine that is structured and yet has layers of soft fruit and roundness. It gives you that "buttery-Chard" that people talk about but you get it without having to oak the wine to the point that it turns brown!
LN:
Back to Cab: how many acres of Cab are planted throughout the SCM appellation?
MO:
I'm not sure of the acreage. I know that in the Redwood Retreat area, there are about 36 acres. Obviously
Ridge
,
Mt. Eden
,
Kathryn Kennedy
etc. have acreage as well.
LN:
Let's talk about the potential of sub-dividing the appellation. Some winemakers have suggested splitting up the huge Santa Cruz Mountains AVA into geographic regions like Saratoga Hills, Summit, and Corralitos. What do you think?
MO:
I personally don't see the value of a split. Let's take Corralitos for example. If they splintered off, there might be some value added in the immediate market, but travel 60 miles in any direction and no one would know where Corralitos was, and if it had any cachet for wine production and which varietals were supposed to be good from there. With the term Santa Cruz Mountains, people have at least a vague understanding of where it is, on a global level.
~ Laura Ness, Regional Correspondent – Santa Cruz Mountains
To comment on Laura Ness' writings and thoughts, contact her at
l.ness@appellationamerica.com