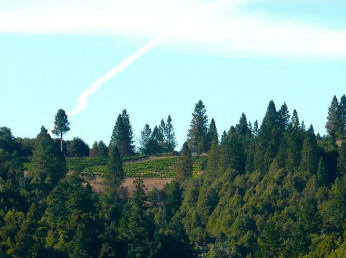 Humboldt County (County Appellation)
Humboldt County: Is Too Much Terroir Possible?
Humboldt County, and it's embedded Willow Creek AVA, are truly at the top of Northern California growing regions along the coast. Left out of the North Coast AVA, this region has a very different character than found to the south.
by Clark Smith
October 14, 2012
---
<!>
Next time you talk about San Francisco as the heart of Northern California, look at a map. Four hundred miles from the Oregon border, it's really the heart of Central California. Insultingly, the North Coast American Viticultural Area (AVA) terminates at the Mendocino County line, with still 162 miles of California real estate above it. Humboldt is a place unto itself, apparently too far north to merit the designation.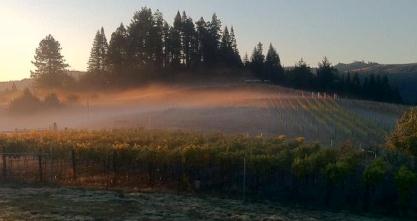 "After 25 years as a member of the Wine Institute, I finally got them to revise their California winery map to include Humboldt County," says Andrew Morris of Briceland Vineyards, President of the Humboldt County Wine Association. Andrew and I spent three days trekking around the huge County he calls home, calling on some vineyards and wineries he'd never had the opportunity to visit.
That's because the distance from Garberville to Orleans is over five times the distance from Napa to Calistoga. Humboldt's 26 wineries draw from vineyards spread out over a huge surface surrounding a central No Man's Land -- a hundred unplanted miles separating the Pinot Noir country of Southern Humboldt from the Bordeaux-like inland warmth of Willow Creek and Orleans in the County's north east corner.
Discovering Humboldt County amounts to a direct inquiry into the nature of terroir itself: its sources, its manifestations, its politics. The regional character of any wine type has both natural and cultural roots. The cows of Roquefort produce milk with unique flavor characteristics, but it is we humans who have decided their cheese shall be blue, and a human marketplace that catapulted the appellation to fame and glory.
Travel where you will, the first impression of Humboldt County wines will be their brisk raciness: lean, energetic and crisp, with taut, expressive aromatics and long, clean lines, bringing to mind sleek greyhounds and race horses.
The acidity of Humboldt has almost nothing to do with its location atop the North Coast. The coolness comes not from the County's latitude, but rather from the Pacific. The coastal ridges that shield Sonoma and Mendocino are perforated here, just as they are in the cool Pinot Noir regions above Santa Barbara far to the south. The Eel River's broad valley daily escorts great volumes of coastal air well into the interior. Other penetrations to the south such as Humboldt Creek, Telegraph Creek, the Mattole River and Nooning Creek also carrying coastal fog inland. But by the time the cool air of the Eel rushes down to the inland vineyards around Garberville and Redway, it is largely fog-free. To the north, the Mad River, Redwood Creek and the mighty Klamath River cool the inland canyons.
Equally important is the force which pulls the ocean air up these river canyons: the chimney effect created by hot air rising in the torrid plain of the Central Valley to the East, the same engine which sucks fog into the Golden Gate. Since the Upper Sacramento Valley terminates at the latitude of Eureka, the vineyards of Northern Humboldt are more temperate than their chillier cousins in South County. Think Bordeaux in the north-east, Burgundy in the south.
Each area is influenced by its total distance from the coast, and the number of ridges the fog has to cross. To these gross effects, add the up-and-down nature of the landscape and the result is thousands of unique microclimates each with its own distinct flavor signature, the product of differing altitudes, aspects, soil types and proximities to water. A bend in the river can make all the difference. When one speaks of a Humboldt style, it is understood that vineyard diversity is an integral part of the County's nature. Its marginal climate also amplifies the region's susceptibility to seasonal variation. It pays to know your vintages.
Beyond an appreciation of these natural features, my visits to Humboldt's winegrowers provided a window into their perspectives, motivations, and economic realities. I also delved into the means they choose in order to address their customers' desires.
The Customer is Always Weird
Who buys this stuff? My impression is that customers can be divided into three camps: locals, savvy New York sommeliers, and tourists. None of these groups are looking for standard fare. Why buy Humboldt, unless it provides enticements outside the mainstream? It is a happy coincidence that the distinctive terroir expression local wineries permit themselves has as much to do with their customers' appetite for a regional signature as it does with the natural bent of the land. Humboldt wineries can and sometimes do make mainstream styles, but this is not what many of its customers are looking for, myself included.
Humboldt's wineries are affected in many ways by the County's thriving but unmentionable alternative agriculture. Vineyards must compete for labor at stiff prices, and must cope with inevitable labor shortages at harvest time. Wineries benefit from a proud, knowledgeable and financially comfortable local wine-loving population who does not shrink from boutique pricing from their soul-mate vintner neighbors. In making their winemaking choices concerning the quantity and style of each vintage, wineries are well advised to keep in mind the politics of law enforcement in the foreseeable future.
Roots in Alternative Agriculture
The acknowledged Grand Old Man of Humboldt County viticulture is Joe Collins. Joe and his fabulous grande dame wife Maggie Carey are now retired to the joys of the Shelter Cove fishing grounds, having handed over the reins to their next generation in the persons of Andrew and Rosie Morris.
It was my pleasure in 1999 to be received by Joe and Maggie in their heyday, when they explained to me how in the late 1980s Joe knit together a network of small growers. Picture a dozen woodsy pioneers farming scattered tracts in the remote hinterlands, with perhaps one tiny site suitable for grapes plus an appetite to do something interesting and noble. Joe provided viticultural know-how, thus developing relationships which allowed him to source fruit from a broad range of sources. In this way, Joe built Briceland into one of the County's oldest and most respected brands.
The result today is one of America's most compelling spots for examining the effect of terroir. With its commitment to small lot production, Briceland is, for me, principally a laboratory in which to study the spectrum of possibilities for Pinot Noir in southern Humboldt, well worth the drive to Redway. Our panel had the pleasure of evaluating a trio of single vineyard Pinots from 1997, and as you can see from my notes, they did not disappoint. That said, Briceland's rustic, high energy Sauvignon Blanc and Chardonnay and their off-the-charts, ultra-brut low-dosage sparkling wines will keep you on their mailing list.
Briceland's vineyard sources in Southern Humboldt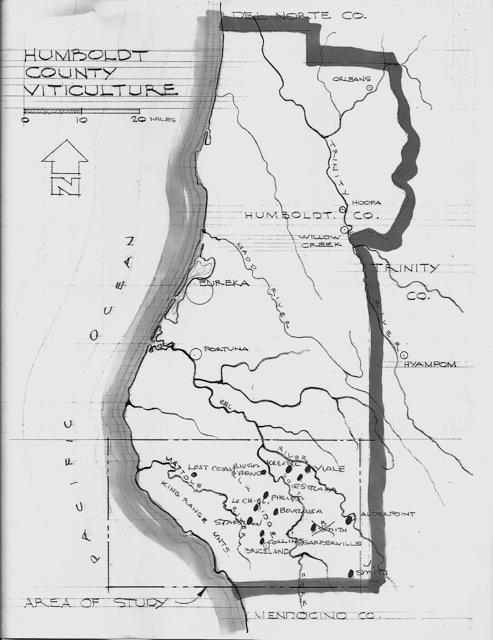 Sketch courtesy of Joe Collins, 2001
Terrain Profile of Southern Humboldt Vineyard Sites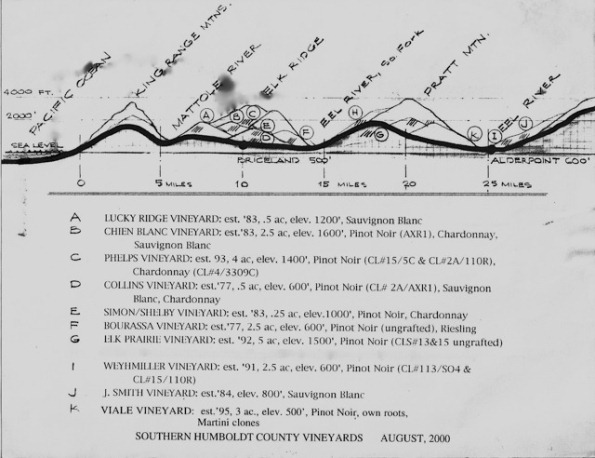 Sketch courtesy of Joe Collins
The Pinot belt of southern Humboldt exhibits astonishing diversity. Visible in a saddle one mile and one ridgeline to the west, Ronda's Vineyard (formerly Le Chien Blanc) is equally esteemed but produces wines of entirely different character, denser, more austere, and particularly age-worthy.
To stand at 1400 feet at Phelps Vineyard -- perched above the fog line but low enough to avoid the cooling effects of altitude, facing the afternoon sun as well as the Pacific Ocean three ridgelines away – is to appreciate the subtleties of Humboldt's crazy quilt of terroirs. Phelps Vineyard Pinots are prized at Briceland for their rich fruit aromatics, firm structure and balance. In these challenging conditions, it's quite clear that the key to this excellence lies in Todd Phelps and his hardworking family.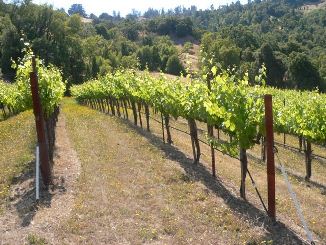 Photography courtesy of Andrew Morris
Bosco Vineyard lies just a mile from a mile west of Briceland Winery. Near as it is to the other two, its placement on Miller Creek, an offshoot of the small Redwood Creek that feeds the south fork of the Eel, makes it considerably cooler. Vinified right alongside the sturdy Phelps and brawny Ronda's at Briceland in the chilly year of 2011, the Bosco emerged with little color or structure, yet its steely mineral energy renders it no less sturdy, and its transporting ethereal aromatics including violets, strawberry jam and rose petal, much more floral than fruity, are laced through-and-through with an old vine character resembling wet clay which adds dimension and soul, even in youth.
Moving inland across Highway 101 and South Fork of the Eel is the Elk Prairie, home to an innovative duo, Alan and Sandra Estrada. Though still in the Southern Humboldt Pinot belt, the transition is as striking as moving from the highly structured Burgundies of the Côte d'Or to their perfumey cousins of the Côte de Nuits. Elk Prairie Pinot is made by several producers, and is thus an excellent candidate for a horizontal comparison to investigate the effects of winemaking – what varies and what remains the same. I felt I could pick out this vineyard every time.
Alan's own 2009 version shows that in a warmer year, the vineyard is capable of color and structure, but still retains its magical aromatic package of lavender, sandalwood and wet stone, and his amazing 2005 is a wonderfully dense powerhouse with years to go. Elk Prairie is also home to one of America's most refined and exotic Cabernet Francs. Well-colored, silky and deeply flavored with no hint of the vegetal, his 2009 is a triumph.
The very talented Carol Hoopes provided our panel with a vertical of Elk Prairie Pinots. Her 2010 Elk Prairie version is medium garnet color, with rose, strawberry jam, sage, and butterscotch, with lots of nice violets in the finish. About their 2008 bottling, we said "If you try only one Humboldt County Pinot Noir, make it this one." Unfortunately, we learned that these are tiny, non-commercial bottlings. We look forward with great enthusiasm to the commercially available wines from her newly christened (and licensed) Monument Mountain Winery.
Though out of county, a word needs to be said for Joseph Jewel, a Sonoma-based winery owned by Humboldt native Adrian Jewell Manspeaker and his Sonoma-bred partner Micah Joseph Wirth, that is turning out some of the best Humboldt County wines around, principally from Elk Prairie. Everything Jewel submitted to our panel earned Double Gold status.
North of Elk Prairie, near Redcrest is Rosina Vineyard, a fog-bathed vineyard near the Eel at 500 feet of elevation that is subject to the seasons but produces in warm years some very interesting wines. The dark garnet color the 2009 displays the special capacities of this site. Conifer aromatics (Are we actually smelling the surrounding redwoods?), bing cherry and wet stone appear in the aroma while its tannins, though very well put together, could not be less akin to Elk Prairie's – hard, masculine, and rustic.
Perhaps Humboldt's most accessible winery is Riverbend Cellars, located right on Highway 101 in Myers Flat, where the north flowing Eel river twists back on itself to the south before heading north again through the spectacular Avenue of The Giants. Here you will find the intrepid Thomas Meagher, founder of the Humboldt Wine Association in 2007 who has championed Humboldt's distinctive wines at least since he planted in 1998. He holds court at his tasting room beside the winery, offering a full spectrum of reasonably-priced varietals and blends geared to the novice palate as well as the connoisseur.
Riverbend's Merlot and Cabernet Sauvignon display unexpectedly soft, round tannins with good structure and quite moderate acidity, showing the site to be much less chilly than one would guess. They are also redolent with carob, a signature aroma that distinguishes Bordeaux varieties here. If you can still find it, his 2005 Cabernet Sauvignon is as good a statement of Humboldt's potential for Bordeaux reds as our panel came across.
Willow Creek AVA Approaches Three Decades
Two hours north of Myers Flat (and after a lovely lunch in Eureka) you will find yourself in the appellation of Willow Creek. Founded in 1983 to connect the small vineyards of two school teachers, Ed Oliviera and Dean Williams, it straddles the Humboldt /Trinity County line and enjoys a temperate climate that has proven suitable for the sun-loving reds of Southern France and Italy as well as some rich plump whites which retain their aromatics well, generally made in a pure style unblemished by excessive oak or alcohol.
A high point of my exploration of the Willow Creek AVA, the immaculate and lovingly tended Winnett Vineyards are certainly the most carefully farmed I came across in my countywide tour. Dave Winnett is as thoughtful and passionate a caretaker as one could wish, and his wines show it. His 2009 and 2010 Cabernet Sauvignons were very Bordelaise, with dark plum, ink, black olive and anise , presenting solid but graceful tannins, very well put together and ready to drink or age. His Sauvignon Blanc is not to be missed - a bit richer and fatter than the norm, though tightly wound. I also enjoyed the restraint of his lean, aromatic Chardonnay.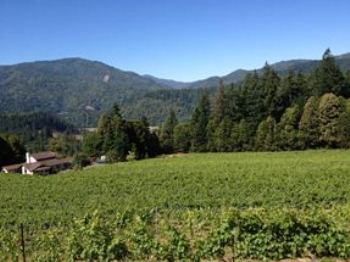 Photography courtesy of Andrew Morris
Dave was generous enough to provide our panel with a sample of his 2003 Merlot, a real eye-opener which put me in mind of my favorite Long Island Merlots, with nothing in common with the California rank-and-file. Despite its ten years, it showed bright, open, fresh aromas of lemon, spice, carob, honey and sweet fennel, amazingly round and sweet with, of course, great acidity.
A lover of things Italian, he leads the charge for Sangiovese in Willow Creek with his very credible Nostrano blend, a 65% Sangiovese minestrone which blew me away with its intriguing plum, spice and bay leaf aromas, excellent richness, and complex flavors of grenadine, clove, proscuitto, and was that actually…parmesan?
Petrolia and Hoopa: Yin and Yang
To the north, outside the metropolis of Hoopa in a flat alongside the Trinity, lie the eastern vineyards of Lost Coast Vineyards, one of the county's most experimental enterprises, focusing on organics across a wide range of varieties. Lost Coast owners Ester Saunoras and Dick Cogswell have since the late '90s been aggressively exploring the limits of Humboldt climates by planting originally in chilly Petrolia, then hedging their bets by purchasing an established vineyard in the much warmer Hoopa climate.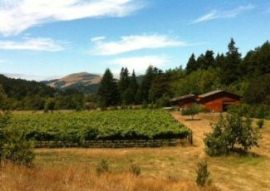 We were treated to an exceptionally elegant 2010 Sauvignon Blanc of classic Humboldt character from Lost Coast's Petrolia vineyard: ripe but fresh, light in alcohol and refreshingly crisp, yet packed with lime marmalade and honeysuckle flavors. An equally lovely 2011 Semillon had so much acidity that we were grateful for its 1.5% residual sugar and carried away by its pineapple, fig and aromatic spice, almost like a Gewurz. We also gave top honors to their 2011 Viognier for its plum, sweet fennel and jasmine aromas, again finding no quarrel with its considerable RS which perfectly balanced its emphatic acidity.
Exploring their Hoopa vineyards with the intrepid TJ Stoodey, we were amazed at the bold varietal diversity they are exploring, and our panel was impressed with their success. Their 2006 Merlot had delicate, complex aromas of carob, lemongrass, five spice and lime, and its sweet, round tannins still possess some grip. Their 2009 Pinot Noir was no match for the steely Southern Humboldt wines, but delivered straightforward butterscotch, orange peel, tomato leaf and five spice aromatics and a riper, low acid mouthfeel which placed it in a completely different category.
While Hoopa is still rather cool for Barbera, their 2007, while quite tart to be sure, sported charming boysenberry and violet aromas of impressive intensity. More user-friendly was their Dolcetto, whose regional aromas of carob and rhubarb very distinctively defined. Even their Nebbiolo, more a light-weight Spanna than a big Barolo, still held aromatic promise in its complex of dried cranberry and flower petals.
Orleans: Wonders at the World's End
Situated in a glen surrounded by forested mountains, the Pierce Ranch is also one of the most diverse and experimental growers in the County. Here among diverse row crops and orchards are perhaps two dozen varietal wine grapes, all organically grown. The surrounding forested hills limit sun exposure, but also prevent late afternoon sunburn. Diligent, dedicated, hands-on men of the earth have poured their hearts into developing this unique property and extending the limits of the possible.
Coming into the property, one cannot miss the central two acre piece, inexplicably planted to…tomatoes. "We're saving that spot for our premier grape planting," said Joaquin, "once we figure out what it is!" My money's on their Petite Verdot, which has been putting in an unexpectedly stunning performance.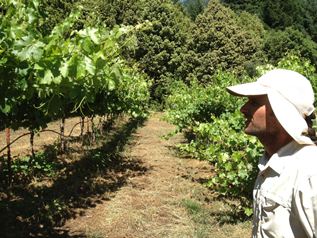 Photography courtesy of Andrew Morris
As we sipped their inky, rich Syrah with Joaquin and Pat Pierce, whose rustic appearance belies their sophisticated wine knowledge and market savvy, it was fun to trade ideas for what might work in this unique enclave. Just returning from Lehigh Valley, I suggested Grüner Veltliner and Zweigelt, but I had to admit the heat-loving Petit Verdot had me thinking about Sangiovese.
Full tasting notes of all wines achieving Best-of-Appellation status are available on our website under the Appellation pages for Humboldt County and Willow Creek.
Reflections on Humboldt Viticulture
In my travels throughout the County, I saw not a single cane-pruned planting, though I am told that Joe Collins wisely favors this system. I am convinced that in these cool conditions on rugged terrain working with small-clustered varieties, the conversion of cordon to cane could provide a potent weapon to enhance crop quality, yield and vine longevity by permitting vines to be balanced individually.
In this, Dr. Stephen Krebs, Dean of Viticulture and Winery Technology at Napa Valley College is my guru. "In a cane-pruning system, the grower has the flexibility to select moderate length shoots to become fruiting canes, which generally contain in the middle sections more fruitful buds," explains Steve. "In a cordon pruning system, the grower is limited to basal buds of low fruitfulness. He must also use the wood available at each spur position regardless of vigor.
"In cool-climate locations, this becomes especially important, since these basal buds form under sub-optimal conditions in early April. At the start of the growing cycle, temperatures are cooler, the days are shorter and rain and clouds are more likely. Mid-shoot buds form during the optimum conditions of long, warm and sunny days in May and June.
"If spur pruning were to be employed in Germany, Burgundy and Bordeaux, the crop levels would be very disappointing," says Krebs. "Buds of low fruitfulness also produce excessive shoot growth in the next growing season, which may reduce wine quality and increase the chances of fungal disease development, including powdery mildew and bunch rot."
Besides enhancing fruit quality and quantity, cane pruning reduces the incidence of vine death due to Eutypa, something I saw plenty of in Humboldt. "Wounds created at pruning are often the avenue through which a number of woody tissue diseases attack and destroy the permanent trunk and arm structures. Since fewer cuts are required in a cane-pruning system, the chance of infection is reduced and the life expectancy of the vine is increased." The only argument I can see for cordon pruning is that it can be pruned by a less skilled labor force.
Future Growth Prospects
In my view, Humboldt County has completed its pioneering phase. The current band of brothers (and sisters) have, over the last quarter century, thoroughly explored what varieties work where and established a solid market for a collection of unique regional style profiles. As the American economy continues to supply compelling reasons to live off the grid and work self-sufficiently, this track record will undoubtedly attract a second wave of plantings.
Central Humboldt is replete with plantable sites, and wineries established there would form a bridge for tourists between southern Humboldt and Willow Creek. The newly emerging Ryan Vineyard, two miles from the fabulous Benbow Inn and Restaurant in Garberville, will add 16 acres of prime Pinot Noir and two of Pinot Gris, a substantial enhancement to both volume and visibility. There is every reason to imagine this as the advance guard of substantial force of serious enterprises.
Daring to be Different
I was not, alas, able to make time to visit my good friend Robert Hodgson at Fieldbrook Winery, an error I shall soon correct. His 2010 Foggy Bay Fusion, a 100% Merlot from Willow Creek's Stargazer Vineyard, was like the best of Long Island, with intense cherry aromas supplemented by jasmin green tea, sandalwood and wet stone, a skillfully made tannin structure, sweet fruit and happily low alcohol.
Dr. Hodgson, a statistics Prof. at Humboldt State (motto: "Kiss my axe") is notorious for his published papers in the Journal of Wine Economics lambasting the inconsistency of wine judgings. I love this guy, and he is entirely in the right. How are competitions to pass judgment if they aren't told where the wines come from?
In Humboldt especially, daring to be different is the kiss of death in a competition where all the Sauvignon Blanc get chucked into a common pool. Unbalanced acidity? I should hope so.
Therein lies the winemaking challenge: do we want to fit in, or do we want to stand out? The answer for all three of Humboldt's consumer constituencies is a combination of both: fit in to the regional expectation, stand out from the boring everyday standard. This is the formula that works for European appellations.
When I was privileged to judge at the Humboldt County Fair over which Dr. Hodgson presided, it was not clear to me that all my fellow judges saw things this way. Like any professional charged with judging entries without any specific local guidance, many of them held the wines to a global rather than a regional standard.
In my experience, emerging regions often suffer from what I call The Groucho Marx Effect. "I wouldn't want to belong to any club that would have somebody like me as a member," he quipped.
There was, for example, a stunning sparkling wine, for all the world a dead ringer for Roederer's Anderson Valley offering, which received high praise for its balance and sophistication, while a bone-dry "brut sauvage" style was discarded as out of balance. The local Sauvignon Blancs commonly experience the same fate, downgraded beside more mainstream Lake County or Mendocino-grown alternatives from the same wineries.
But think about it. Why should I drive four hours north when I can buy the Roederer itself at Safeway for less money? I hope that our efforts at Appellation America to characterize Humboldt's regional typicity, the Blue Book entries posted on our Humboldt County and Willow Creek AVA pages, can serve as a guide in subsequent local competitions to assist judges in focusing on their local uniqueness.
The bad news about touring Humboldt is that it will challenge your pathfinder skills and your driving patience. You'll get over it. Getting lost in the redwoods is actually pretty great. The good news is that it is possible to know literally everybody in the Humboldt game; to befriend every single one of the 26 winemakers, understand their visions and share their crazy dreams.
As passionate as you must be to invest in such an undertaking, you will, I assure you, fall newly in love with the real wine world again, as if for the first time.