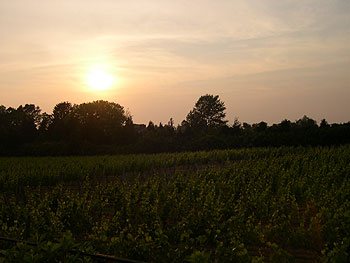 The new-Old World traditions of the Hamptons, Long Island
Lenn Thompson finds that the best wines produced in Long Island are made in an 'Old World' or traditional style. As featured winemaker, Roman Roth of Wolffer Estate Vineyards, aptly describes "if you are looking for an alcoholic tsunami, go to California."
by Lenn Thompson
February 26, 2006
---
In many ways, the
Hamptons
are all about the 'new'-- new restaurants, new superstars and new money. But not everything in the Hamptons is defined this way. Two of the top wineries on the East Coast can be found there, making wines that are much more 'Old World' in style than 'new'.
<!> Traditional 'Old World' wines, such as those made in France, Italy and Spain tend to be lower in alcohol and higher in acidity relative to 'New Word' styles -- although the distinctions are getting more blurry. These wines often incorporate less overtly fruity aromas such as minerals, leather, wet stones and leather. These complex characteristics often showcase the terroir of a specific region. As such, these wines also tend to show less obvious oak flavors than their New World brethren, as winemakers are want to showcase terroir as opposed to wood. New World wines, like those made in Australia, South Africa, Chile, Argentina, and the U.S., are often much higher in alcohol content, fuller bodied and very ripe with fruit flavors and more obvious use of oak.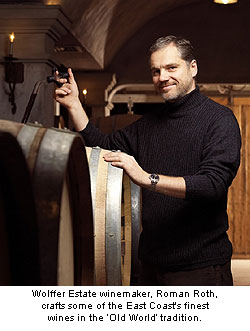 Long Island
's top wines, while technically made in the 'New World' style are often compared to those made in France, specifically in Bordeaux, because our climate closely matches the cooler growing conditions there, but not exactly.
"The Long Island climate is close to Bordeaux when compared to the hot climates of Australia or California," says Roman Roth, general manager and winemaker at
Wolffer Estate Vineyards
in Sagaponack, "but Long Island is unique. We are much further south (than Bordeaux)."
While some Long Island wineries try (and often fail) to make "big" wines like those from California, both Roth and winemaker Christopher Tracy of
Channing Daughters Winery
in Bridgehampton succeed by embracing Long Island's unique microclimate.
"If you are looking for an alcoholic tsunami, go to
California
," says Roth. "Our wines are elegant, balanced, vibrant and food-friendly. Winemakers here who try to copy California wines are falling on their face. (The wines they produce) taste flabby and boring, like an overripe tomato."
Instead of 'Old World' wines, Roth prefers saying his wines are "traditionally made," because of the winemaking methods he employs, best summed up in the winery's tagline: "An American Winery in the European Tradition."
"Our wines are not factory made," he says. "We handcraft every wine, and because we have such wonderful fruit, we can honor traditional methods. But I don't call them Old World, because truly Old World wines were not always fruit-driven and balanced like ours. Plus, we are in America, without the restrictive laws like in Europe. So we are allowed to grow
Chardonnay
next to
Merlot
, which they can't do in Bordeaux."
Wolffer Estate Vineyards' Rosé is considered one of the best on the East Coast. The 2004 vintage is fresh, fruity and well balanced with red berry and citrus character. It's crisp, but doesn't feature as much acidity as the 2003, giving it a slightly fuller mouth feel that is almost creamy on the finish. Roth's Chardonnays (he makes three) are expectedly much more Burgundian in style than Californian. Instead of over-the-top butter and oak flavors, they feature elegant, concentrated fruit and bright acidity.
His Merlots, including the $125 Premier Cru Merlot, are very Bordeaux in style because of their ripe fruit, mature tannins and hints of acidity. They are extremely food-friendly and have garnered much critical praise. Wolffer also produces Cabernet Franc, a sparkling wine, a Late Harvest Chardonnay and the now-popular Pinot Noir.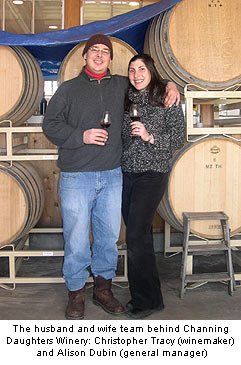 Channing Daughters Winery employs similarly traditional winemaking processes, but instead of using Bordeaux as a model, they look further east to Italy, specifically the Friuli region.
"Like Friuli, we are a maritime, cool-climate wine-grape growing region," says Tracy. "This is an excellent opportunity for white grapes to achieve optimum ripeness, flavor and acidity levels year in and year out. The soil and the landscape of the Isonzo region in Friuli especially bear these resemblances."
But Tracy also recognizes Long Island's unique climate. Channing Daughters is known for experimenting with different varietals, trying to find grapes that do well on Long Island. To that end, their bottlings go well beyond the usual Merlot and Chardonnay offerings.
"What better way to achieve the best results than to experiment?" says Allison Dubin, Tracy's wife and Channing Daughters' general manager. "We are always striving to find what's best for our climate, our soil and our cellar."
Tracy's Friulian influence is seen most in the non-Chardonnay whites he makes, including
Tocai Friulano
,
Pinot Grigio
,
Pinot Bianco
(aka Pinot Blanc) and 'Sylvanus', a field blend comprised of 60 percent
Muscat Ottonel
, 20 percent Pinot Grigio and 20 percent Pinot Bianco. Each is unique, interesting and produced in small batches, making them hard to find.
Tracy also uses some of most traditional winemaking techniques possible. For instance, Merlot grapes are stomped by foot to make their 2004 Channing Perrine "Fleur de la Terre" Rosé -- a dry, full-bodied Rosé that is anything but a White Zinfandel. The deliciously complex 2003 L'enfant Sauvage Chardonnay is fermented with its own indigenous yeast (instead of added yeast) and took more than one year to complete primary fermentation, much longer than usual.
Another one-of-a-kind offering, with an Old World angle, is Channing Daughters' 2003 Blaufrankisch. A major grape in Austria and Hungary,
Blaufrankisch
is known as Lemberger in Washington State and Franconia in Friuli. Channing Daughters is the only Long Island winery to grow and produce Blaufrankisch. This distinctive red is medium-bodied, rich with cherry flavors and even a little gamey. It's an early ripening red, so it's a bit surprising more people aren't growing it in our cool climate.
Long Island in general is home to many great wineries and wines, but the Hamptons on the south fork are home to two of the best. Visit them this summer and put a taste of the Old into your world.
~ Lenn Thompson, Long Island Editor
To comment on Lenn Thompson's writings and thoughts, contact him at
l.thompson@appellationamerica.com