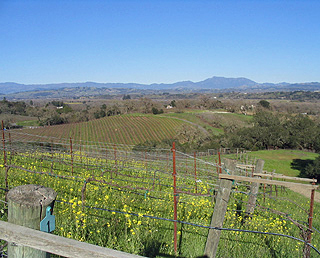 Russian River Valley
Pinot Noir Gets Its Dew
The perfect terroir for growing Pinot Noir is not enough to make the exceptional Pinot Noir that comes forth from the Russian River Valley. No, you also need grapegrowers and winemakers who know how to coax the best out of the grapes. BINGO!
by Dan Berger
April 23, 2008
---

or decades
, insiders knew the
Russian River Valley
as home to challenging wine grapes. Challenging only in that it required a lot of intuition to know how to handle them so they could be made into dynamic wines. But when the fruit was grown with care, the results often would be "wine makers' wines," which meant that they'd be more appreciated by purists (such as wine makers) who understood the more classic style of wines.
By classic, we refer to wines which had higher natural acidity, and those wine makers who were loathe to use acid-reduction chemicals were pleased with the results. Indeed, to see Russian River Valley or its companion appellation,
Green Valley of the Russian River Valley
, on a wine label meant that the various varieties of white wines were a tad crisper, the various red wines were a tad tougher, and it wasn't surprising to see sparkling wines from the region.
At the start, Rodney Strong, Piper-Sonoma, and Korbel made sparkling wines here; later J and Iron Horse came in to really revolutionize the craft - but in most cases, the naturally high acidity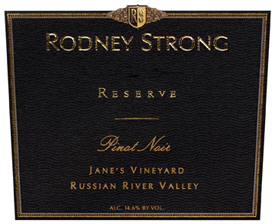 left the wines with a truly dry finish, even though a good, solid level of dosage was used to sweeten the wines' aftertastes.
As for the table wines,
Sauvignon Blanc
was often slightly less "grassy," though marked by a green/herbal and lime-y sort of aroma; the
Merlot
s were distinctively tea-like in their basic aroma compounds;
Zinfandel
s had as much distinctive raspberryish notes as did those from neighboring
Dry Creek Valley
, with a bit more "tart fruit" taste; and
Cabernet Sauvignon
was usually slightly more backward than those from other neighboring regions. (For all intents and purposes, there was little else here - no
Syrah
at all, and though some of the top
Petite Sirah
s came from this area, few of them were known outside the area.)
However, it was the local
Pinot Noir
that was beginning to intrigue everyone. As early as the 1970s, Pinot Noir showed its potential here with vibrant if low-color wines that showed a delightful "mushroom-y perfume," along with a berry and cherry fruit profile that was long seen as one of the most identifiable of varietal aromas.
This area west of Santa Rosa in
Sonoma County
is rated as a cool region. Indeed, it does have cooling afternoon breezes, not to mention cold nights and fog. That last element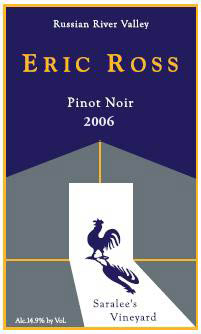 is what defines the region, literally. The appellation boundaries were drawn based on where the fog moved during the morning hours. Afternoon winds from California's warmer interior flow toward the Pacific Ocean. When they reach the onshore flow of cooler air, the two fronts mix, creating a magnetic fog that is drawn into the inland channels.
As it crawls over the hilltops and settles in the low-lying spots overnight, it brings with it a cooling effect that drops night-time temperatures a lot lower than the surrounding hillsides, many of which are above the fog line, and holds onto daytime temperatures (at least in the soil) longer.
So persistent is this fog that it doesn't dissipate or recede until late morning, keeping the ground cool and reducing photosynthesis in grapevine leaves into a shorter daytime period. Thus grapes gain sugars more slowly, and many Russian River producers make wines with greater natural acidity than other regions.
And thus has it developed that Pinot Noir has become the leading wine from this region, made in a style that emphasizes berries (raspberry and strawberry mainly), with nuance being the trump card over power.
That character, which was so identifiable to local wine lovers, wine makers, and a few others in the early 1980s, wasn't always so well known outside the area. Indeed, even a few important wine critics, early on, created some bad hair days for local wine makers who got lousy scores on their Pinot Noirs because of one "drawback": color.
Lack of Color Colors the Wine Scores
Russian River's greatest attribute in terms of what it provides Pinot Noir is a pretty fruit aroma and taste. But in order to get that attractive element, that elusive and seductive combination of aromas and flavors that speak of the land, one has to be willing to sacrifice some of the dark color that is rarely a part of great Burgundy or Pinot Noir anyhow. To strive for color is surely to sacrifice something, and that something usually is grace and silkiness.
Dark color was never seen as a mandatory element in Russian River Pinots until, over time, it became clear that the
lack
of it had a negative impact on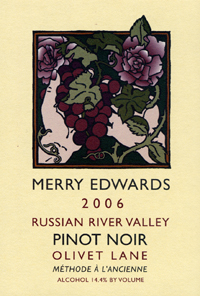 some of the number scorers. The lack of color was seen as a detriment, and was commented on by numerous critics of these wines. In particular, the 1980 Iron Horse Pinot Noir was as stunning a wine as I had ever tasted, yet lower-than-expected scores on the wine caused winery personnel to grouse that they were being unfairly picked on.
"Since when was color a consideration in the wines of Domaine de la Romanée-Conti?" said the folks at Iron Horse. Their wine was almost pale pink in color, yet was loaded with flavors of rose petals, rich fruit underneath, and a rewarding, slightly lighter tannin finish. (In 1990, when the wine was a decade old, I had a bottle of it at the winery and it was still superb.)
This "deficiency" in color held back the Pinots of Russian River for a long while, even though the land was becoming more and more prized as a home of the wine. By the mid-1980s, numerous stellar Pinot Noirs were being made in the area, including those from Gary Farrell, Williams-Selyem, Rochioli, Joseph Swan, Davis Bynum, Dehlinger, Kistler, and De Loach.
By the latter 1980s, Gary Farrell was acknowledged as the top producer in Russian River with Williams-Selyem, the "cult" wine that all wanted. Since then Dutton Goldfield, the brainchild of passionate, brilliant Dan Goldfield, and Jess Jackson's Hartford have entered the picture along with a handful of small, under-the-radar brands to give the area an even more stellar reputation than it previously enjoyed. Among those who work magic here are Kistler (famed for its Chardonnay), Merry Edwards, Marimar Torres, Lynmar, Sonoma Coast Vineyards, Moshin, Papapietro Perry, and about 30 more. Included is a huge, expensive project to make Pinot on a