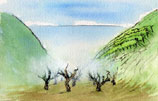 Few wineries make their home in the Arroyo Grande Valley, but the appellation offers a rich diversity of microclimates and a unique viticultural history. Composed of a 16-mile-long winding valley in San Luis Obispo County, this AVA benefits from a east-northeast orientation, allowing coastal fog and Pacific breezes to moderate the climate. Most prospective winemakers might consider the valley's mouth – where fog lounges into the vineyards -- as too cold for viticulture. But the pioneering winery, Maison Deutz, saw it differently, creating distinctive, nervy sparkling wines from these stressful conditions. Today the practice continues at Laetitia Winery. Meanwhile, in the moderate mid-valley area, Talley Vineyard grows Chardonnay and Pinot Noir on sites mixing various slopes and soils. Above the fog line, near Lake Lopez, the Valley peaks at 800 feet. At its westernmost edge, a restored, century-old vineyard produces some of California's best Zinfandel under the Saucelito Canyon label. A second winery, Rancho Arroyo Grande, has joined Saucelito Canyon above the fog line, and is focusing its efforts on Zinfandel and Rhone varietals. The appellation continues to attract new producers, like Toucan, whose focus is limited production Zinfandel and Petite Sirah.

A Day in the (Rutherford) Dust
By
Barbara Trigg
August 2, 2013
While the early days of Napa Valley always mentioned the dust in summer, Rutherford Dust referred to an entirely different context. During a recent tasting in Napa Valley held by the Rutherford Dust Society a wide wide range of Rutherford wines shed new light on the long term meaning.  [>] continue

Whitehall Lane Winery, A 20 Year Story of Vineyards
By
Roger King
July 15, 2013

Embracing Virginia's Terroir
By
Richard Leahy
June 2, 2013

Shake Ridge Ranch - Gem of the Sierra
By
Roger King
May 16, 2013

HR9 Supports (CA) Historic Vineyard Society
By
Roger King
May 9, 2013

Tannat, Vibrant Across the America's
By
Barbara Trigg
May 6, 2013

Welcome Middleburg Virginia AVA
By
Roger King
January 4, 2013

Humboldt County: Is Too Much Terroir Possible?
By
Clark Smith
October 14, 2012