---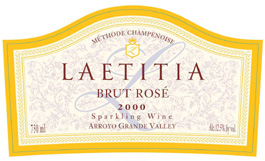 Laetitia Winery
2000 Brut Rose
(Arroyo Grande Valley)
A tasty wine from the Central Coast's only sparkling wine specialist, I concurred with winemaker Dave Hickey when he said, "Sparkling wine is much more versatile than most people realize." It pairs deliciously with myriad foods and there's a style for everything from hors d'oeuvres to entrees to desserts. And why wait for New Year's Eve or any other celebration to pop open a great bottle of bubbly.

This tasty cranberry-hued cuvee, a blend of Chardonnay, Pinot Noir and Pinot Blanc, is enhanced with aged Pinot Noir for flavor and color, and spends 25months en tirage. Grown in estate vineyards on limestone soils, the grapes for this sparkler come from the original blocks planted by Champagne Deutz which founded the estate in 1985 as Maison Deutz.

Laetitia is the only American winery using French-crafted Coquard wooden basket presses, the same used by some of the great Champagne houses in France. This lovely dry sparkler offers aromas and flavors of red berries and black cherry nicely balanced with tangy citrus notes. It pairs well with seafood, poultry or pork, and it's a good choice as an aperitif to kick off a dinner party. At just $25 retail, it rates high among California's value-priced sparklers.
Reviewed October 11, 2006 by Kathy Marcks-Hardesty.
---
Winery: Laetitia Winery
Vintage: 2000
Wine: Brut Rose
Appellation: Arroyo Grande Valley
Grapes: Chardonnay (30%), Pinot Noir (65%), Pinot Blanc (5%)
Price: 750ml $25.00



Kathy Marcks-Hardesty

Kathy Marcks Hardesty is the former Tasting Coordinator for Wine Spectator magazine. She prefers wines that exhibit classic varietal characteristics, regional identity, and the depth and balance to make a good meal great. She's just as enthusiastic about sharing news of those rare, value-priced wines of good quality. Despite her past association with wine critics, she doesn't assign numbers to wines, save in her memory (old habits die hard). She prefers writing descriptive reviews that whet the palate and leaves the final score to her readers.