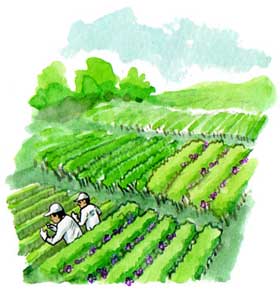 Bien Nacido: The Vineyard is the Brand
One of the things that makes Bien Nacido Vineyard so unique is that the original 300 acres was actually planted like a nursery instead of a vineyard.
~Nicholas Miller
by Dennis Schaefer
April 3, 2007
---
Dennis Schaefer (DS):
You purchased the (Bien Nacido) property in 1969; in the early 1970's, you became convinced that the soils and climate were ideal for growing grapes. What was the evidence that convinced you to plant grapes?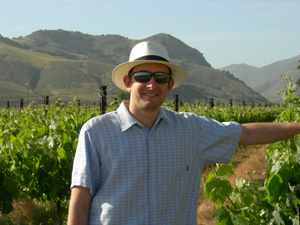 Nicholas Miller (NM):
We saw a lot of the same attributes at Bien Nacido Vineyard that are found in the great wine growing regions of the world. For example, we were able to plant the Pinot Noir in areas very similar to Burgundy. Not on the valley floor or hillside, but right where it starts sloping up.
We saw very well draining soil. We saw limestone in the soil. We saw hillsides with great sun exposure. We had very even temperatures and very little rainfall. We had the cooling influence of the maritime breezes by being so close to the ocean, which is so conducive to growing Burgundian varietals.
We also had good friends with a lot of experience, Joe Tucker and Dale Hampton, who recognized what a gem we had acquired.
DS:
Once you made that decision, you could plant anything and any way you wanted. What was the thinking at that time about which grapes to plant? About how to orient the vineyard site, etc.?
NM:
One of the decisions from the beginning was to create a vineyard of the highest possible quality. For example, instead of wooden posts, we used more expensive steel. However, one of the things that makes Bien Nacido Vineyard so unique is that the original 300 acres was actually planted like a nursery instead of a vineyard. While many new vineyards were being planted from cuttings, the original Bien Nacido Vineyard planting was all certified virus free increase block from the mother vine at UC Davis. Nothing like this has ever done before or since. It meant that we could plant on their own root stocks, which many still are today - a rarity in the wine world.
There was a lot of trial and error and we got a lot of good advice. We got
Chardonnay
and
Pinot Noir
right from the beginning. Other varietals we found more difficult. And with others, such as (cool climate)
Syrah
, we were true pioneers, and we have been duly rewarded.
DS:
What about clones?
NM:
Originally most of the Pinot Noir was Pommard and Martini and the Chardonnay was clone 4, but we have since planted many other new clones (5, 15, 17, 76, 95, 96, 124, 131, 548) and have about 12 clones of Pinot Noir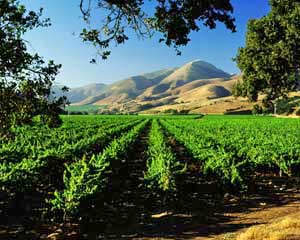 alone now. We also have a nursery block where we are constantly experimenting with new clones and varietals. I am really excited about the prospect of Bien Nacido Vineyard Sauvignon Blanc and Grenache.
DS:
What about vineyard orientation?
NM:
Some of the original blocks were oriented east-west, but through the process of replanting and repairing, we either have or are in the process of reorienting them north-south for maximum and even sun exposure. We also originally planted on 12-foot spacing. We have since gone back and interplanted blocks within blocks. So while it appears to be a block on 6-foot spacing, it's actually two blocks in the same acreage being farmed and irrigated separately.
DS:
Part of it must have been trial and error. If I recall, I think you had some Riesling and Gewurztraminer that was later pulled out. What grape varietals didn't really work for you?
NM:
You're right, we did originally have some Riesling and Gewurztraminer. It actually produced excellent fruit, but there was no market for it. Other varietals, such as Cabernet, never really ripened (too cold), but it was very successful as a nursery for other vineyards. We fought a long battle with Pinot Blanc and rot, until we decided to partner up with Mother Nature and produce a late harvest program. This has proved very successful and the Wine Enthusiast called the Bien Nacido Vineyard Paeonia (from Shadow Canyon) one of the best dessert wines from California. We also had a lot of problems with the original Merlot site throwing off a crop, so we planted some around the adobe (on the flats) and I think the Bozzano Bien Nacido Vineyard Merlot is the best Merlot from the Central Coast.
DS:
I seem to remember a conversation with your father or Bob Miller about some of your first harvests of Chardonnay. At the beginning, no one was buying it, so you sold it off to California sparkling wine houses to get blended away in their cuvees?
NM:
We did sell some fruit to sparkling wine houses at the very beginning, due to the infancy of the Santa Barbara wine industry and its demand. This was prior to the Central Coast Wine Services being able to provide a home and incubate new wineries. However, as life tends to come full circle, we are now once again being approached by several producers about wanting to do sparkling programs from our fruit. For example, Norm Yost does his Goat Bubbles from our Solomon Hills Vineyard fruit.
A funny story: once Chardonnay took off, we actually leveraged it against our Pinot Noir. Since no one had faith in California Pinot Noir at that time, we said that if they wanted Chardonnay, they had to take some Pinot Noir as well. This is very funny to me, considering in the current climate, I could sell our Pinot Noir for much higher prices than we are and could sell it five times over.
DS:
You mentioned this before but I understand that Bien Nacido is the largest certified increase block in California. Could you explain what that means and how that is important to winemakers and wineries all over California?
NM:
All of the vineyard was planted from the vines at UC Davis that are certified to be virus free. This means the material they were using was where nurseries got their material from. The practice at the time was to plant vineyards from cuttings from neighboring vineyards, so no one was checking what kinds of problems they were spreading. By planting a certified increase block we were assured they were the highest quality vines. We have never had an epidemic at Bien Nacido Vineyard and many of the 30+ year old vines are still on their own rootstock.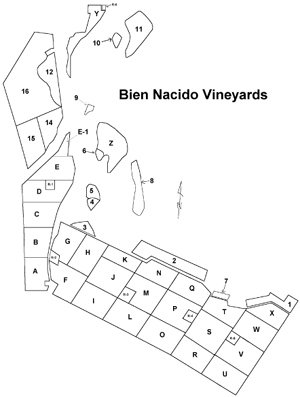 READER FEEDBACK: To post your comments on this story, click here
Print this article  |  Email this article  |  More about Santa Maria Valley  |  More from Dennis Schaefer