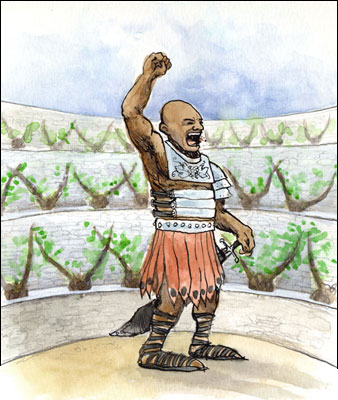 Syrah | Shiraz
During the Roman occupation of Gaul you rose to fame as a captive vine turned gladiator. Your legend grew in the spartan competition of Northern Rhône amphitheaters. But little did the Romans know; you had more than just brute tannic power. Behind your fiery, spicy attitude there was the soul of a great leader. You outlasted the Romans and eventually ruled the Rhone Valley from the hill of Hermitage. But your greatest victory was to come in the New World, as emperor of the masses 'Down Under'. Never one to rest on past laurels, you have set your sights on America. It is only a matter of time before you conquer this continent, leading the charge of an imposing legion known as the "Rhone Rangers".

Appellations Growing Syrah | Shiraz Grapes
Appellations producing the most Syrah | Shiraz wines:
Syrah | Shiraz Grape Details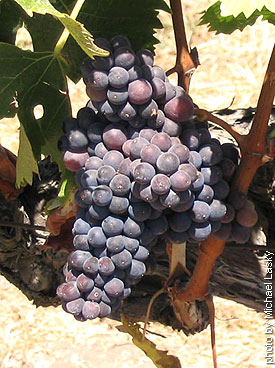 Syrah (aka. Shiraz, Hermitage, Marsanne Noir)

The heat-loving Syrah grape variety has adapted well to both the warm venues of California, Southern Oregon and Washington, as well as to a revival in interest of robust and heavy red wines. Increasingly planted in many of North America's more prolific viticultural areas, it has been enthusiastically produced and marketed by a group of winemakers calling themselves the "Rhone Rangers".

This ancient varietal is native to the northern Rhône, where it produces the very long-lived, tannic and spicy red wines of AOCs Côte Rôtie, Hermitage, and Cornas. Further south, it provides weight and structure to the softer, more obviously fruity, Grenache-based reds of the Côtes du Rhône. Along with Mourvèdre, Syrah is an important component in the best examples of the southern Rhône's most famous appellation, Châteauneuf du Pape.

Arguably, Syrah owes it dramatic 20th century rise in prominence to its incredible popularity and success in Australian vineyards, where it assumes the name Shiraz. The Australian versions tend to be much more intensely fruit driven with less hard-edged angularity in youth, despite possessing significant amounts of tannin and characteristic peppery spiciness. Shiraz's combination of rich character and approachability in youth can largely be credited with securing Australia's global reputation as a leading source of highly-characterful, value-priced wines.

Livermore Valley
The New Old Livermore Valley
By
Laura Ness
Napa Valley
Arns Winery - Finds Its Place In Between
By
Alan Goldfarb

Sonoma Valley
Nicholson Ranch: A Marriage of Three Sonoma Appellations
By
Rosina T. Wilson

San Francisco Bay
No Dirt Shackles For Urban Wineries
By
Eleanor & Ray Heald

Paso Robles
Is Paso Robles the Rhône Region of America?
By
Laura Ness

Mendocino Ridge
Mendocino Ridge AVA is Zinfandel Heaven
By
Rhoda Stewart

Paso Robles
Deep Roots In Paso:
Growing the Future at Halter Ranch
By
Laura Ness