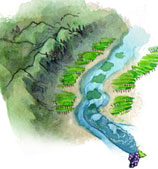 Years in the making – eons really – the Snake River Valley of Idaho first petitioned for an AVA back in 2002 and finally got the nod from Federal authorities in April 2007. With this AVA approval, the Idaho Grape Growers and Wine Producers Commission (the petitioning body) has at last brought the now well-established growing areas of southwestern Idaho together under one meaningful appellation designation.

Overall, the new AVA is a massive area of 8,263 square miles (nearly the size of the state of New Jersey), with 90 percent of Idaho's currently planted vineyards falling within the AVA boundaries. Vineyard acreage is rapidly on the rise, with total plantings doubling since the application was first filed and now standing at about 1800 acres.

The AVA itself is delineated by boundaries that follow the East-West oriented river from Twin Falls into southeastern Oregon. The growing areas within the AVA are tied together by the shared climate moderation provided by river induced air currents. The appellation is also distinguished by being a relatively flat river basin area ranging in elevation from 2100-3400 feet and surrounded by high mountains. Soils are variable but generally derived from lake sediments from the now dry ancient Lake Idaho.

Regarded as a high mountain cold climate desert with extreme temperatures in both summer and winter, full ripening only comes with extended hang times.

Bi-State Upper Hiwassee Highlands an AVA
By
Roger King
August 6, 2014
In the southern Blue Ridge Mountains of North Carolina and Georgia vineyards are small and few, yet the establishment of the Upper Hiwassee Highlands could bring much more.  [>] continue

Snake River Valley Appellation a First for Idaho
By
Cole Danehower
April 9, 2007
[>] see all Snake River Valley features (1)

Remote Manton Valley New California AVA
By
Roger King
July 31, 2014

WAWGG Banquet Explores Washington State Terrior
By
Roger King
February 2, 2014

Taking Focus on Appellation
By
Clark Smith
December 9, 2013

Whitehall Lane Winery, A 20 Year Story of Vineyards
By
Roger King
July 15, 2013

Embracing Virginia's Terroir
By
Richard Leahy
June 2, 2013

Shake Ridge Ranch - Gem of the Sierra
By
Roger King
May 16, 2013