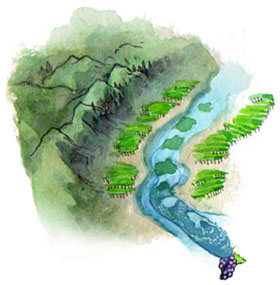 Snake River Valley Appellation a First for Idaho
by Cole Danehower
April 9, 2007
---
Effective April 9, 2007, wineries located within the 8,263-square mile
Snake River Valley
AVA will be able to place the new appellation name on their labels, trumping the more generic
"Idaho"
label that was previously their only appellation option. This is big news for the small but eager and growing wine community in The Gem State.
The AVA boundaries have been defined to encompass the ancient area of Lake Idaho, a 4-million year-old, now-dry landform (sometimes referred to as a geologic "bathtub") located mostly within Idaho, but also extending substantially into eastern Oregon. The relatively flat, low elevation (compared to surrounding mountainous regions) and semi-arid land within the AVA includes a wide variety of soil types, but is predominantly sand, mud silts, loess, and volcanic detritus on top of sedimentary bedrock. Indeed, so varied are the soils within the appellation that soil was not considered a viticulturally distinguishing characteristic of the AVA petition.
Of more importance in defining the Snake River Valley AVA are climate and growing conditions. Naturally, the region's topography helps determine its viticultural viability. Located inland along the 43-degree latitude line, and within a basin depression surrounded by high mountains, the Snake River Valley has a relatively short growing season for wine grapes.
The historical average growing season for four weather stations within the appellation is 142 days. This compares with 218 days for Oregon's Umpqua Valley AVA and 206 days for Washington's Walla Walla Valley AVA. The frost free period (defining the viticultural growing season) extends from approximately May 10 to September 29—quite short in viticultural terms.
Similarly, growing degree days (number of growing season days with mean temperature above 10° Celsius) within the Snake River Valley are slightly less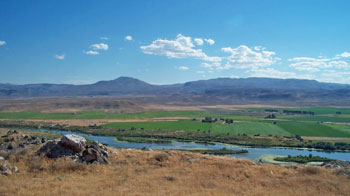 than in other comparative AVAs. The average growing degree days (C°) reported by the 4 weather stations within the appellation show 1,504 days. This is negligibly higher than the Umpqua Valley AVA at 1,484 days, and distinctly lower than the Walla Walla Valley AVA at 1,715 days and the Napa Valley AVA at 1,753.
Despite the relatively cool climate temperatures, the Snake River Valley AVA is quite large, and warmer microclimates can exist within its boundaries, hence site selection is vitally important for successful viticulture. Currently the appellation contains a little over 1,100 acres of commercial wine grapes, with 15 wineries—clearly, there is vast room for further development.
The majority of currently cultivated varieties are cool-hardy cultivars of white wine grapes, including
Riesling
,
Gewürztraminer
, and
Chardonnay
. However, commercial production of
Cabernet Sauvignon
and
Merlot
show that warmer sites can sustain a broader range of grape varieties, and a look at wines being produced shows a great deal of experimentalism as growers work to better match variety to site.
Precipitation is an additional factor in the appellation's winegrowing makeup. Like many Northwest appellations, the Snake River Valley receives a minimum of rainfall during the summer months due to the barrier of multiple mountain ranges between the region and Pacific rain fronts. But unlike other appellations, the Snake River Valley receives only small amounts of total precipitation during the year. Average annual rainfall in the region is about 274 mm, while the Umpqua AVA receives 855 mm, Walla Walla AVA 530 mm, and Napa Valley AVA 672 mm. Irrigation, consequently, is critical to vine health.
Clearly, the establishment of the Snake River Valley appellation will be a boost to Idaho's wine industry. Merely the market awareness that an appellation can provide will likely help the industry, but the granting of an AVA may also help induce further development of the region's viticultural possibilities.
The appellation offers important pluses like a phylloxera-free environment so that own-rooted vines can be used, but there are also challenges such as extremely cold winters that pose threats of winter kill. None of this is news to the existing Idaho winemakers and vineyards. The success of names such as
Ste. Chapelle Winery
,
Sawtooth Winery
, and
Bitner Vineyards
, among others, show that the Snake River Valley has tremendous potential, and the granting of an appellation should serve wide notice that Idaho is a wine region to watch.