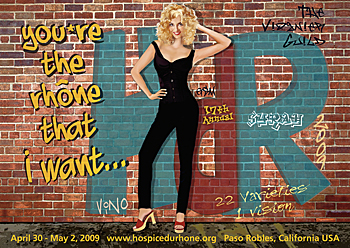 Is Paso Robles the Rhône Region of America?
As the annual Hospice du Rhône gets under way later this week, the spotlight is on how well the Rhône varietals grow in the Paso Robles AVA and how highly prized they are by the region's winemakers.
by Laura Ness
April 27, 2009
---

sed to be everyone in Paso thought Zin and Cab were the Holy Grail.
You couldn't make Zins big enough: you needed a ventilator to survive a day of tasting. Zins are still big here, but a sea change began about 10 years ago as winemakers fell in love with Syrah, and then all things Rhône. And it's not just reds: Rhône whites have blasted off in popularity as well.
Paso Robles
has truly discovered its kinship with the south of France, where a magical Mediterranean climate is conducive to topless sunbathing, and round, fleshy whites.
View from the Beaucastel at Tablas Creek:
It's good to be king. There's no question that
Tablas Creek
has played a major role in propagating the Rhône Era in Paso Robles: they own the Rhône throne. Although Gary Eberle was the first to plant Syrah in Paso in the mid-1970's at Estrella, he had already yanked it by the time Bob Haas established his Rhône beachhead in 1989. Son Jason Haas observes there were two tracks taken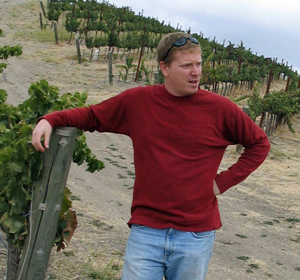 towards the ascension of Rhônes: the first, taken by most on the Eastside, was to plant Syrah to counter the Cabernet and Zin already in the ground. The other was to specialize in Syrah in specific sites, mostly on the Westside.
Guided by Rhône Messiah John Alban, boutique Westside growers like Justin and father Pebble Smith, planted Syrah: then wineries like
Linne Calodo
and later
Saxum
began to garner big scores from Parker and
Wine Spectator
, and the "Syrah Hurrah" began in earnest. Says Jason, "95 point scores became a strong accelerator to the trend towards Syrah, but then it accelerated beyond Syrah, especially with the advent of Grenache and Mourvedre-based blends."
There's a third trend: the increasing popularity of Rhône whites, in particular, Roussanne, Marsanne and Grenache Blanc: Viognier is too delicate to thrive here. "You're seeing more flagship blends, more expensive blends, in Paso. At Tablas Creek, we pick all the best lots for the Beaucastel wines." notes Jason Haas. They command a premium price, with no resistance, and very few people react to the word "blend" with the scorn of old: "is this a table wine?"
Hug Cellars: Syrah is Grande
Augie Hug arrived on the Rhône scene in Paso in 2003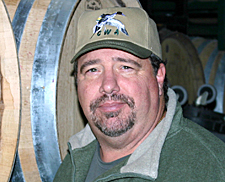 courtesy of John Alban, considered a pioneer of the Rhone renaissance in North America. From the first time he made wine with Alban's Syrah grapes, in 1994, Augie has appreciated the effects that a slightly cooler climate influence can have on Syrah. He calls his Paso Syrah from the Hoage Vineyards on the Westside, high on a northeast-facing hill, "El Grande." Says Augie, "This vineyard has such intense fruit, it needs 75% new oak," He's right: it's a monster. Blends are increasingly a part of his lineup. "There's a big swing to blends. I'd say 90% of wine drinkers here in Paso prefer the blends." He credits the yearly Hospice du Rhône event with inspiring more winemakers to cast their fate to the Rhônes.
In Search of L'Aventure
Originally from Bordeaux, Stephan Asseo had his fill of winemaking by "the rules," and set out to the New World 11 years ago. When he saw that wild, charming spot at the end of a dirt road in Paso, he fell in love. "I was looking for potentially fantastic terroir," Asseo says. "I had a fantasy blend in my mind: something I could not make in France. I wanted to make something that would represent this new terroir."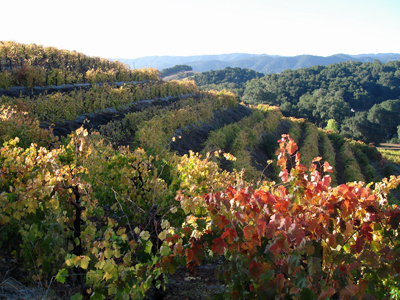 Inspired by a "kind of crazy" blend by a renegade winemaker from the south of France, he settled on a dynamite combo of
Cabernet Sauvignon
and
Syrah
, and what could be considered the signature blend of Paso was born. Many of his colleagues credit Stephan for this brilliant combination of what only Paso can offer in terms of ripeness and complexity, and they've lined up behind him like the Pied Piper. Says Asseo, "At first I was just this crazy French guy, doing this crazy blend. Now there are twenty wineries making it. I'm happy I am not alone any more!"
Asseo's Rhône blends, both white and red, have created a new category. "The charm of Paso is that we can shoot in all directions. We are not in jail. We are not limited to making one style at a time. Our unique character is our 'Paso Blends,' which represent well our particular place."
Cris Cherry: The Avenger
Along with Bob and Jason Haas and Stephan Asseo, Paso can thank Cris Cherry for advancing the Rhône cause with an unforgettable wine with an easy-to-remember name. From its initial release in 2001, The Wine Advocate back-flipped over the Syrah-based "Avenger." Cris can thank Mat Garretson, founder of Hospice du Rhône (see sidebar below), for his plunge into winemaking.
After attending the first Hospice in Paso, Cris began studying regions that were most like Paso, particularly Gigondas and Priorat. "Priorat is like the Westside," notes Cherry. "It makes big, ripe wines, but the natural acidity is still retained." This inspired him to focus on
Grenache
and
Mourvedre
, noting, "Blends are where it's at. They are a lot like cooking. When I cook fish, I want lemon, salt and butter: not just one. It's the sum of the parts." He's particularly excited about the trend towards Rhône whites. "Grenache Blanc and
Picpoul
are gaining traction. They are whites that can work well in this climate without getting blown out!!"
Caliza: Rhônes Love 'stone
It didn't take newcomer Carl Bowker too long to figure out that the area along Anderson Road was all about limestone (aka caliza). Consequently, he staked his heart on Syrah. And at least for the moment, he can bask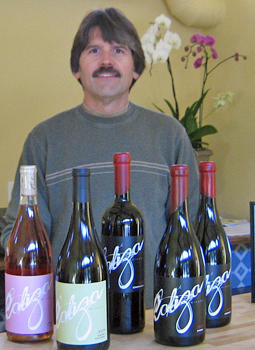 in the glory of having garnered both Best of Class and Best Sweepstakes Red for his 2006 Russell Family Vineyard Syrah at the 2009 S.F. Chronicle Competition. But he didn't stake his newly minted reputation on Syrah alone: Carl knows blends are where it's at as mor