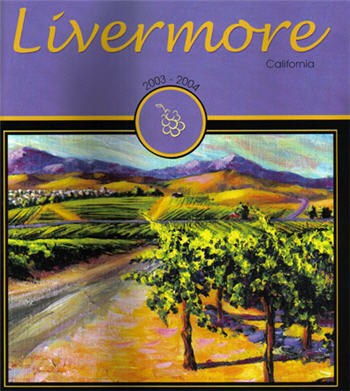 The New Old Livermore Valley
by Laura Ness
July 31, 2009
---

efore Prohibition, Livermore Valley was home to more than 50 wineries: only the Wentes and Concannons survived that era.
Jim Concannon, third generation of the Irish family that helped put this region on the map, proudly displays the original printing plate from the Archdiocese of San Francisco sanctioning the family to make sacramental wine during Prohibition. "The luck of the Irish!" he proclaims, although you'd swear he is crossing himself under the table.
It isn't just luck that has kept the Concannon brand going for over 125 years: it's determination, innovation and a sense of destiny, shared with two of the other great names in California winemaking, Mirassou and Wente. They're setting a fine example, writing the present day chapter of the Livermore winegrowing region hand in hand with center stage players like Bodegas Aguirre, Bent Creek, Charles R, Crooked Vine, McGrail, Page Mill, Picazo, Steven Kent, and Wood Family.
Extreme winegrowing and winemaking practiced under the Nth Degree label by fifth generation winegrower Karl
Wente
are setting new standards in excellence that can benefit the entire region. Tiny operations like Cuda Ridge (Merlot) and Les Chenes (Rhônes) drill down on their pieces of terroir, while broader spectrum operations like Crooked Vine/Stony Ridge and Tenuta showcase the region's varietal versatility. The original organic vineyard in the region (dating back to the 1970s), Retzlaff demonstrates that year after year you can make the same delicious wine where the only variable is the smile or the frown of Mother Nature.
It's a warm, red-friendly growing region, with one of the only east-west valleys in the state. Close enough to San Francisco Bay's cooling fog on the west end, and far from it on the east end, this region can manage both Chardonnay with decent acid and Sangiovese with hardly any. The continuum is significant. Standouts, though, are Cabernet Sauvignon and Petite Sirah.
Contemporary winemakers, many of whom are history buffs, will remind you that the variety originally associated with
Livermore Valley
is Sauvignon Blanc, harkening back to the Cresta Blanca days of the late 19th century. It's what initially put the area on the map, along with Chardonnay, which was originally brought to the region by Carl Wente. Livermore was the first to bottle varietals labeled Chardonnay, Sauvignon Blanc and Petite Sirah. Nearly 80 percent of California's
Chardonnay
vines are the Wente clone, propagated here, where there are presently a whopping 598 acres of the varietal still planted.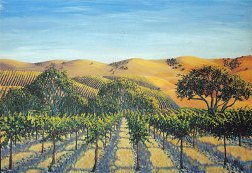 With only 55 acres currently planted here,
Sauvignon Blanc
is actually enjoying somewhat of a renaissance statewide: Up to 14,000 acres in 2007 compared with 9,400 in 1998. You'll find it being made by pretty much anyone who has studied under the tutelage of Earl Ault, considered by many to be the stepfather of contemporary winemaking in Livermore.
Current producers sourcing fruit from Earl include Charles R, Eagle Ridge and Page Mill Winery. At Ault's
Cedar Mountain Winery
, Earl has nurtured many wannabe winemakers and done custom crush for even more during his 20 plus year career here. Ault initially believed that Sauvignon Blanc would be the centerpiece of Livermore's 80s and 90s revival. Instead, he watched as Chardonnay and Merlot were planted in increasing numbers. He's a staunch fan of Sauvignon Blanc, though, and continues to promote it. He has some much-needed endorsement from the Ghielmetti family, who recently planted a 65-acre vineyard with 11 varietals that thrive here in Livermore, including Sauvignon Blanc. The Ghielmetti vineyard is winemaker Steven Mirassou's source for what is one of the most appealing examples of this varietal ( produced under the Steven Kent label) ever produced here.
The varietals really hitting the sweet spot are
Cabernet Sauvignon
and
Petite Sirah
. Total acreage of these two varieties is now 830 and 264 acres, respectively. (As a side note, plantings of both Cabernet and Petite Sirah have doubled statewide in the last ten years.)
Concannon
arguably put Petite Sirah on the map, and Livermore along with it. Tom Lane, winemaker for Concannon prior to The Wine Group's takeover, was a big factor in making that happen.
Petite Sirah is a focus of
Bodegas Aguirre
, with a string of award-winning Petites and a few blends incorporating its unique blueberry pieness. Winemaker and cardiac surgeon Ricardo Aguirre constantly obsesses over his estate vines, trying to keep yields low. He's all about expressing the varietal's effusive intensity, and is now selling his fruit to a number of other local winemakers, although he worries with a shrug that it may be already be over-planted.
Rick Corbett's Del Arroyo Vineyard might just be the most tapped source for local wineries next to Wente's managed plantings. Rick is the second largest grower in the Livermore Valley, and his 180-acre vineyard, the highest in the valley at 200 feet off the floor, supplies 400 tons of premium grapes per year to six local wineries, and three international wineries..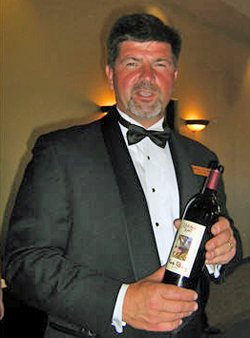 So much credit needs to be given to small growers who have adapted their particular plots of land to varieties that seem to do well in this uniquely situated east-west 15 mile long valley. Some of the more notable stars are
Sangiovese
and
Barbara
. Syrah is a handful, due to its tendency to reach off the pH charts, but picked right, it can work nicely. Winemaker Mitchell Katz has produced several laudable vintages of Sangiovese from Crackerbox Vineyard, and Syrah from Clark's Corner.
Page Mill Winery's
Dane Stark remarks on the rapid growth of the area's wine economy. "We've literally doubled in five years from 22 to 44 wineries!" He confesses that he initially thought he would be planting Cabernet and Sauvignon Blanc, then he gravitated towards Petite Sirah and Syrah. "I realize now that the far west end of this appellation can grow cooler climate grapes. I was astounded by the Chardonnay samples I tasted from west end vineyards during a recent Grape Expo," he notes. Asked to point to the region's signature varieties right now, Stark says Sauvignon Blanc and Petite Sirah. "I have only two acres of