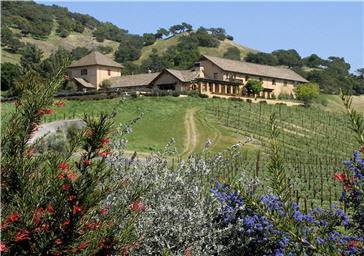 Nicholson Ranch: A Marriage of Three Sonoma Appellations
Nicholson Ranch's motto: "Wines with a Sense of Place."
by Rosina T. Wilson
May 29, 2009
---

hen Ramona Nicholson tells you
she knows every inch of the ranch that bears her family name, it's no mere hyperbole. "I was practically *born* on the ranch – and I've loved exploring it for as long as I can remember!"
Her parents had bought the 160-acre property, at the fog-cooled southern edge of the
Sonoma Valley
AVA and adjacent to the bi-county Carneros region, in 1962. An only child, Ramona spent an adventurous girlhood roaming the rolling terrain that served as her backyard.
In 1987, after spending her college years at Princeton, Ramona rekindled her deep connection to the countryside and to the ranch where she still lives. And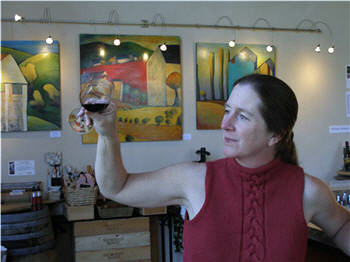 since meeting and marrying Deepak Gulrajani, a fellow wine lover originally from Mumbai (Bombay), India, Ramona has been able to realize her dream of raising a family of her own in her lifelong home.
"With our three children growing up here, we have a real feeling of continuity – and it's great that the kids can experience a lot of the same things I did when I was their age." And with Ramona's father Socrates living on the ranch also, "we have three generations sharing and enjoying this wonderful place."
In fact, Ramona and Deepak's three children are connected to the Nicholson Ranch wine enterprise in a somewhat unusual way. "With every pregnancy," Ramona remarks, "I 'nested' a little bit. During my first, after we realized that growing wine grapes would be the ideal use for the land, I studied viticulture" (referring to the program at Napa Valley College), I researched the neighboring Carneros region to determine the best varietals, rootstocks and clones for each section of the property, and I began planting our vineyards."
While pregnant with her second child, Ramona undertook a thorough remodel of the original ranch house. The third time, while carrying daughter Natalie (the

While the three sub- AVA-specific Syrahs of Nicholson Ranch have enough in common to generalize somewhat about suitable food pairings, each one is distinctive enough - thanks to their dissimilar growing regions - to warrant some creative fine-tuning.

Ramona Nicholson calls the lighter, "fruit-forward" Las Madres Syrah, from Los Carneros, "perfect with all things chocolate." With that in mind, along with the wine's bright, berry-like highlights, I mentally whipped up several simple dessert ideas, including chocolate torte with raspberry glaze, chocolate truffles filled with wine-marinated blackberries, and chocolate-covered strawberries.

Ramona and I agreed that it's important to make sure the food isn't significantly sweeter than the wine, in order to go well with it. However, a wine's fruity aromatics can cause it to *seem* sweet, making dessert pairings a bit easier.

During (rather than after) dinner, I could also see this wine as a partner to poultry and light-colored meats, prepared in simple ways. I instantly thought about getting my hands on some pork chops – or better yet, rabbit – and doing a simple stovetop preparation with onions, cherries, a little cocoa powder and some chicken broth.

Unlike the Los Madres, Ramona's other two Syrahs call for food companions that are, well, meatier. Both the Bennett Valley and Estate bottlings are excellent with rich, hearty roasts, chops, and stews. Beef, lamb, venison, buffalo – it's more a matter of cooking technique than of the main ingredient. Methods such as roasting, grilling and broiling, which brown the meat's exterior, serve to intensify its flavor (even more so when there's a meat rub involved) and steer it toward bigger, more intense wines. And when the dish calls for slow simmering with moist heat, you can choose ingredients to add to the stewpot – peppercorns, cinnamon, orange peel, olives, bay leaves – that best accentuate the flavors of the wine.

In both cases, some of the wine's tannins (despite being well integrated, they're still there) bond with some of the fat from the meat, making even a very young wine taste softer and more approachable. This is a great trick to use in general, by the way, when a wine you're drinking is unpleasantly tannic (unlike the Nicholson Ranch reds, which have smooth, velvety textures): Just bite into a rich piece of meat or cheese, take a sip of wine, and let the fat (and also the protein) grab some of that tannin and lock it up chemically before it can wreak havoc in your mouth.
~RTW
namesake of Nicholson Ranch's prestigious, estate-bottled 'Natalie's Cuvee Reserve' Chardonnay), Ramona "escalated the nesting" with huge steps toward bringing the winery at Nicholson Ranch to fruition.
"I found a winemaker and started making wine; I brought in an architect and began designing the above-ground winery; I even got the digging started for our caves."
Ramona's husband Deepak, meanwhile, has become more and more involved with the winery's day-to-day operations. Originally an investment manager with an MBA from NYU, Deepak has handled the financial aspects of the winery since its inception in 1995, and serves as its CFO. While Ramona was "taking care of the vineyards and all the 'above ground' details, Deepak took to the cave project in a big way. Now he works full time on the winemaking side" with winemaker Jacqueline Yoakum, who joined Nicholson Ranch in 2008.
The caves, built directly beneath the winery, serve multiple functions. "They house our settling tanks, our blending tanks, and the barrels where our wines age before bottling. Plus, they're a great venue for our Members' Club wine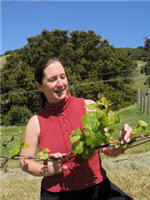 dinners and other special events." The winery building itself sits on a low hill planted with vines, blending unobtrusively into its surroundings, with echoes of early California in its design. A variegated slate roof, salvaged first-growth redwood trim, and subtle earthen tones enhance the natural effects, and its eco-friendly five-tier gravity-flow system ensures that the grapes receive gentle handling, with minimal intervention, at every stage of the winemaking process.
Nicholson Ranch
harvested its first vintage in 2000. Currently, the winery produces Chardonnay, Pinot, Syrah and Merlot, plus a small amount of fresh, delightful Ramona Rosé, which is "released in May, and sold out by Labor Day."
The State of the Estate
Though the majority of Nicholson Ranch wines are sourced from its on-site estate vineyards, which Ramona oversees directly, the winery also uses fruit from several high-caliber vineyard sources in other parts of Sonoma County. "We're very selective about the vineyards that we purchase from, and we have long-term agreements with the growers to keep us assured of excellent fruit."
This flexibility has enabled Ramona to build a