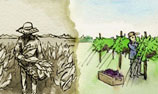 Welcome to North Carolina's first AVA. Attaining final approval on February 7, 2003, this 1.4-million-acre viticultural area in the northwestern section of the Piedmont region, spans seven counties along the Yadkin River.

The appellation hosts a growing number of wineries, concentrated at moderate elevations. The majority of vines here are Vitis vinifera, with wineries finding the greatest success with Chardonnay, Riesling, Cabernet Sauvignon and Merlot.

The Yadkin Valley viticultural area was born out of a need to find a new crop. With tobacco in decline, farmers needed to find a more profitable way to utilize their fertile grounds. The gently rolling hills and the mixture of clay and loam soils provide the area with excellent drainage. Combine that with a long, warm growing season and a mild winter and you find the recipe for successful viticulture.

Bi-State Upper Hiwassee Highlands an AVA
By
Roger King
August 6, 2014
In the southern Blue Ridge Mountains of North Carolina and Georgia vineyards are small and few, yet the establishment of the Upper Hiwassee Highlands could bring much more.  [>] continue

Discovering North Carolina's Yadkin Valley with Steve Shepard of RayLen Vineyards
By
Barbara Ensrud
September 12, 2006
[>] see all Yadkin Valley features (2)

Remote Manton Valley New California AVA
By
Roger King
July 31, 2014

WAWGG Banquet Explores Washington State Terrior
By
Roger King
February 2, 2014

Taking Focus on Appellation
By
Clark Smith
December 9, 2013

Whitehall Lane Winery, A 20 Year Story of Vineyards
By
Roger King
July 15, 2013

Embracing Virginia's Terroir
By
Richard Leahy
June 2, 2013