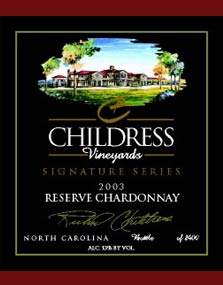 Recipe for Wine Success:
Take One Nascar Driver,
Add a Winemaker from Long Island,
Mix Well
An interview with Childress Vineyards winemaker Mark Friszolowski reveals why Yadkin Valley is quickly becoming an increasingly important American wine appellation.
by Barbara Ensrud
December 21, 2007
---
Barbara Endsrud (BE):
What drew you to North Carolina to make wine?
Mark Friszolowski (MF):
One of the first wines I tasted from North Carolina was a Syrah made by Steve Shepard (
RayLen Vineyards
), and I thought "Wow, they can make pretty good wine in Carolina." Then, talking with Richard, I saw how committed he was to producing quality wines here, so it seemed an exciting prospect. I came down from Long Island in 2003, and planting the vineyard was already underway.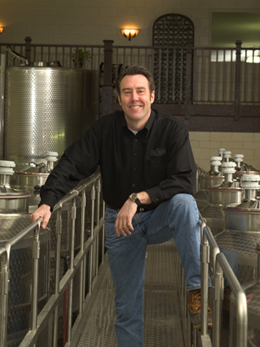 BE:
What varieties do you think grow best here?
MF:
Several, actually –
Chardonnay
,
Cabernet Franc
,
Merlot
,
Syrah
,
Cabernet Sauvignon
,
Viognier
. The wine we make the most of - because of demand - is Chardonnay. With reds, our biggest production is Merlot and Syrah, but we do a fair amount of Cabernet Sauvignon and Cab Franc.
Sauvignon Blanc
grows pretty well, not as vigorous as in the northern Yadkin Valley, where much of the land was pasture and is rich in organics. Here we've been fallow for forty years or so, overgrown with grasses and scrub. So we're careful about the amount of fertilizing we do, especially nitrogen which promotes vigor. We use a lot of compost - wood chips from horse farms mostly - which has more carbon and eats up nitrogen.
I also think
Sangiovese
can do well. We have five or six acres and will probably plant more. We made about 500 cases this year, which is only sold in the tasting room and at one little restaurant in Greensboro (Bianca's).
BE:
What are the biggest challenges for winegrowing in North Carolina?
MF:
The Easter freeze earlier this year was devastating for some varieties. We had five nights of temperatures in the teens. Here we got down to 15; there was more damage at higher elevations than lower, surprisingly. Bud break had come early for most of the white varieties and some Merlot. There's hardly any Chardonnay and Viognier at all for 2007. Few vines were totally destroyed, though. We can cut out most of the dead tissue and they'll be fine. It was a once-in-a-lifetime occurrence here - at least I hope not to see it again in my lifetime.
We will always have disease pressures with black rot and powdery mildew, so we have to keep our vines and fruit clean throughout the growing season. As

growers get a few more seasons under their belt, they will learn more about the technology and chemistry of spraying. A lot of them still don't understand how they can adjust drop size and the angle of spray to make it more efficient.
Our biggest problem is Pierce's disease. Sycamores grow all round the vineyard - they're beautiful trees but their roots promote Pierce's. We can't eliminate them, and don't want to, but we do try to keep them out a ways from the vines.
BE:
What have you found that is different from winegrowing on Long Island?
MF:
Mainly, it's the soil. On Long Island I could dump a bucket of water out in the vineyard and it wouldn't travel three feet before it all soaked in. You can have rain after rain after rain and it all drains down. Here in these heavy clay soils it just sits. We can get three or four inches in two hours here, so it's important that we plant on hillsides so we can shed that water off. And it's the same for shedding off the cold or frost.
Another difference is that here we're deficient in phosphorous. On Long Island we had excess phosphorous. Phosphorous deficiency has the some of the same symptoms as Pierce's - damage at the leaf lobe, high ph in the wines, somewhat weaker color. North Carolina State is building a data base on soil - if we get a handle on that, I think you'll see a big difference in quality for North Carolina wines. We can get riper grapes, they'll hang much longer, we can reduce yield per plant, adjusting spacing to get more per acre.
BE:
Is spacing important for vineyards here?
MF:
Oh, yeah. A lot of people think of North Carolina as overly vigorous, so they want to go with wider spacing. Actually, I think we should do more vines per acre; tighter spacing will give us 4 pounds of fruit per plant so it will get better ripeness - and won't get tired from hanging longer. With the current wide spacing, we get 12 to 13 pounds of fruit to get a yield of 3 tons per acre. We could get 3 tons if we double our spacing and get only 4 lbs of fruit per vine.
Twenty years ago on Long Island, vines were planted 600 vines per acre. In 2003 when I left, we were at 1500 plants per acre, so each plant has to work less and gets riper, healthier fruit. With closer spacing, I think we'll get a week or more hang time in the fall, because the vines won't get so tired out from carrying too much fruit, especially in a drought year like this one.
It also helps with vigor, as does the use of low-vigor rootstocks. We are switching over from 3309 in new plantings to
Riparia Gloria
, which is slow-growing. The longer time on the vine will make the difference between a really good bottle of wine and a mediocre one.
BE:
In a new area it takes a while to learn just what the vineyard can give you.
MF:
It does - it's going to take years. Down here, people have the land - tobacco land - and plant in what may not be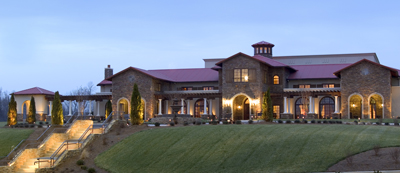 the best site but you work with what you've got. Sometimes you get lucky and it works out; sometimes you have to make lighter wine from that site.
I've heard people say they are looking for the ripeness of big Zins from California - not going to happen here. If you try to compensate by leaving the wine in the barrel too long; if you leave it on the skins too long; if you're looking for too much extraction or your pump overs are too vigorous - you 're just going to come up with something that's big and tannic but doesn't have the fruit. I think it's a mistake.
BE:
Of course, many of us are not keen on those ultra-ripe, high-alcohol wines anyway. How do you handle tannin?
MF:
I do very g