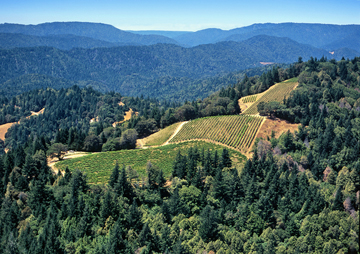 Mendocino Ridge AVA is Zinfandel Heaven
A trio of ridges rises above the clouds to comprise a unique AVA also known as Islands-in-the-Sky™
by Rhoda Stewart
April 16, 2009
---

peaking passionately of the Zinfandel grapes
growing on top of the ridge in his and his neighbor Charlie Ciapusci's Mendocino vineyards, the late George Zeni explained why winemakers such as Jed Steele trekked up the steep and twisting 15 miles to get the fruit from their historic vineyards. It was because "They wanted our mountain grapes . . .there was more sugar and it'd make a better wine. In fact, they're still doing that right now. Why do you think Kendall-Jackson comes over here and buys Ciapusci grapes and my grapes? That's where they get all their gold medals. Hell, I must have a dozen gold medals over there; Kendall-Jackson has over there at Lower Lake. So does Ciapusci."
Allan Green and family bought their Mendocino property in 1973 with its 8 acres of Cabernet Sauvignon, Merlot, and Riesling, and built
Greenwood Ridge Vineyards
, the first winery in the AVA, in 1980. Merlot, with its earthy spiciness, and the aromatic, crisp, and slightly off-dry White Riesling proved to be good matches with the site, so Green added two acres of each in 1988, then four acres of Pinot Noir in 1996. Cabernet rarely ripens, so it is being replaced by Syrah.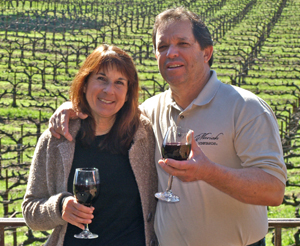 But it was the Zinfandel grapes and a promise from Steele, founding winemaker for
Edmeades
, to buy their fruit that brought Dan and Vicki Dooling to the 2600-foot elevation of Mountain View Road in 1978 to clear 20 acres of timber from their 90-acre parcel and plant
Mariah Vineyards
Zinfandel.
In 1994, Steve Alden followed Dooling to the region and established his lily-pad-like collection of five blocks forming his Perli Vineyards on the family mountaintop estate off Fish Rock Road. He first planted 10 acres of Zinfandel, then 4½ acres of Merlot. By 2001, Alden had added 8 acres of Syrah in two blocks, and lastly, 6½ acres of Pinot Noir.
Both Dooling and Alden's vineyards are trellised, and were established with drip-irrigation lines used mostly for delivery of nutrients. Dooling's 30-year-old Mariah Zinfandel has been without drip lines for 10 years.
Some 20 years after Steele made his first Mendocino Ridge Zinfandel from the DuPratt Vineyard (1974), Dooling and Alden undertook three years of research into the weather, soil, topography and history of the region to convince a skeptical ATF that the unconnected vineyards above 1200-feet elevation on the coastal ridges in the southwest corner of
Mendocino County
formed a uniform AVA.
Their efforts were rewarded in October 1997 when Mendocino Ridge was granted American Viticultural Area (AVA) status, making it the world's first non-contiguous viticultural area.
The vineyards making up this Mendocino Ridge AVA are scattered across the ridgetops like "Islands-in-the-Sky™," says Dooling. (Dooling's passion for the area went as far as to trademark Islands-in-the-Sky, the perfect descriptor of the Mendocino Ridge AVA.)
The main climatic characteristic of the region that distinguishes the Mendocino Ridge AVA is the temperature range between daytime highs and nighttime lows (what the growers and winemakers refer to as the diurnal fluctuation). In neighboring
Anderson Valley
, the diurnal fluctuation during growing season can be as much as 40 degrees in 24 hours. On the ridgetops, which lie above the fog line and the frost pockets, the diurnal swing can be half the valley fluctuation - 20 degrees rather than 40.
"Our lows are higher and our highs are lower," explained Dooling. "The diurnal swing or fluctuation is not just lesser on the ridgetops, but the temperatures are both more consistent and more moderate," added Jason Drew, owner with his wife Molly of Drew Wines on Greenwood Ridge Road.
This diurnal fluctuation, or "inversion," is especially important during fall, said Alden. "It creates good ripening weather from about September 1 through harvest, during which period the daytime temperatures are lower than in the valley, and night time temperatures stay much warmer. Many times, I've still had grapes on the vines, while in Boonville everything is brown from frost the night before! The valley has frost and up on the ridgetops, we are warm and sunny. The Syrah and the Zin both require that temperature inversion in order to fully ripen."
Zinfandel
is the oldest and the most important wine grape variety in the AVA - with Francis Fashauer's six-acre Zinfandel Vineyard planted 1999 on Greenwood Ridge Road being the most recent addition. Zinfandel plantings in the AVA as of 2009 total about 60 acres.
The distinguishing component of the grapes from these vineyards is their high malic acid content, said Van Williamson, winemaker since 1994 for Edmeades. It takes several months for these wines to complete malolactic fermentation, which leads to wines with a higher perceived acid content. This balances out the higher alcohol content that comes from full ripeness of the grapes and the accompanying luscious, big fruit component of these seductive monsters, and produces wines with long ageing potential.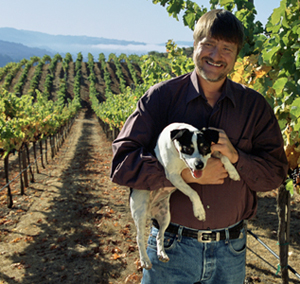 Edmeades produces three vineyard-designate Zinfandels - Zeni, Ciapusci, and Perli - from the Fish Rock Road area, each wine an expression of its unique terroir. Williamson finds that the most prominent flavors and aromas of these Zins are black raspberries, black cherries, and cranberries, followed by nectarine, peaches, white pepper, and wet stone minerality. Williamson's winemaking approach to these vineyards is in keeping with the old-time philosophy of George Zeni, whose mantra was, "Use good barrels and good grapes, and don't take nothin' out and don't put nothin' in. If you've got good grapes, leave 'em the hell alone." Williamson ferments the grapes on native yeast, ages them in from 40 to 60 percent new French oak, and bottles them unfined and unfiltered.
The 2600-foot elevation Mariah Zinfandel and the distinct terroir associated with its site produces an intense yet elegant wine with lower alcohol levels, almost in a Pinot Noir style, according to Dooling, with a dark fruit and slightly earthy character expressive of the maturity of the non-irrigated vines. Brown-Forman buys most of the Mariah Zinfandel for its Sanctuary brand and custom-crushes the balance for Mariah. Dooling, who established an on-site bonded winery in 2006, will bottle the 2008 vintage as his first estat