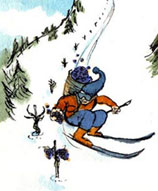 "Rocky Mountain HIGH"! Colorado's grape-growing regions are among the highest in the world – from 4,000-7,000 feet. Quality grape growing requires an environment where there are hot days and cool nights. The high elevation vineyards ensure this here, with cool evenings maintaining acidity and hot days ripening the grapes. There are currently around 750 acres under vine, spread mostly between two viticultural areas, Grand Valley and West Elks. By 1910, there were more than 1,000 farmers with vineyards and the industry was booming. However, Prohibition wiped out the wine industry in these parts. Today there are over 60 wineries in the state, with more on the way. Vinifera varietals include Merlot, Cabernet Sauvignon and Chardonnay. Hybrids are also cultivated here, as their winter hardiness makes them an ecological success.

Whitehall Lane Winery, A 20 Year Story of Vineyards
By
Roger King
July 15, 2013
From initial vineyard plantings on Whitehall Lane in the 1800's the evolution to today's Whitehall Lane Winery has been a story of vineyard. The first 25 acre vineyard property is the winery site, yet the definition of multiple Napa Valley sub appellations is formed in a wide ranging set of vineyards all showing unique profile and character in their wines.  [>] continue

Colorado Wines - High Altitude, High Expectations
By
Dan Berger
July 17, 2009

Growing Grapes in the High Country
By
Barbara Ensrud
November 15, 2006
[>] see all Colorado features (2)

Embracing Virginia's Terroir
By
Richard Leahy
June 2, 2013

Shake Ridge Ranch - Gem of the Sierra
By
Roger King
May 16, 2013

Tannat, Vibrant Across the America's
By
Barbara Trigg
May 6, 2013

Welcome Middleburg Virginia AVA
By
Roger King
January 4, 2013

Humboldt County: Is Too Much Terroir Possible?
By
Clark Smith
October 14, 2012