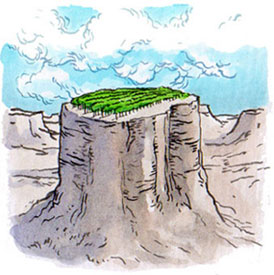 Growing Grapes in the High Country
"Colorado's lively young industry boasts vineyards at the highest elevations in the U.S., ranging from 4400 to 6500 feet in two AVAs, Grand Valley and West Elks."
by Barbara Ensrud
November 15, 2006
---
When considering the rapidly growing wine regions around the United States,
Colorado
is definitely one that is making impressive strides. In the last five years, the number of wineries in Colorado has nearly doubled, from 35 to 66, an annual growth rate of over 16.5 percent. Several wineries are on Colorado's Front Range, around Boulder and Denver. The greater number -- and all but a few of the vineyards -- are to the west on what is known as the Western Slope, a high desert region between ridges of the Rocky Mountains, which is dotted with small communities such as Grand Junction, Palisade and Paonia.<!>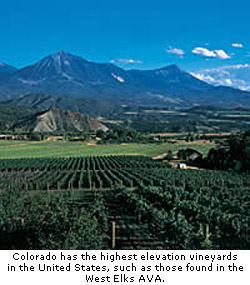 Here, Colorado's lively young industry boasts vineyards at the highest elevations in the U.S., ranging from 4400 to 6500 feet in two AVAs,
Grand Valley
and
West Elks
. The stark, sweeping landscape of Grand Valley offers dramatic vistas, punctuated by towering flat-topped mesas which rise steeply along roadways. Giant boulders toppled here and there attest to occasional massive rock slides, the most recent of which occurred in mid-September, knocking over a semi on the main east-west artery, I-70 and killing the driver instantly.
This is high desert country. Rainfall is light, a mere 22 inches a year, including an average of about 11 inches of snow, but the warm temperatures during summer and fall make it a thriving region for peach orchards and other fruits, as well as such warm-climate grapes as
Syrah
,
Cabernet Sauvignon
and
Merlot
.
Riesling
and
Gewurztraminer
also grow extremely well here and Colorado produces some terrific ones. High elevation and low humidity coupled with cool nights help retain a high degree of acidity as the grapes ripen. This is a positive for all varieties grown in the region, but it makes for especially pretty Riesling and Gewurztraminer. These wines regularly come away with top medals in national competitions -- gold for Boulder Creek in the 2006 International Eastern Wine Competition, while
Carlson Vineyards
Riesling won Best Riesling in 2004 in the same competition.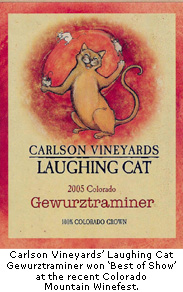 At the recent annual Colorado Mountain Winefest, held each September in Palisade, CO, Carlson took top honors -- Best of Show -- for its
2005 Laughing Cat Gewurztraminer
.
Plum Creek
,
Grande River
and
Two Rivers
have also garnered golds for Riesling.
The terroir also works very well for
Chardonnay
and
Viognier
. Colorado produces some very graceful, deftly oaked, elegantly balanced Chardonnay -- such as the 2005 Two Rivers Reserve and Plum Creek 2004. And if any region in America has the potential for producing Chablis-style Chardonnay, it may well be this one, with the limestone soil of the high plains. As in other regions, Colorado producers are experimenting with pure, unoaked Chardonnay, and the mineral character of the 2005 from White Water Hill Vineyards points in the right direction. My only caveat regarding Colorado Chardonnays is that some of them have residual sugar -- hardly needed in a climate so conducive to producing wines with a balance of ripeness and crisp acidity.
The main challenges in terms of growing conditions are the short growing season and the frost, but there are other extremes, such as 100-mile-an-hour winds that rip across the plain, baseball-sized hail and heat spikes in August or September.
"We have as many degree days as Napa or Tuscany," says Doug Caskey, director of the Colorado Wine Industry Development Board. "We can get over 100 degrees seven days in a row in summer, but the time between the last spring frost and the first of the fall is shorter. Zinfandel, for instance, won't usually get as ripe as winemakers like it here, and if there's an early frost in the fall even
Cabernet Sauvignon
has a tough time getting fully ripe."
Other challenges, according to Caskey, include alkaline soil. It's so arid that the vineyards must be irrigated with water from the Colorado River. On its way through the mountains, the river picks up mineral salts and deposits them in the vineyard, so growers have learned to acidify the water before it goes on the ground.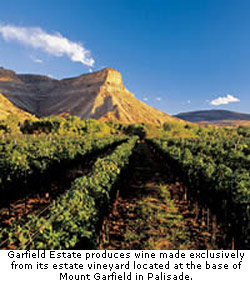 In 2005, wine production totaled over 76,000 cases. Colorado wineries are mostly small, and family owned. They range in production from several hundred cases to 12,000 (and growing) at the state's larger wineries such as Plum Creek and Two Rivers. A few wineries produce only estate-grown wines, such as
Garfield Estate
, situated at the foot of Mount Garfield in Palisade. Many wineries, however, have only a few acres of vineyard and buy much of their fruit from the estimated 130 growers on the Western Slope. Red wine grapes dominate in the vineyards, the principal grape being Merlot, followed by Cabernet Sauvignon,
Syrah
and
Cabernet Franc
. The leading white grapes -- Chardonnay, Riesling, Viognier,
Sauvignon Blanc
and Gewürztraminer -- represent about 25 percent of total acreage.
Grande River, which has the largest vineyard acreage in Colorado and sells grapes to several wineries, was the first to plant Rhone varieties, including Viognier. Grande River 2005 Viognier has attractive floral aromas, with a crisp, bright acidity that finishes dry. Locally, people are wondering about the future of this wine estate. Owner Steve Smith has put the winery and vineyards up for sale. It will be too bad if the vineyard -- or parcels of it -- are ultimately sacrificed to development. But, as in many wine regions around the country, real estate values are climbing and as the region attracts more and more tourists -- to visit wineries, but also for white water rafting, hiking, biking and other outdoor activities, land values will likely continue to increase.
The number of wineries and viney