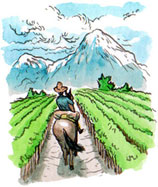 The West Elks region, Colorado's second AVA, boasts the highest vineyards in the northern hemisphere, at just over 6400 feet—and you have to go up and over an 11,000-foot pass in the Rockies to get there. By comparision, the highest vineyards in the world—at the moment—are in Argentina in the northern Andes planted at an elevation of 7,000-plus feet. There are only a handful of wineries in this AVA as of yet, but they are producing some exciting wines. This elevation produces some scintillating Riesling and Gewurztraminer. These aromatic styles of wine are generally are made with some residual sugar left in the wine but acidity levels are high which make an excellent counterpoint to sweetness.

More intriguing perhaps is the potential for Pinot Noir. Alfred Eames, whose winery is just south of the town of Paonia, grows Pinot at an altitude of some 5400 feet, getting good color and intensity of character and vibrant richness. These are not the fruit bombs of California's biggest Pinots, but that isn't the aim here.



WAWGG Banquet Explores Washington State Terrior
By
Roger King
February 2, 2014
The multiple appellations of Washington will be tasted in a unique banquet dinner at this years Washington Association of Wine Grape Growers Annual Meeting and Trade Show. Nuances of that regional diversity have been paired with the meal being prepared by Chef Dan Carr.  [>] continue

Taking Focus on Appellation
By
Clark Smith
December 9, 2013

Whitehall Lane Winery, A 20 Year Story of Vineyards
By
Roger King
July 15, 2013

Embracing Virginia's Terroir
By
Richard Leahy
June 2, 2013

Shake Ridge Ranch - Gem of the Sierra
By
Roger King
May 16, 2013

Tannat, Vibrant Across the America's
By
Barbara Trigg
May 6, 2013

Welcome Middleburg Virginia AVA
By
Roger King
January 4, 2013

Humboldt County: Is Too Much Terroir Possible?
By
Clark Smith
October 14, 2012