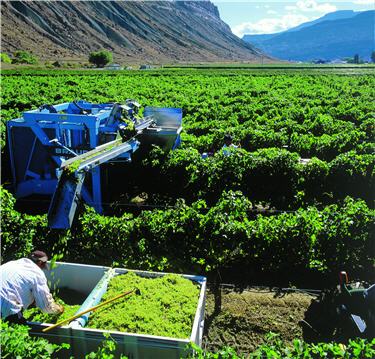 Colorado Wines - High Altitude, High Expectations
by Dan Berger
July 17, 2009
---

n 2007, a high-altitude wine symposium was staged to discuss the unique properties of wines grown at 1,800 feet.
Imagine the amusement of those winemakers who heard of this. "The lowest we grow grapes is 4,000 feet," said one grower. Another said, "Try 6,000 feet."
The speakers are just a few of those who grow wine grapes in
Colorado
, a state that quietly has become a repository for esotericists, which I define as those who seek differences in their wines that are not merely curiosities, but potentially exciting. Colorado isn't the next Napa. But the quality of the wines is rapidly improving despite vineyard challenges that could add new chapters to a standard viticulture textbook.
For instance, the alkaline soils in most growing regions call for the addition of sulfuric acid to the irrigation water. There is the as-yet-unknown effects of solar radiation on grapes; the outrageous winds that can be either beneficial or detrimental, depending on conditions that are unpredictable. And cold when you least expect it. Then there are the cool nighttime temperatures during the growing season that keep acidity levels high.
What makes most Colorado "vineyard" areas look odd is the barren moonscape near where grapes thrive - patches of green standing in stark contrast to uplifted cliffs of white Mancos Shale on which nothing, not even scrub brush, will even try to grow.
Nearby is the astounding Grand Mesa, the world's largest such high plain, 500 square miles of pristine rain forests, lakes, and a water source for the nearby Grand Valley, the best known of Colorado's two AVAs. Wine grapes don't grow on the mesa. Too wet.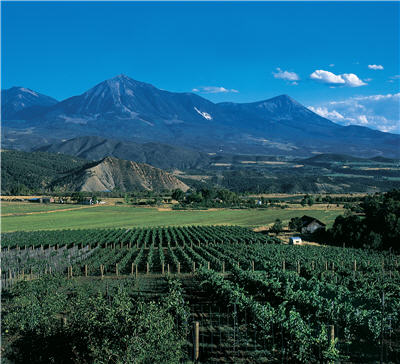 As with any emerging wine country area, Colorado has two kinds of wineries (with subtle variations), easily identifiable with a visit. In early June, I did a four-day tour covering hundreds of miles to both of the state's AVAs and tasted some 100 wines.
One type of winery here is the one driven almost literally by tasting room sales. Most wines tend to be a cut above what I expected, all sound, lacking in flaws, but often a reflection of what sells. There is a lot of pride in these places, as well as a lot of good humor. But it's hard to see much world-class-ness in many wineries, most of which either lack acidity or are sweet, including most rosés and even some reds.
As said Norm Christianson of
Canyon Wind Cellars
, one of the most professional of the wineries, "Colorado is a very limited wine-experience state." The fact that the state's best-selling red wine is sweet explains his statement more than I could.
The other type of winery in Colorado aims at making dry, classically structured wines that would do well in international wine competitions (and have - a few years ago, a Colorado Riesling won an international Riesling competition). They are wines that appeal to diners and sommeliers in major cities, and which for the most part are downright bargains. The word hasn't yet filtered down to most wine lovers, many of whom still buy according to the scores of major publications.
Still, even in this upper echelon of wine making, there are stylistic oddities that might have been solved had the wineries not existed in such a remote area, where access to wine education, the latest thinking on wine science, and winemaker interactions are all minimal at best and usually non-existent.
The general impression I got of the wines is: a lot better than they were just a few years ago. A few wines are truly exceptional, and that's because they adhere to basic ideas about how fine wine should be made. Such wines often reflect the fact that the winemaker had the courage, basically, to let the grapes be the spokesman for the soil.
And it's also reflective of those winemakers who are so instinctive and so skilled that the wines could easily sell in the top eateries in Los Angeles, San Francisco, or New York. Yet an overwhelmingly large percentage of Colorado wine is being sold in tasting rooms mainly, I suspect, because there is resistance on the part of some local retailers and restaurateurs to carry local products.
There is a stigma attached to the name "Colorado" on a bottle of wine. Many people, including many wholesalers, have a long memory and remember just a decade ago when most Colorado wine was uninteresting. The fact that it has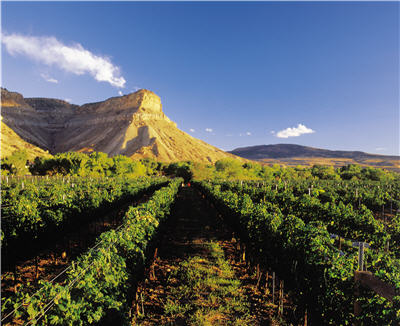 gained such traction with savvy wine collectors hereabouts proves that Colorado can really make some great wine. But like most other emerging wine regions, it takes time to persuade those whose prejudice gets in the way of objective evaluation.
Even then, once the gatekeeper has been convinced that the wine is excellent, the next step is getting the consumer to be willing to give it a go. During my trip, I got the idea that if consumers were really adventurous, they might investigate what is really going on here and get behind the local product.
It's happening, but slowly.
Almost as slow is the improvement in wine making. The state has made major steps in this direction, which are just developing. Steve Menke of the Western Colorado Research Center at Grand Junction has recently begun a number of new educational and training programs for winemakers, notably in the area of qualitative descriptive analysis, aimed at identifying various components in wine, a vital step toward better quality wines.
Moreover, a number of wineries have winemakers with major experience. Canyon Wind's consulting winemaker is Bob Pepi, with wide Napa Valley experience. Matt Cookson at The Winery at Holy Cross Abbey, Alfred Eames at Puesta del Sol, Bob Witham at Two Rivers, Jackie Thompson at Boulder Creek, Joan Mathewson at Terror Creek, and Sue Phillips and her winemaker, Jenne Baldwin-Eaton at Plum Creek are among a number of superb wineries making a grand statement with their wines.
One key point here is that some 90 percent of the fruit for all Colorado wines, regardless of where they are produced, come from one of the two appellations in the state, the warmer
Grand Valley
AVA, and the slightly cooler (and higher in altitude)
West Elks
AVA. The AVAs are about 50 miles apart.
Almost all of Colorado's winemakers get their fruit from those two areas in the western high plains. Just a bit east, the Continental Divide rises up toward Aspen and other ski resort areas, where altitudes rise to 14,000 feet and more, and the land only dips some 300+ miles later to the relatively low-lying Denver and Boulder, which are both still a mile high. Here we're in the so-called Front Range, which gets so cold in winter, thanks in large part to the Canadian-originated Artic Express winds that are so frigid that no
vinifera
grapevines can survive.

READER FEEDBACK: To post your comments on this story, click here

Print this article  |  Email this article  |  More about Colorado  |  More from Dan Berger