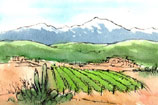 Arizona's grape growing and wine-making history goes back more than 450 years to when Jesuit missionaries planted vineyards and produced wine for use in the Holy Sacrament. Arizona was not immune to the wine revolution fever which began in California in the late 1960s and swept across North America in the 1970s. Today, the state boasts nearly 20 wineries and business is booming. Most vineyard sites in Arizona are in the state's southeast corner, which has also become the state's first designated viticultural area, the Sonoita AVA, south of Tucson. The most successful varieties grown in Arizona are those from the southern Rhone, such as Syrah and Grenache, as well as Italian varietals, including Sangiovese and Pinot Grigio.

WAWGG Banquet Explores Washington State Terrior
By
Roger King
February 2, 2014
The multiple appellations of Washington will be tasted in a unique banquet dinner at this years Washington Association of Wine Grape Growers Annual Meeting and Trade Show. Nuances of that regional diversity have been paired with the meal being prepared by Chef Dan Carr.  [>] continue

Taking Focus on Appellation
By
Clark Smith
December 9, 2013

Whitehall Lane Winery, A 20 Year Story of Vineyards
By
Roger King
July 15, 2013

Embracing Virginia's Terroir
By
Richard Leahy
June 2, 2013

Shake Ridge Ranch - Gem of the Sierra
By
Roger King
May 16, 2013

Tannat, Vibrant Across the America's
By
Barbara Trigg
May 6, 2013

Welcome Middleburg Virginia AVA
By
Roger King
January 4, 2013

Humboldt County: Is Too Much Terroir Possible?
By
Clark Smith
October 14, 2012