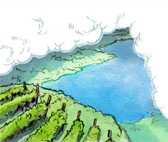 The beautiful and appropriately named High Valley is one of California's newest American Viticultural Areas (AVA). With vineyards mostly planted between 1,800 and 2,200 feet above sea level this lofty appellation towers over Lake County. Due to its lofty environ, combined with the natural east/west orientation of the valley - which pulls in coastal breezes - and the northern exposure of the vineyards, High Valley represents relatively cool climate viticulture in Lake County.

Despite only recently gaining AVA status, High Valley has a long, albeit interrupted tradition in grape growing. In the 19th century the valley was a significant grape growing region, but this once booming industry was abruptly halted by Prohibition in the early 20th century. Thankfully, the region has reemerged as an important and distinct viticultural region. A combination of California's traditional star grapes including Cabernet Sauvignon, Merlot, Petit Sirah, Cabernet Franc, Malbec, Petit Verdot and Sauvignon Blanc make up the varietal mix planted on the volcanic slopes found in this region. As cool climate regions are gaining notoriety in California, the High Valley AVA should soon stand tall amongst its peers as a premium grape growing region in the state.

A Day in the (Rutherford) Dust
By
Barbara Trigg
August 2, 2013
While the early days of Napa Valley always mentioned the dust in summer, Rutherford Dust referred to an entirely different context. During a recent tasting in Napa Valley held by the Rutherford Dust Society a wide wide range of Rutherford wines shed new light on the long term meaning.  [>] continue

Whitehall Lane Winery, A 20 Year Story of Vineyards
By
Roger King
July 15, 2013

Embracing Virginia's Terroir
By
Richard Leahy
June 2, 2013

Shake Ridge Ranch - Gem of the Sierra
By
Roger King
May 16, 2013

HR9 Supports (CA) Historic Vineyard Society
By
Roger King
May 9, 2013

Tannat, Vibrant Across the America's
By
Barbara Trigg
May 6, 2013

Welcome Middleburg Virginia AVA
By
Roger King
January 4, 2013

Humboldt County: Is Too Much Terroir Possible?
By
Clark Smith
October 14, 2012