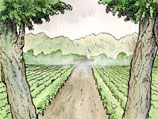 York Mountain's history and terroir have earned it a sizeable reputation, even though it is home to just one winery and a half dozen vineyards. One of California's smallest AVAs, York Mountain nestles among oak trees on the eastern slopes of the Santa Lucia Mountains, west of the large Paso Robles AVA. York Mountain gained AVA status in 1983 through the petitioning of Stephen and Max Goldman, who at the time were the owners of the York Mountain Winery. York Mountain represents one of the finest examples of a unique grape growing climate in California. The region, only seven miles from the Pacific Ocean, is significantly cooler and wetter than neighboring Paso Robles. Vineyards in the appellation are situated at an average of 1,500 feet and benefit from low-vigor soil, steep slopes, long sunshine hours and cool coastal breezes. In 2001, Martin & Weinrich became only the third owners of the York Mountain Winery, which dates back to 1882. The new owners have a solid reputation in the local wine community, and are actively planting significant vineyard acreage in the appellation. Shadow Canyon Vineyards, growers of highly regarded Syrah, use a production facility in nearby Santa Maria to produce wines with the York Mountain AVA on its labels. Stephen Goldman, the original petitioner for the AVA, continues to make Pinot Noir and Chardonnay wines highlighting the specific terroir of the region and sourcing fruit from his own and neighboring vineyards within the AVA. The future bodes well for this appellation hidden in the Pacific mist.

WAWGG Banquet Explores Washington State Terrior
By
Roger King
February 2, 2014
The multiple appellations of Washington will be tasted in a unique banquet dinner at this years Washington Association of Wine Grape Growers Annual Meeting and Trade Show. Nuances of that regional diversity have been paired with the meal being prepared by Chef Dan Carr.  [>] continue

What's Up on York Mountain?
By
Laurie Daniel
June 27, 2007
[>] see all York Mountain features (1)

Taking Focus on Appellation
By
Clark Smith
December 9, 2013

A Day in the (Rutherford) Dust
By
Barbara Trigg
August 2, 2013

Whitehall Lane Winery, A 20 Year Story of Vineyards
By
Roger King
July 15, 2013

Embracing Virginia's Terroir
By
Richard Leahy
June 2, 2013

Shake Ridge Ranch - Gem of the Sierra
By
Roger King
May 16, 2013

HR9 Supports (CA) Historic Vineyard Society
By
Roger King
May 9, 2013