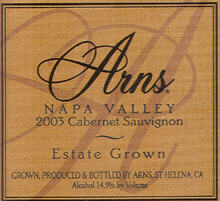 Arns Winery - Finds Its Place In Between
by Alan Goldfarb
July 20, 2009
---

andi Belcher is betwixt and between.
Not as a person. Goodness knows Belcher is as precise as one can be. And as a winemaker, she can find her way around China and Thailand as few westerners do. Of course, she knows a thing or three about the
Napa Valley
too, having been involved in wine there for the last 40 years.
It's just that from where she makes wine, at her
Arns Winery
, she's neither here, nor there, caught in a netherworld on ground that is not narrowly defined by official sanction. Her little 10-acre vineyard, almost 800 feet off the valley floor, sits on a hillside just below the burly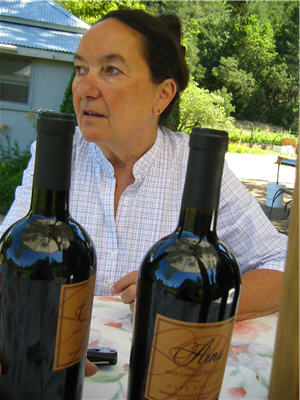 bosom of the
Howell Mountain
AVA and just above the
St. Helena
AVA.
In other words, Arns' provenance – as noteworthy as it is in its own right – dwells by itself in plain ole Napa Valley, sans a precise subset. But Belcher and Arns suffer no deprivation. Let's face it: anywhere in America's most prominent wine region ain't a bad address; and since Belcher made the first release of Arns' Cabernet-based wines in 1992, they have become some of the best under-the-radar wines anywhere.
The
Syrah
($50), from the Melanson Vineyard on Pritchard Hill to the south (just below Chiles Valley and overlooking the well-known Colgin Cellars), is full of deep flavors, including hunger-inducing smoky baconesque nuances. Belcher also utilizes the Melanson parcel in what she labels her "Napa Valley"
Cabernet Sauvignon
($50), which is blended from Arns' own vineyard; while the latter is used wholly for the "Estate" Cab ($75). In all, she produces less than 1,000 cases a year.
The Arns vineyard, whose grapes used to go into Randy Dunn's long-lived wines from 1979 to '90, is bordered by the Forman Vineyard and the storied Herb Lamb Vineyard, which for a long while has been a premier source for the scarce abd highly sought after Colgin wines.
At Arns, some blocks - planted in the late 1960s and '70s - yield only about 1 1/2-to-2 tons per acre, low by today's standards, and a throwback to the way grapes were farmed in the valley during that aforementioned period. Within Arns' blocks preside some of the clones taken from Nathan Fay's vineyard in the Stags Leap District, which has been used most famously by Stag's Leap Wine Cellars.
The Arns' loamy soils are very deep and well-drained, allowing the vine roots to go search for water; and in turn, they require little or no irrigation, or chemicals. The exposure of the different blocks accentuates the clonal differences, according to winery literature, and makes each separate area of vineyard somewhat differentiated. The vines vary in age from 15 to 30 years. The newer blocks are planted at a much higher density, with a spacing of 5-foot by 3-foot and on vertical shoot positioned (VSP) trellises. There are a total of seven different clones of Cabernet.
This combination of clonal selection, low yield, and minimal irrigation produces fruit that is concentrated. The different blocks are kept separate so that they can be evaluated by performance of the different clones and areas of the vineyard.
The vineyard results in wines of definitive color and taste profiles, broodingly dark, big, tight, and layered that Belcher says of them: "(They) taste like 'here'. They're very terroir-driven. People that know Arns can pick it out in a blind tasting."
The wines put together by Belcher are all well-balanced and express themselves best when commingled with food. She made wine for more than a quarter-century for Bob Long at his tiny Long Vineyards, also on Pritchard Hill, before it was sold a couple of years ago. And, even though the vines are from the 70's, it would be a gross misconception to think that Belcher too is of another era.
No, Belcher is très up-to-date, flitting as she does a couple times a year through Asia, visiting and consulting for up-and-coming vineyards and wineries in China (at elevations of 7,000-feet), and even in Thailand. She's been involved in the latter for the last half-dozen years working with a 350-acre Syrah vineyard that is located two hours south of Bangkok. She says in her soft, Southern-tinged voice that the site reminds her of the Long Vineyard thousands of miles away on another continent.
At Long, Belcher crossed paths with Zelma Long, Bob Long's former spouse, and one of the women who forged a path for others long before it became acceptable, as well as fashionable to be a female winemaker. Sandi Belcher was there too in the "early days", unsung and unheralded, but nonetheless also as incredibly talented.
---
Photos by Alan "Hot Shot" Goldfarb