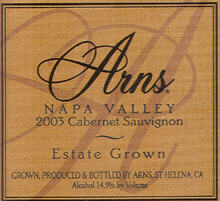 Arns Winery - Finds Its Place In Between
by Alan Goldfarb
July 20, 2009
---

andi Belcher is betwixt and between.
Not as a person. Goodness knows Belcher is as precise as one can be. And as a winemaker, she can find her way around China and Thailand as few westerners do. Of course, she knows a thing or three about the
Napa Valley
too, having been involved in wine there for the last 40 years.