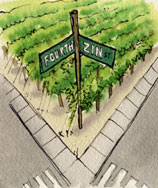 Cucamonga is located in San Bernardino County, about 45 miles east of Los Angeles. The storied Cucamonga Valley (aka. Cucamonga-Guasti Wine District) – where vineyard planting began in 1838 – has lost most of its once vast vineyard acreage to industrial development and the urban expansion of nearby Los Angeles and Orange Counties. When Prohibition hit in 1920, grapevine acres in Cucamonga numbered twice as many as Napa/Sonoma Counties combined. In the 1940s, this east/west oriented valley region hosted 60 wineries and over 35,000 acres of vine, as its thick-skinned grapes with high natural sugar levels proved ideal for the needs of east coast home winemakers. Today, only three of the original winegrowing family wineries and less than 1,000 vineyard acres remain. The loss of vineyard land continues and some of the nation's oldest vines could disappear.

The value of Cucamonga goes beyond the quality of its vines, as the region is also home to a strong tradition of unique fortified wines, including a highly regarded Triple Cream Sherry made by its smallest producer, the Biane winemaking family's Rancho de Philo. But survivors persevere and, since the region became an AVA in 1995, the two major wineries, Galleano and Joseph Filippi, have focused on producing premium wines. Long time Temecula Valley winemakers including Etienne Cowper (Mount Palomar Winery), Joe Hart (Hart Winery) and Jon McPherson (South Coast Winery) have also experienced success with Cucamonga Valley fruit. The area's red wines, derived mainly from old vines including Alicante Bouschet, Carignane, Cinsault, Grenache, Mission, Mourvedre and Zinfandel, showcase the concentration of fruit character typical of Cucamonga. With summer temperatures often exceeding 100 degrees F., wines are generally rich and jammy with a strong earthy dimension.

The sandy alluvial valley floors, rocky fans and terrace soils of the area help to reduce the risk of Pierce's disease which has plagued surrounding areas. However, the AVA has not been completely immune to the effects of Pierce's and a moderate number of old vines have been lost to this plague. Over the past decade, however, the Filippi family has successfully replanted over 50 acres of new vines in the foothills of Rancho Cucamonga (including Cabernet Franc, Merlot, Mourvedre, Syrah, Petite Sirah and Zinfandel). Additionally, a further 100 plus acres will be planted in Cucamonga through 2009.

Bi-State Upper Hiwassee Highlands an AVA
By
Roger King
August 6, 2014
In the southern Blue Ridge Mountains of North Carolina and Georgia vineyards are small and few, yet the establishment of the Upper Hiwassee Highlands could bring much more.  [>] continue

Remote Manton Valley New California AVA
By
Roger King
July 31, 2014

WAWGG Banquet Explores Washington State Terrior
By
Roger King
February 2, 2014

Taking Focus on Appellation
By
Clark Smith
December 9, 2013

A Day in the (Rutherford) Dust
By
Barbara Trigg
August 2, 2013

Whitehall Lane Winery, A 20 Year Story of Vineyards
By
Roger King
July 15, 2013

Embracing Virginia's Terroir
By
Richard Leahy
June 2, 2013

Shake Ridge Ranch - Gem of the Sierra
By
Roger King
May 16, 2013