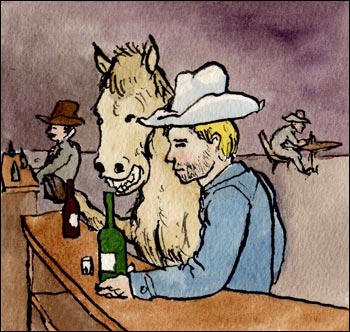 Palomino
Palomino, you are a fair haired stallion, and we appreciate your style in California. A personality of outward distinction, although beyond your balanced exterior you are sometimes a little shy. Relax and have a another drink... afterall, you do make your best impression in a fortified state. Just remember, the diet isn't as lean in California as it is in Jerez. The iron rich food will make you fat; the trick is to excuse yourself early from the vineyard table.

Appellations Growing Palomino Grapes
Appellations producing the most Palomino wines:
Palomino

Best known to sherry producers in the Jerez region of Spain, Palomino seems to struggle when planted outside of that country. Even so, in California, over 3,000 acres are planted in the scorching Central Valley. There, Palomino is known as Golden Chasselas, though most vignerons recognize its true identity. They don't dare try to make a quality table wine from it. Instead, as the Spaniards mercifully do, they produce sherry-like wine. The grape reaches shallow sugar heights and equally daffy acidity – desired traits for fine, fortified vino, although table wines struggle. It is most admired when it grows on the Jerez's off-white, scorched Albariza chalk, with its lofty pH. Although Chenin Blanc leads the charge for sherry production in inland South Africa, Palomino is revered for its fortification down under.