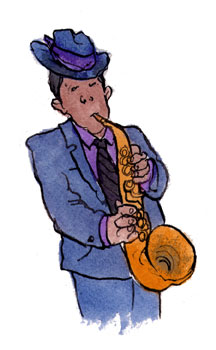 Cinsault
Your name can be found on playbills from some
of the finest Red Rhone ensembles. Cinsault, you
are like a member of a symphony, an instrument
with soul and flesh, helping to bring the opus
into perfect harmony. But one would be hard
pressed to see you as a solo act. As a session
player in America, your gigs are few and far
between, even though you are willing to work
much more. Fortunately, the trendy troupe called
The Rhone Rangers do their best to keep you
gainfully employed.

Appellations Growing Cinsault Grapes
Appellations producing the most Cinsault wines:
Cinsault (aka. Cinsaut, Hermitage)

Despite Cinsault's popular use as an obliging workhorse grape in the hot, dry regions of France and in other Mediterranean countries, it hasn't caught on as a variety in California's bulk-wine regions. Total U.S. plantings are minimal, and are primarily by those producers fittingly described as 'Rhone Rangers' This variety is almost never seen as a single varietal wine, except in South Africa. In 'Capeland' it has been extensively planted and was erroneously called 'Hermitage' until the 1970s. It rarely is the dominant grape in a wine, even in southern French regions. Here it is best known as one of the supporting cast for noble varieties, such as Syrah and Mourvèdre, and semi-noble varieties, such as Grenache. In these wines, Cinsault contributes a soft, but meaty texture.