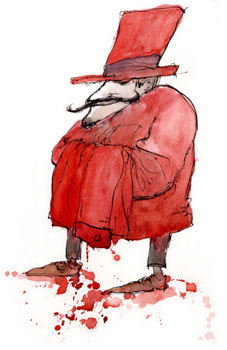 Alicante Bouschet
In the past, you have masqueraded as nobility and fooled more than a few of France's social elite. Alas, as time passed, it was revealed that your shiny red suit was not made of silk, but was merely a quickly-fading dye job of a rather brown cotton-poly blend. In North America, we have also seen you at your best. Your willingness to travel the trains during Prohibition brought cheer to the nation. Big, round and affable, what you lacked in tannic sophistication you made up for with your approachable demeanor. Monsieur Bouschet … Merci beaucoup!

Appellations Growing Alicante Bouschet Grapes
Appellations producing the most Alicante Bouschet wines:
Alicante Bouschet Grape Details
The popularity of Alicante Bouschet has waned over the last half century amongst commercial winemakers. However, Alicante Bouschet's story and heritage lends a colorful glimpse of another side of winemaking in the 20th century.

Alicante Bouschet hit its height of popularity in the United States, during Prohibition. Alicante Bouschet's vibrant red color allowed bootleggers to stretch it with water and sugar. Alicante Bouschet's thick skin, providing the grape's anti-oxidant properties, also proved popular with east coast home winemakers since it proved capable of making the long trek cross country. By the 1930s, it accounted for a third of all grape production in California. Sixty years later, with Prohibition long since repealed, this native of southern France has largely fallen from favor.

Alicante Bouschet is still grown,but it is mainly used to add color and a tannic edge to the bulk wine production of California's Central Valley and its southern France homeland. In California, it now amounts to less than one percent of grape production and its acreage is constantly declining. This grape can still be found in Spain -- where it is known as Garnacha Tintorera ( a reference to its parentage of Grenache and Petit Bouschet -- and also in Corsica, Italy, South Africa, and Portugal, where it is an allowable grape in the production of port.

One of the few grapes with a lively, even gory, red-pigmented, free-run juice, Alicante Bouschet is a highly-productive blending grape, sometimes used – discreetly of course -- with nobler grapes to add color, depth and roundness. Born of a cross between parents Grenache and Petit Bouschet, this grape can trace its lineage back to an earlier pairing of Teinturier du Cher with Amaron, to create Petit Bouschet. Arguably, this grape was never given a proper chance to prove its worth outside of the hot climates of the Central Valley and southern France. Except for a few diehard producers on California's North Coast, it seems destined for further decline.
British Columbia
British Columbia moves to adopt national wine standards
By
John Schreiner