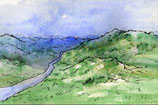 MJC Vineyards the original petitioner of the North Fork of Roanoke AVA is no longer in operation. However this small AVA, running along the eastern side of the Allegheny Mountain range, still makes its way onto local wine labels. Valhalla Vineyards, one of the state's premiere small wineries, maintains the image of this small appellation with its diverse range of highly regarded wines. Located in southwestern Virginia, the 22-mile-long valley appellation has elevations of 1,200 to 2,200 feet. The significant viticultural areas are on frost-free slopes between 1,700-2,100 feet. Distinguishing climactic characteristics of the region include cooling morning fog in summer, and prevailing westerly winds that provide good airflow necessary for Virginia's damp weather. The relatively large diurnal variations of temperature maintain acidity in the grapes. All by itself, the natural beauty of this valley - known more for trout fishing and camping than for viticulture - should draw attention to this largely untapped resource of quality grapes.

Whitehall Lane Winery, A 20 Year Story of Vineyards
By
Roger King
July 15, 2013
From initial vineyard plantings on Whitehall Lane in the 1800's the evolution to today's Whitehall Lane Winery has been a story of vineyard. The first 25 acre vineyard property is the winery site, yet the definition of multiple Napa Valley sub appellations is formed in a wide ranging set of vineyards all showing unique profile and character in their wines.  [>] continue

Embracing Virginia's Terroir
By
Richard Leahy
June 2, 2013

Shake Ridge Ranch - Gem of the Sierra
By
Roger King
May 16, 2013

Tannat, Vibrant Across the America's
By
Barbara Trigg
May 6, 2013

Welcome Middleburg Virginia AVA
By
Roger King
January 4, 2013

Humboldt County: Is Too Much Terroir Possible?
By
Clark Smith
October 14, 2012

Historic Buena Vista Winery Restored
By
Barbara Trigg
September 18, 2012

Three Days in Humboldt County and Willow Creek
By
Barbara Trigg
August 22, 2012