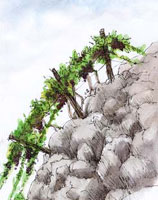 The aptly named Rockpile AVA is a remote, high-country growing area, where the unforgiving terrain and soils stress the vines into ripening. The demanding landscape brings out the best in Zinfandel, Petite Sirah, Syrah and Cabernet Sauvignon, but it seems less hospitable to man, having yet to attract any resident wineries. Perched at elevations up to 1,900 feet, Rockpile is too far upland for the penetrating fogs that influence other Sonoma appellations. This exposes grapes to more California warmth and sunshine, boosting their ripeness and richness. Only recognized as an AVA in 2002, Rockpile is a northern extension of the Dry Creek Valley AVA. However, Rockpile is not a come-lately area, as it has been the source of intense, highly-defined red wines since 1872. Several of California's elite ZIN-ophiles make the annual pilgrimage to Rockpile, seeking its exceptional fruit to craft powerful Zinfandels.

A Day in the (Rutherford) Dust
By
Barbara Trigg
August 2, 2013
While the early days of Napa Valley always mentioned the dust in summer, Rutherford Dust referred to an entirely different context. During a recent tasting in Napa Valley held by the Rutherford Dust Society a wide wide range of Rutherford wines shed new light on the long term meaning.  [>] continue

Whitehall Lane Winery, A 20 Year Story of Vineyards
By
Roger King
July 15, 2013

Embracing Virginia's Terroir
By
Richard Leahy
June 2, 2013

Shake Ridge Ranch - Gem of the Sierra
By
Roger King
May 16, 2013

HR9 Supports (CA) Historic Vineyard Society
By
Roger King
May 9, 2013

Tannat, Vibrant Across the America's
By
Barbara Trigg
May 6, 2013

Welcome Middleburg Virginia AVA
By
Roger King
January 4, 2013

Humboldt County: Is Too Much Terroir Possible?
By
Clark Smith
October 14, 2012