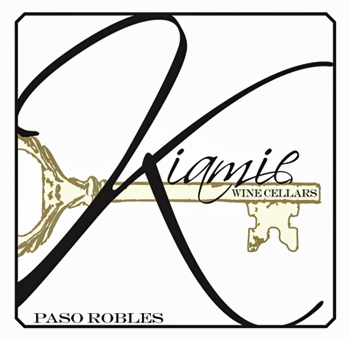 Kiamie Cellars:
Own No Vineyards, Cherry Pick from the Rest
by Laura Ness
April 7, 2009
---

f winemaking were as easy as
punching as few buttons on a microwave oven, then everybody would do it - although it sometimes seems like everyone is doing it, especially if they are doctors, rich software company execs or venture capitalists. Then there are people like Aram Deirmenjian and Greg Johnson, owners of
Kiamie Wine Cellars
. Aram comes from a grape-growing family in Central California, but went east to chase his fame and fortune. After the allure of East coast high tech faded, he grew apples in Vermont.
Great grandson of a New York real estate tycoon, Greg has a retail wine background from the tony New York suburbs, where he got accustomed to filling customer orders for the latest high scoring wines that had been iconized in the Wine Advocate.
Realizing that they wanted to get closer to the source of wine greatness, Aram and Greg moved to California. They worked for a short stint at
Halter Ranch
where they got a flavor for the sweat and tears of the wine business and even more of the flavor of
Paso Robles
, which totally appealed to them as a place to set up shop. That Paso lies squarely in between L.A. and the Bay Area has made it a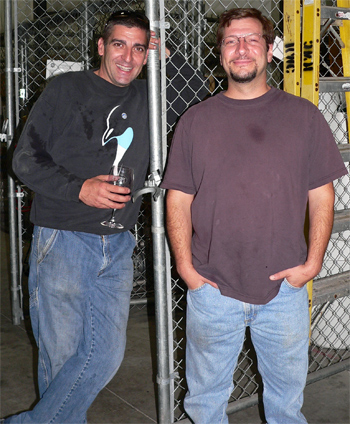 conveniently tweener town, much closer to two masses of the populus than Napa could ever be. Plus it's far more affordable in every way.
Aram and Greg decided to start a winery. Since neither of them had winemaking or grape buying experience, they were fortunate to hook up with a veritable microwave expert of winemaking, Steve Glossner. In Paso, Glossner was both a young legend and an historical tour de force. He discovered wine while supposedly studying at Cornell, eventually making his way to California, where after studying enology at Fresno, Glossner became the winemaker for Justin Vineyards and Winery. There, he produced the 1994 Isosceles blend which was awarded the prestigious international Pichon Longueville Comtesse de Lalande Trophy for the best blended red wine. From Justin, Glossner went to Adelaida, then to Halter Ranch, where he helped establish the winery. Since then, he has made a living consulting for small labels, going from buyer to grower and back to buyer again. Kiamie has no vineyards, choosing to purchase from the crème de la crème vineyards - essentially, working with growers who are more passionate about quality than about making money - so they can pursue their goal of making the best blends possible. To Steve, Aram and Greg, it's all about making a wine that tastes good and is well balanced: there's no varietal-centric religious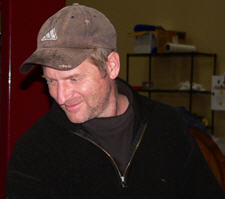 fervor going on here. Just the honest desire to make a wine that makes people want another sip, another glass, another bottle. Heck, another case while you're at it.
A West Side Story
This is the short version of the story; and essentially, it's just the first chapter. Through his extensive wine contacts, Glossner helped the duo hook up with some of the best growers on the West side of Paso, like DeBro, Halter Ranch, Terra Bella and Beckwith. In fact, says Greg, you can literally see all Kiamie's vineyard sources from the top of Hopkins Ranch, which is at 2100 feet, just across from Halter Ranch. He figures they are all within a 2-mile radius of one another, with the reds coming from primarily the Adelaida region, and the whites from Willow Creek, so they sing a well-orchestrated version of Westside Story.
So, here they are with a couple of really nice vintages in their cellar of experience, and what have they learned? First, that you don't always get what you want, even if you have a contract, and that making wine involves getting a lot closer to the growers than you ever thought. But this building of relationships has given them a keen appreciation of what makes a superior wine, and it's evident from tasting consecutive vintages that they are learning rapidly and reaping the rewards of careful crop management. These guys are the poster children for choosing good vineyards.
---
A Taste of Kiamie Cellars
---
There are some gems in their current wine lineup, including their
2005 Cabernet Sauvignon
, mostly from Halter Ranch fruit: It's decisively peppery, likely because
it's wound nice and tightly around some peppery Cab Franc. But the key to their marketing pitch rests squarely on the shoulders of the letter "K." Hence, their flagship wines are the red and white Kiamie Kuvées.
The
2007 White Kiamie Kuvée
combines the zesty perfume of Viognier with the fatter roundness of Roussanne to create a delightfully French style white. It's particularly well-made and delicious to boot, and with the increasing popularity of Rhone blends, this wine could put Kiamie in the running with the rest of the top white Rhone producers like Tablas Creek.
The
2005 Red Kiamie Kuvée
is a balancing act of Bordeaux and Rhône components, an attempt to achieve a result reflective of the synergy of all its elements. For the 2005 vintage of this signature wine, they sourced fruit from Halter Ranch Vineyard, where well-drained soils, low-yielding clones and high-density plantings combine to deliver small crops of intensely flavored fruit. This wine is entirely from small-lot fermentations, which received a full month of maceration prior to pressing, followed by eighteen to twenty months of barrel aging in 40 percent new oak from premier French and Hungarian cooperages.
Looking forward, they are going to source Merlot from
Jada
, a beautiful Westside vineyard, where this grape really shines. The Westside of Paso is essentially a large quilt, in which the threads of grower and winemaker relationships are inextricably interwoven. The
2006 Kiamie Kuvée
will be 66% Merlot, 17% Petite Verdot. 11% Malbec, and 6% Cabernet Sauvignon.
Rhone Red: 2006 R OWN
- a corny name, a delicious blend. The 2006 is not yet released, but this is a delightful marriage of the slightly French nobleman, Syrah, and the very free-spirited Celtic lass, Grenache, with a dose of Central Coast abandon in the form of the third partner, Zinfandel. Gorgeous strawberry, raspberry and red licorice aromas tantalize the nostrils, with inviting flavors of white pepper, coriander and strawberry tartlets that caress your palate. This is lip-smackingly good wine, with a pleasing Zin finish of the purest blackberry jelly: not jam, but jelly. If you can get your lips on this wine, you will kiss your glass.
---
Photos courtesy Kiamie Wine Cellars