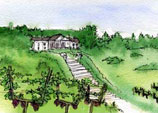 Orange County is home to few wineries, but they are among the most productive and respected in the Virginia Wine Industry. Leading the way are Barboursville Winery (owned by Italy's Zonin family) and Horton Vineyards. Orange County vineyards are located in the rolling hills near the towns of Barboursville and Gordonsville, at elevations close to 600 feet. The region's climate is similar to the rest of Virginia with warm humid summers and erratic winters making varietal and trellising system choices as critical here as it is in the rest of the state. This county is located in the larger Monticello AVA and produces a number of styles of wine coming from a stunning array of grape varietals. In addition, Orange County produces award winning Viognier and Cabernet Franc, two vitis Vinifera varietals with established histories in the region. These wineries are focused on the ecological suitability of varieties, as opposed to allowing short sighted marketability dictate the cultivar selection. California and Oregon may presently get the most attention on the appellation front, but if trends continue, Virginia may soon be recognized as the cutting edge in terroir-cum-appellation consciousness in America. The decision of these Orange County wineries to focus on varietals such as Norton, Petit Manseng and Nebbiolo amongst others is proving to be a breath of fresh air on the North American wine scene.

Whitehall Lane Winery, A 20 Year Story of Vineyards
By
Roger King
July 15, 2013
From initial vineyard plantings on Whitehall Lane in the 1800's the evolution to today's Whitehall Lane Winery has been a story of vineyard. The first 25 acre vineyard property is the winery site, yet the definition of multiple Napa Valley sub appellations is formed in a wide ranging set of vineyards all showing unique profile and character in their wines.  [>] continue

Embracing Virginia's Terroir
By
Richard Leahy
June 2, 2013

Shake Ridge Ranch - Gem of the Sierra
By
Roger King
May 16, 2013

Tannat, Vibrant Across the America's
By
Barbara Trigg
May 6, 2013

Welcome Middleburg Virginia AVA
By
Roger King
January 4, 2013

Humboldt County: Is Too Much Terroir Possible?
By
Clark Smith
October 14, 2012

Historic Buena Vista Winery Restored
By
Barbara Trigg
September 18, 2012

Three Days in Humboldt County and Willow Creek
By
Barbara Trigg
August 22, 2012