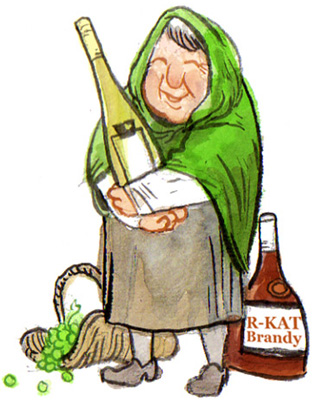 Rkatsiteli
Since you haven't made the scene in Western Europe, some people think you're just a babushka from the Caucasus Mountains of Georgia. Others suspect you're the old tart who seduced Noah when he came down from Ararat. The way you spread your spice from Eastern Europe all the way to China shows that despite your age, you've still got it. While you're relatively unknown in the Americas your stellar tongue dance performance with Dr. Frank's Traveling Vinifera Show in New York's Finger Lakes has earned you some gigs in Virginia, New Jersey, and Massachusetts. And is that brandy I tasted on those Armenian lips?


Varietal Character by Ken Kulp
Appellations Growing Rkatsiteli Grapes
Appellations producing the most Rkatsiteli wines:
Rkatsiteli (aka. Rkatziteli, Rkatsiteii, R-Kat)

Not widely known about in western markets, this ancient white grape variety is broadly distributed across eastern European vineyards – mostly in former Soviet states like the Ukraine and Bulgaria. Its accepted origin is in Georgia's Caucasus Mountains bordering Armenia and Turkey. Here, the grape is known as Rkatsiteii and it still dominates wine production, accounting for up to half of the total volume of this most historic of wine producing nations.

Rkatsiteli yields good sugar levels in cold climates and has a high natural acidity. It makes noticeably acidic but balanced white wines with a full flavor profile and good body. Relatively floral and spicy aromatics are somewhat reminiscent of Gewürztraminer and Riesling, and a lively spritz on the tongue adds to the appealing character of this quality grape variety.

Rkatsiteli also has great utility in the spirit loving Russian market, where it agreeably vinifies into sweet, fortified, and oxidized sherry-like wines, as well as distillation into brandy.

Limited acres are planted in the Eastern US, mainly in the Finger Lakes region of New York State where the best known bottling is that of Dr. Konstantin Frank's Vinifera Wine Cellars.