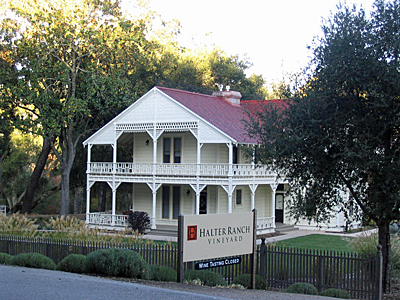 Deep Roots In Paso:
Growing the Future at Halter Ranch
Halter Ranch might be considered, based on its location alone, as Ground Zero for Westside Paso Robles, one of the largest AVAs in California.
by Laura Ness
March 10, 2009
---

s I round a mossy tree-lined corner
at the intersection of Adelaida and Vineyard Drive on the west side of the
Paso Robles
AVA, an ivory-colored Victorian appears like a glove-clad Duchess straight out of the 19th century. This timeless lady, built in the 1880s, has been meticulously restored. Her inner strength shines through, from the beveled stained glass windows, right to the graceful wrought iron that crowns the roofline like a cockscomb. It sets the stage nicely for the experience of
Halter Ranch
: a marriage of tradition and respect for the land, and also a nod to the partnership of man working in harmony with nature.