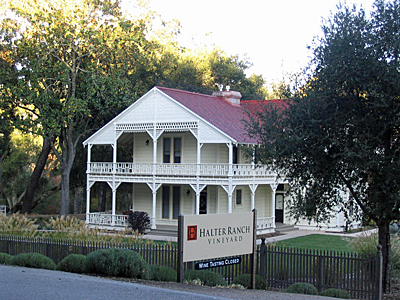 Deep Roots In Paso:
Growing the Future at Halter Ranch
Halter Ranch might be considered, based on its location alone, as Ground Zero for Westside Paso Robles, one of the largest AVAs in California.
by Laura Ness
March 10, 2009
---

s I round a mossy tree-lined corner
at the intersection of Adelaida and Vineyard Drive on the west side of the
Paso Robles
AVA, an ivory-colored Victorian appears like a glove-clad Duchess straight out of the 19th century. This timeless lady, built in the 1880s, has been meticulously restored. Her inner strength shines through, from the beveled stained glass windows, right to the graceful wrought iron that crowns the roofline like a cockscomb. It sets the stage nicely for the experience of
Halter Ranch
: a marriage of tradition and respect for the land, and also a nod to the partnership of man working in harmony with nature.
Everything on this side of Paso seems somehow connected to Halter Ranch: it is like a spider web of interconnections. It's a hub of its own, without screaming to be the center of attention. There's always a whole lotta pruning going on here. With 250 acres of vines and counting, it's enough to keep a ranch hand out of any kinda trouble he could ever imagine. Mitch Wyss loves this place; he's grown used to its quiet shadowed canyons and rugged limestone outcrops, both above ground and beneath, and learned to make a farmer's peace with the pace of a life that is rarely self-directed.
Mitch has to answer to many masters during the course of his work, but he clearly plays his own kind of music in his head. The respect for this special parcel of Paso runs deep in his veins. "See over there?" He gestures almost in reverence towards a particularly enormous oak tree that appears to pretty much have taken over the hillside on which it has been anchored for several centuries. "That's the largest coastal live oak in the world! It's called 'the Ancestor.'" We both pause to ponder the enormity of something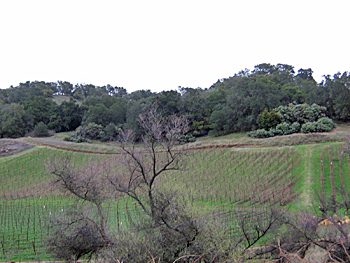 that holds such a distinction. It's not the tallest living thing or the most massive, but it has a presence like that of an ancient walled city: imposing, powerful, deified, yet welcoming in its sweeping embrace of the neighborhood. Although it's clearly a half-mile away, I feel its undeniable pull.
Mitch shows me the new plantings of
Picpoul
and
Grenache Blanc
, which replaced 20 acres of old, underperforming vines. The new plantings join their sister white Rhones on the north facing slopes of this valley, flat and straight enough up the middle to sport a paved airstrip. He points out that the former owners of the ranch, the McGilverys, used to share this airstrip with the neighbors, back when it was 3k acres. Then, one of the clan, a flying cowboy with too much to lose, a recent ex-wife behind him and another waiting in the wings (as it were), took off from here to return to LA in early 2000 after dropping off his son with the ex. He promptly ditched into Tablas Creek, ending whatever adventure he was on. Soon thereafter, the McGilvery property came on the market, and Mitch bought the house he and his wife Leslie have lived in since. The airplane hangars have become the winery while a beautiful new structure takes shape on the hillside.
When Mitch, who has spent time as a salmon fisherman, railroad spike pounder, whitewater outfitter and whale watching guide, got the call from ranch owner Hansjörg Wyss (no relation), who bought the property in 2000, he was working in Chico California farming kiwis. "They make terrible wine," he deadpans. "Seriously, kiwis are vines and grapes are vines, and in my crazy Irish way of thinking, I figured they had a lot in common!" Do they? No, not really. He's not even half-smirking, especially when you consider he has 250 acres of 19 varieties and 50 different blocks. And they're all different. It's a hilly area with plenty of slope and flat. And the vines run every which way, like a patchwork quilt, but there's no warmth to be had from the illusion. It's a lot of cold, hard work in the chilly winter dawns.
What's the pruning schedule like? In a word, daunting. They've altered it slightly this year, in anticipation of cooler and wetter weather ahead. "The almonds are blooming," notes Mitch, and that means bud break will begin about 6 weeks from now. With a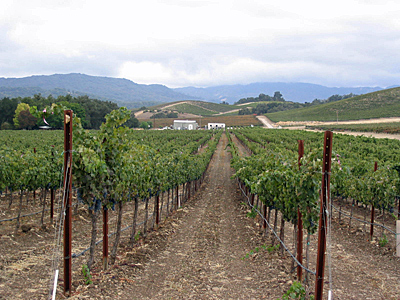 hundred acres or so left to go, Mitch figures they will be just about done on schedule, which means that by the time he finishes pruning the last block, the first block - the Petit Verdot - will already be blooming. I ask if this will be a concern for frost, considering last year's April freeze.
At 1400 to 1800 feet of elevation, without any significant swales or hollows, at least not where grapes are planted, Halter Ranch folk are not as worried about frost as others are. Consequently, they do not have any kind of frost protection built in. "Fortunately, neighboring
Tablas Creek Vineyard
has frost protection, and when they turn on theirs, it blows over this way and voila!" Mitch grins appreciatively.
Even more fortunately, frost is not usually an issue, and in 2008, their biggest gnat was heat and wind in May. As a grower with most of his stakes in Cabernet, Mitch was lucky not to have lost more crop than he did. "We only crop about 2 to 2.5 tons per acre, so we weren't down as much as others." Another life lesson: the less you have, the less you have to lose. Still, they got only about 403 tons off of 250 acres in 2008; not a way to make a killing in the grape market.
Instead, it's about quality and delivering the kind of fruit that makes customers pleased enough to keep coming back, year after year. Halter Ranch boasts the first vineyard designate for their Syrah from
Justin Vineyards
, one of the hallmark wineries of Paso, who continues to buy between 60 and 80 tons of their Cabernet, Franc, Syrah and Merlot. Justin is among ten well-known wineries that consistently purchase Halter Ranch grapes, including J. Lohr, Adelaida Cellars, and Summerwood. (Plus, there are a goodly number of other Paso wineries you are about to hear of at
APPELLATION AMERICA
, including Booker, Kiamie and Jada.)
If you're going to come out of the chute as a brand new winery, you might as well buy fruit from the best of the best. And if you're looking for biodynamically farmed fruit, Halter Ranch has 20 acres currently under cultivation, weeded and insect-controlled by a flock of chickens that provide the most delicious eggs for all the farmhands and lucky guests. A flock of sheep will eventually join them, and they are debating llamas or donkeys to act as guardians; the coyotes and mountain lions are on patrol here.
Sometimes the winemaker has to take a back seat to all this natural wonder. That doesn't seem to bother the low-key, p