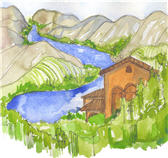 Lake Chelan AVA encompasses a 24,040-acre area surrounding Lake Chelan and is the 11th appellation in the state. Located in north central Washington, the Lake Chelan Valley lies entirely within the Columbia Valley AVA and is about 112 miles east-northeast of Seattle. Distinguishing features of the Lake Chelan viticultural area include its ancient geology, geography, soils, and climate as directly influenced by past alpine glacial activity of the Cascade region.

Lake Chelan Valley is the only valley in the Cascade Range which has a natural lake of its size or depth. The climate of the agricultural and viticultural lands surrounding the lower (eastern) end of the lake is strongly moderated by the thermal effect of the lake on the air temperatures. The glacier that formed during the last ice age and traveled from the Cascade crest to the eastern end of the modern lake left a defining imprint on the landforms of the Lake Chelan Valley. Also, pumice and ash from eruptions of volcanoes in the Cascade Range (principally Glacier Peak to the west of the new viticultural area) formed soils that are ashier and more pumiceous than those in any other established viticultural area in Washington State.

Syrah, Merlot, Malbec, Riesling, Pinot Gris, Gewürztraminer, and Chardonnay are the primary grapes grown here, all aided by the temperatures moderated by the waters of Lake Chelan. While only about 200 acres in the region have been planted, expansion is inevitable.

Bi-State Upper Hiwassee Highlands an AVA
By
Roger King
August 6, 2014
In the southern Blue Ridge Mountains of North Carolina and Georgia vineyards are small and few, yet the establishment of the Upper Hiwassee Highlands could bring much more.  [>] continue

Remote Manton Valley New California AVA
By
Roger King
July 31, 2014

WAWGG Banquet Explores Washington State Terrior
By
Roger King
February 2, 2014

Taking Focus on Appellation
By
Clark Smith
December 9, 2013

Whitehall Lane Winery, A 20 Year Story of Vineyards
By
Roger King
July 15, 2013

Embracing Virginia's Terroir
By
Richard Leahy
June 2, 2013

Shake Ridge Ranch - Gem of the Sierra
By
Roger King
May 16, 2013

Tannat, Vibrant Across the America's
By
Barbara Trigg
May 6, 2013