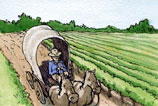 After early disappointment, Utah's wine industry took almost 130 years to establish a key fact – that quality wine can be produced here. Soon after the first Mormon settlers came to Utah in the 1860s, grapevines were planted. But wine production was soon abandoned, as the quality of wine grapes was substandard. However, in 1989 a new winery opened and produced 1,500 gallons of quality wine in its first year. Today, there are several small estate wineries producing both vinifera and hybrids. The vineyards are in mountain valleys, with elevations up to 6,000 feet. Winters here are cold, so winter kill and frost damage are real risks. Vines must be protected in the winter and the weather watched closely in spring and fall. The conditions in some areas are almost desert-like, so irrigation is also important. All in all, however, winegrowing in Utah is shaping up to be a promising and rewarding learning experience.

WAWGG Banquet Explores Washington State Terrior
By
Roger King
February 2, 2014
The multiple appellations of Washington will be tasted in a unique banquet dinner at this years Washington Association of Wine Grape Growers Annual Meeting and Trade Show. Nuances of that regional diversity have been paired with the meal being prepared by Chef Dan Carr.  [>] continue

Taking Focus on Appellation
By
Clark Smith
December 9, 2013

Whitehall Lane Winery, A 20 Year Story of Vineyards
By
Roger King
July 15, 2013

Embracing Virginia's Terroir
By
Richard Leahy
June 2, 2013

Shake Ridge Ranch - Gem of the Sierra
By
Roger King
May 16, 2013

Tannat, Vibrant Across the America's
By
Barbara Trigg
May 6, 2013

Welcome Middleburg Virginia AVA
By
Roger King
January 4, 2013

Humboldt County: Is Too Much Terroir Possible?
By
Clark Smith
October 14, 2012