---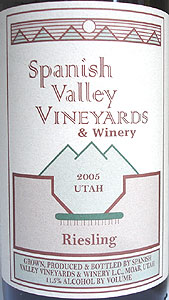 Spanish Valley Vineyards & Winery
2005 Riesling, Estate
(Utah)

Unlike Northern Utah with its ski resorts and thriving metropolis Salt Lake City, most of Southern Utah is made up of isolated, protected wilderness areas with extremely hot and dry summers and harsh winters. Based here, the state's tiny wine industry is heavily regulated. At the tip of the regulatory iceberg is this – wineries are allowed to keep only 64% of the retail price of wines sold from their tasting rooms (the rest plus 20% in sales tax goes to the government). Not exactly the formula for a thriving wine industry, is it? With only a handful of commercial wineries, most without even a basic website, it is a miracle that anyone knows at all about the fledgling wine industry.

The Dezelsky family owns and operates Spanish Valley Vineyards, a small farm located in the Red Rock Canyonlands near Moab. Cabernet Sauvignon, Syrah, Gewurztraminer and Riesling from Utah and several wines with fruit from Colorado are in their portfolio.

Their gorgeous, medium-bodied, zesty, and slightly sweet Riesling has varietally expressive slate, mineral, apple pie, and peach cobbler notes, unique flavors of caramel, butter, and toffee, and a long, peachy finish.
Reviewed October 5, 2006 by Catherine Fallis.
---
Winery: Spanish Valley Vineyards & Winery
Vineyard: Estate
Vintage: 2005
Wine: Riesling
Appellation: Utah
Grape: Riesling
Price: 750ml $9.95



Catherine Fallis

Founder and President of Planet Grape LLC, a company committed to bringing the joy of wine, food, and good living into the lives of everyday people, Catherine is creator of the "grape goddess guides to good living," a series of books, television presentations, seminars, and e-learning programs. The fifth woman in the world to become a Master Sommelier, grape goddess Catherine Fallis is still very much down-to-earth.