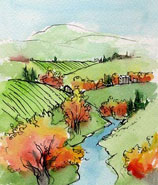 Virginia lays claim to most of the Shenandoah Valley AVA, although it crosses into the West Virginia panhandle. The region is defined by flanking mountain ranges, with the Blue Ridge Mountains as its eastern border and the Allegheny Mountains as its western boundary. Most of the wineries in the AVA lie in Virginia and produce a combination of vinifera varietals, French-American hybrids and a limited amount of the native Norton varietal. The growing season can be distinctly warm and is drier than neighboring regions, which don't receive the same natural protection offered by the Appalachian Mountains. Dry is a relative term in the Mid-Atlantic States, as the average annual rainfall of the Shenandoah Valley is about 33 inches per year, considered wet by many standards. Winter can be difficult in this interior region, with heavy snowfall and winter vine kill a major issue.

Whitehall Lane Winery, A 20 Year Story of Vineyards
By
Roger King
July 15, 2013
From initial vineyard plantings on Whitehall Lane in the 1800's the evolution to today's Whitehall Lane Winery has been a story of vineyard. The first 25 acre vineyard property is the winery site, yet the definition of multiple Napa Valley sub appellations is formed in a wide ranging set of vineyards all showing unique profile and character in their wines.  [>] continue

Embracing Virginia's Terroir
By
Richard Leahy
June 2, 2013

Shake Ridge Ranch - Gem of the Sierra
By
Roger King
May 16, 2013

Tannat, Vibrant Across the America's
By
Barbara Trigg
May 6, 2013

Welcome Middleburg Virginia AVA
By
Roger King
January 4, 2013

Humboldt County: Is Too Much Terroir Possible?
By
Clark Smith
October 14, 2012

Historic Buena Vista Winery Restored
By
Barbara Trigg
September 18, 2012

Three Days in Humboldt County and Willow Creek
By
Barbara Trigg
August 22, 2012