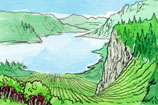 The confusing thing about this AVA is that there are two places called "The Gorge" in Washington State, and both are steep canyons cut by the Columbia River. However, they are located in two completely different places! The Columbia Gorge AVA is one of the smallest and newest, bordering the western edge of the Columbia Valley AVA.

Here the Cascade Mountains are bisected by the Columbia River as it runs through a very narrow passage, creating a wind tunnel effect. The appellation includes land across the river in Oregon, although the vineyards there are less influenced by the Cascade Mountains and are at lower elevations than those on the Washington side. Roughly 350 acres are planted, but the quality of the grapes being grown has caught the attention of winemakers from both states. On the Washington side, vineyards are on south-facing slopes above the river. Those closest to the mountains are among the few in the state that can be dry-farmed. The most famous vineyard is Celilo, and it is particularly admired for its Chardonnay and Gewürztraminer.

~ Paul Gregutt,

Taking Focus on Appellation
By
Clark Smith
December 9, 2013
Appellation America has entered its second decade on the web. Much has changed since the start, but the core focus remains characterizing the unique flavor profiles of North America's appellations and the natural influences and human cultural forces which influence them.   [>] continue

Whitehall Lane Winery, A 20 Year Story of Vineyards
By
Roger King
July 15, 2013

Embracing Virginia's Terroir
By
Richard Leahy
June 2, 2013

Shake Ridge Ranch - Gem of the Sierra
By
Roger King
May 16, 2013

Tannat, Vibrant Across the America's
By
Barbara Trigg
May 6, 2013

Welcome Middleburg Virginia AVA
By
Roger King
January 4, 2013

Humboldt County: Is Too Much Terroir Possible?
By
Clark Smith
October 14, 2012

Historic Buena Vista Winery Restored
By
Barbara Trigg
September 18, 2012