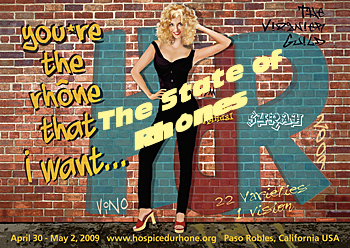 Paso Rhônes: Pushing, Perhaps Redefining, the Boundaries
by Laura Ness
May 20, 2009
---

OSPICE du Rhône is a state of mind as much as an event.
One has to get in gear for a sea of Syrah, from shores far and wide. Most, however, hailed from Paso Robles and Santa Barbara, with a few interesting benchmarks from Australia and France. The majority of these wines, north of 15% alcohol, are not for the faint of heart or palate.
And it's not only the
Paso
people who are producing steroidal Syrahs and Grenaches. Yangarra, an Australian producer from McLaren Vale, was not to be outdone; their Grenache was easily 16 something percent alcohol. It was also so stout, you could hardly imagine pairing it with anything other than indigenous cuisine, and there was no dingo or kangaroo handy at the time. One quickly learns, though, that this event is not about logic or convention – in fact, it is quite the opposite.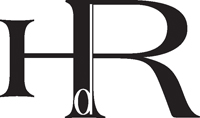 Hospice du Rhône (HdR, to the initiated) celebrates the exuberant lack of discipline that accompanies the making and drinking of Rhônes, especially in Paso. It is organized revelry where the irreverent express an almost fanatical form of reverence to the boldness of Syrah, the flirtatiousness of Viognier, the bodaciousness of Grenache, and the edginess of Mourvedre. These are the most widely represented varieties of the twenty-two represented at the event. Gratifyingly, there were fine examples of blends that showcased the peachy-dewy-faced Grenache Blanc, the sensuality of Counoise, the smiling sundrenchedness of Roussanne, and the I-slept-in-my-linen-dress cheekiness of Marsanne.
Yet nothing captures the hearts and minds of the Rhône faithful like Syrah. That's why the Syrah Shootout is so significant: it is truly one of the most endearing traditions of HdR.
Syrah Shootout Showcases Three Diverging Styles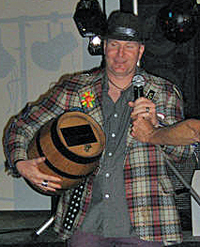 In keeping with its wild western town setting, the Syrah Shootout is filled with a tension akin to a gunfight. Serious Rhônesters did not miss this year's blind tasting of 2006 Syrahs, eager to see how their wines stacked up to the competition. Paso swept the top three spots like an expert marksman with foreknowledge of the target. First place, and the "Coat du Rhône" jacket, went to
Four Vines winemaker Christian Tietje
for his One Tree Hill block Syrah from Los Alamos Vineyard in Santa Barbara. This is an impressive white peppery number that cleanly cut through much dust and showcased what many felt was the ideal representation of the Northern Rhône representation of the varietal. Hailing from a cooler site than many Paso vineyards, it gives further credence to the theory that cooler climate Syrah has more peppery spice, gamey character and meaty tautness, as opposed to the baked plum cake with a helping of rum icing that runs through warmer climate wines that tend toward higher pH and higher alcohol.
On the other hand, a close second place went to Caliza's knock-your-socks-off heavyweight from the Russell Family Vineyard on the west side of Paso (a wine which also scored Best Red Wine at the 2009 San Francisco Chronicle Competition). An example of the growing trend towards the blockbuster style of Syrah, it pushes the envelope of extraction, while retaining a hearty meatiness that carries off the 15+% alcohol as nicely as anything in its league.
Third went to another Paso newbie, Graves, for a 2006 Syrah called "Superfino Goloso" from the Ohana Vineyard in Paso Robles, a 9-acre property that winemaker Hillary Graves, who
The Rise of Rhônes
It's no secret that Rhônes, especially blends, are on the rise, both in terms of public awareness and in acres planted. This was very evident in the opening remarks by HdR kingpin and Rhône Pied Piper John Alban who reflected back on the history of the event, which began in 1994, when wine buyers said nobody would buy Viognier because they couldn't pronounce it. He thanked the audience for proving them wrong: Viognier acreage has gone from 134 acres to 3000 in 2007, while Syrah has risen from 187 acres to 14,000: perhaps too much, he admitted, but it was responsible for changing the way we all look at Rhônes. Up came a slide showing dinosaurs. "We used to feel the need to make fun of those prehistoric Bordeaux collectors!" he joked. Rhône has come into its own with HdR and no place proves this more than Paso Robles, where if you don't have a white or red Rhône blend on your tasting list, you begin to look like, well, a dinosaur.
hails from Hawaii, planted along with parents, Bob and Karen Shirey, and husband, Simon. They lovingly tend this Syrah, Grenache, Mourvedre and Tempranillo vineyard in Creston, on the far East side of the Paso AVA, from which Hillary makes wines with delightfully fun Hawaiian names. She prefers to use all native yeast which accents the gaminess of the Syrah, giving it a distinctive almost Old World character (despite it's blast of 15.5% alcohol). Hillary is a winemaker to watch, as all her wines show a respect for the personalities of the grapes and a restraint in the use of wood, with a maximum of 1/3 new French.
Blender Benders
Syrah may be distinctive enough to warrant its own pageant, but as the marketing for HdR constantly reminded us, there are 22 Rhône varietals. Too bad we really only get to experience 20 percent of them, even at showcases like this. And even then, their acts are rarely singles. Rhônes, like the people who make them, are blend friendly: they have distinctive personalities, yet they play well together. As much as Rhônes are about the singularity of each varietal and of vineyard expression, they are also about the intricacy and intrigue of blends. They fall into two camps: those that go boldly where your father's Rhônes had never even imagined category, and those that trim their sails closer to the wind.
In the Big and Bold Category, you'll find Arroyo Robles, Calcareous, Kaleidos, Terry Hoage, Saxum, and Torrin. Among those that make up the Lithe and Winsome Category are Anglim, Adelaida, Clavo Cellars, Denner, Derby, Halter Ranch, Katin, Kukkula and Tablas Creek. The wineries that have really figured out that serving more than one master might be a viable business model and therefore offer both styles include Alban, Cass, Changala, Four Vines, Hug Cellars and Justin.
Makers of the Big and Bold defend their styles by pointing to the growing conditions in Paso that tend to yield high Brix, lower acid grapes (often with very high pH) that must hang for flavor even when the sugars are streaking skyward. Quite frequently, I heard "I'm waiting for flavors to come in, and I am not too concerned about alcohol. As long as the wine is balanced…" The whites from these makers tend to be oak-fermented to yield a full-figured style reminiscent of buttery Chardonnay, a popular commodity despite rumors of its demise. Says Stephan Asseo of L'Aventure: "I don't want people to be scared of high alcohol. Our wines can carry it, no problem."
Those who prefer more restrained styles watch acidity like hawks, usually picking