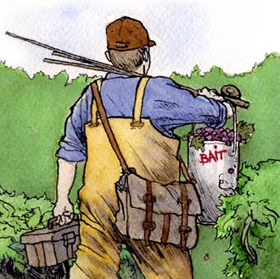 Go Ahead, Say It: Umpqua
Better You Should Taste It
The Umpqua Valley AVA is an "undiscovered" jewel but the gleam of the world class wines emerging from the region is about to change all that. Remember you heard it here first.
by Dan Berger
March 17, 2008
---

t's been said
that
Gewürztraminer
is the wine world's worst name: If consumers can't pronounce it, they won't buy it, no matter how good it is. (Perhaps topping that would be Crljenak.) Pronunciation was the only drawback I could come up with for not considering
Umpqua Valley
as a potentially great region in which to make wine - not only a place to make great wine, but a place to attract serious tourism.
Even though it is pronounced exactly as it is spelled, the name doesn't come tripping off the tongue. (It refers to the various Native American tribes that live in the area.) Umpqua Valley is in Southern Oregon, and as a wine-growing region, it is not nearly as famed as is the more northerly
Willamette Valley
, which has a worldwide reputation for its
Pinot Noir
and other wines. Indeed, the Willamette is so well identified with Pinot Noir that, to many people, it is all that Oregon wine making seems to be about. This leaves other Willamette wines screaming for attention. And it leaves other regions scratching their heads. Not to mention lovers of wines other than Pinot Noir.
Start with the fact that Willamette Valley's
Pinot Blanc
,
Riesling
, and
Pinot Gris
are among the finest wines it makes. Still, they are dwarfed in attention by all the fawning and kowtowing that greets the area's Pinot Noirs. (I also love Amity's remarkable Gamay Noir, but that's another diatribe.)
Then there is the plaintive cry of other Oregon regions, such as Umpqua Valley,
Applegate Valley
, and
Rogue Valley
, all of which make some pretty fine wine.
What is compelling about Umpqua is that the quality of the wines here, many with a regional distinctiveness that emphasizes food compatibility, has rocketed forward in the last three years. When I visited here in 2005, I was surprised by the overall quality. A recent tour in early March was even more startling.
Moreover, recent support by the local non-wine community for the growing wine industry is not only heartening, but welcome. Especially for wine consumers seeking a new and undiscovered wine region where the wines remain fairly priced, where the tasting rooms, even on weekends, are only moderately busy, and where the hospitality is warm.
Finding Umpqua Might be Easier Than Pronouncing It
Umpqua Valley, roughly two hours south of Portland on Interstate 5, is dotted with smaller towns that provide the support base for a potentially large tourism industry. That industry is based on the beauty of the local parks; boating, hunting and fishing; the scenic coastline, and the nearby campuses of Oregon (at Eugene) and Oregon State (at Corvallis).
It's still not easy to find most of the wineries that exist here. Not one is visible from the main artery, I-5, which runs north-south between Portland at the north and the California border city of Ashland. The Umpqua is a fairly vast, green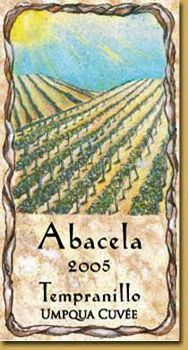 valley that features forested hills and a pace of life that is unhurried. Of the two dozen wineries that now operate here, most are owned by transplanted wine lovers from other regions, such as Earl and Hilda Jones of
Abacella
, Terry and Sue Brandborg of
Brandborg Vineyard and Winery
, and Patrick and Loree Spangler of
Spangler Vineyards
.
For the most part, they chose this area over one of the more well-known spots in California because of the twin benefits of quality and value. Studies done recently show that some 140,000 acres of land in Southern Oregon are tillable for vineyards, and of that total, some 40,000 acres are prime land that can grow superb grapes to make truly great wine.
Add to that the fact that the average cost of an acre of that land runs between $3,000 and $5,000 (most of it on the lower end of that range). Even with clearing and planting costs, potential winery owners are looking at a tiny fraction of what it would cost in Sonoma, Santa Barbara or even Monterey counties.
Thus far the success of the Umpqua has come from just about 1,000 planted acres of grapes, most of which are scattered hither and yon in varying climate regions that range from being able to make sensational dry and off-dry Riesling and
Müller-Thurgau
(at Henry Estate), Spanish varieties like
Albariño
and
Tempranillo
(at Abacella), to Bordeaux varieties like
Cabernet Sauvignon
and
Cabernet Franc
(at Spangler). And now
Reustle Prayer Rock Vineyards
has produced what Steve Reustle says is nation's first commercial
Grüner-Veltliner
.
As you can see, variety is the spice of vinous life around here, and that means lots of different things for consumers to try. It's also a handicap in that the Umpqua isn't as easy to typecast as is the Willamette Valley, which can rightfully claim it's the home of world-famed Pinot Noir.
So although the Pinot from the Umpqua shows great potential, it's not going to alter the travel plans of wine geeks looking for the latest Oregon Pinot Noir to wow their snob neighbors. But given the cost that the Umpqua vintners paid for their land, it's clear that this is perhaps the last undisturbed mecca for all types of fine wine.
All of Southern Oregon, including the warmer Rogue Valley, developed as a wine region far more slowly than its storied cousin just to the north. Part of the reason is that Willamette Valley is easier to get to from Portland, and thus tourism fueled growth early on.
Variety of Varietals is Umpqua's Pro and Con
Oddly, Umpqua's blessing - being able to ripen a wide variety of grapes so well - means that it can't pinpoint a superstar wine that can lead the district into instant world fame. And thus has it has lagged in the publicity department.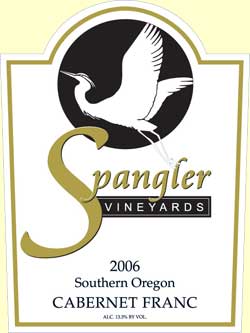 READER FEEDBACK: To post your comments on this story, click here
Print this article  |  Email this article  |  More about Umpqua Valley  |  More from Dan Berger