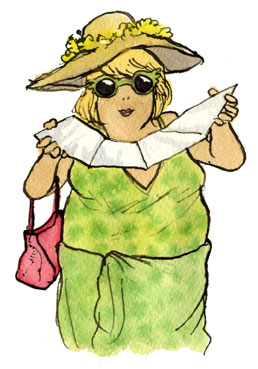 Malvasia
You've wandered around wine countries, old and new, for over two millennia in search of the perfect Mediterranean climate. Perhaps this sun worshipping has gone to your head, as you've been seen in the company of some questionable fellows. In Italy the characterless and boney Mr. Trebbiano seems to have latched onto your full figure. And in Spain your fragrant aroma has attracted the lively, but all too youthful, Mr. Macabeo. These lads seem to have abused your giving nature. In both cases your relationship has ended with you losing most of your property. So enjoy the single life on the Portuguese island of Madeira, and the good life in sunny California... places you do best.

Appellations Growing Malvasia Grapes
Appellations producing the most Malvasia wines:
Malvasia (aka. Malvasia Bianca, Malvasia Fina, Malvoisie, Malmsey)

About 2,500 acres of this ancient grape variety are planted in California, mostly in the hot Central Valley. Malvasia is a semi-classic grape of ancient, probably Greek origin. The grape is widely grown in Italy as a regional varietal, such as Malvasia di Candia and Malvasia Istriana. It is also grown in Italy's Tuscany region where it used to make Vin Santo. Along with Trebbiano it also a permitted grape in the area's most famous red wine, Chianti Classico. It is also a major grape in Spain, where it was notably the traditional base for Spain's ageworthy White Rioja. The most famous wines made from Malvasia are produced off the coast of Portugal, on the island of Madeira. Here, Malvasia is used to produce the region's best wines known as Malmsey. Unfortunately, in both Italy and Spain Malvasia has lost ground to less characterful grapes. In Italy, Trebbiano has taken over much of its acreage and in Spain it has lost ground to Macabeo. When made into dry white wine, Malvasia grapes can produce wines full in body with fragrant aromas.