---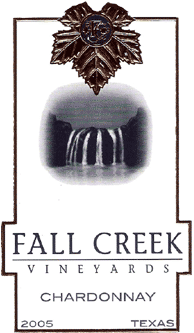 Fall Creek Vineyards
2005 Chardonnay
(Texas)


What does Texas have in common with France? Well, they are roughly the same size. Beyond that, it is hard to say. Nonetheless, winery owners Ed and Susan Auler, who founded their winery in 1975, were so inspired by their trip abroad that when they came back home, they decided to become vignerons. They started with French-American hybrid grapes and then later moved into vinifera, growing grapes on their ranch in the Texas Hill Country appellation. Situated on the northwest shores of Lake Buchanan, the vineyard receives cooling breezes, and has sandy loam soil. The combination works for a wide range of grapes.

Bright straw yellow with golden highlights and fairly viscous, the wine has an intriguing perfume of honeydew melon, violet, nilla wafer, butterscotch pudding and butterscotch hard candy. On the palate the fruit is ripe and juicy with cantaloupe, banana, mango, pear and apple. Underlying caramel notes give depth. The wine is very well balanced, and has a long, clean, fresh finish.
Reviewed July 12, 2007 by Catherine Fallis.
Other reviewed wines from Fall Creek Vineyards

Fall Creek Vineyards


2005 Merlot
(Texas)
Catherine Fallis 5/28/2007

Fall Creek Vineyards


2005 Chenin Blanc
(Texas)
Roger Dial 4/10/2007

Fall Creek Vineyards


2005 Sauvignon Blanc
(Texas)
Catherine Fallis 3/23/2007
Fall Creek Vineyards


2005 Viognier
(Texas)
Catherine Fallis 2/15/2007
---
Winery: Fall Creek Vineyards
Vintage: 2005
Wine: Chardonnay
Appellation: Texas
Grape: Chardonnay
Price: 750ml $11.99



Catherine Fallis

Founder and President of Planet Grape LLC, a company committed to bringing the joy of wine, food, and good living into the lives of everyday people, Catherine is creator of the "grape goddess guides to good living," a series of books, television presentations, seminars, and e-learning programs. The fifth woman in the world to become a Master Sommelier, grape goddess Catherine Fallis is still very much down-to-earth.