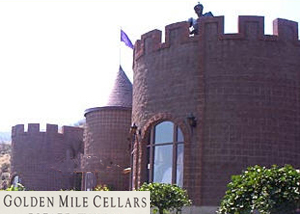 Michael Bartier is
The Okanagan Mixmaster
Winemaking by committee doesn't work. I am an autocrat when it comes to the blends. You cannot make great wines by committee. ~ Michael Bartier
by John Schreiner
October 29, 2007
---
John Schreiner (JS):
Is the varietal dying?
Michael Bartier (MB):
Blending in British Columbia used to be the domain of the winery's worst wines. Now they are becoming the winery's best wines.
Blending to me is primarily about bringing complexity; it's about bringing layers. A single varietal wine can present itself louder. But do you hear the trumpet or do you hear the symphony?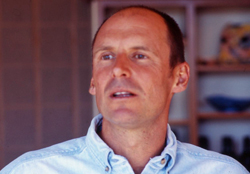 I am doing blended wines and I am doing varietal wines. In the case of my varietal wines, I use clonal differences. I am using five different clones of
Pinot Noir
. You just could not find more different wines than those five Pinot Noirs, and they go into the two Pinot Noir brands that I make.
JS:
Golden Mile is a relatively small winery (about 18,000 cases a year) and yet you ferment many individual lots in small tanks and barrels. Why?
MB:
Keeping everything separate is a winemaker's ace up the sleeve. You have great control if you can do that. I keep lots separate as they come in; and use different maceration techniques to develop further complexity. Even within a vineyard block, you would use different maceration techniques, different yeast types, different barrel types – just to create complexities. And then, I bring them together in the laboratory with a graduated cylinder and some flasks, rather than guessing and just combining them all at crush time. We only produce 10 or 12 wines a year here. There are about 150 separate wines that eventually get blended into one wine or another.
Somebody could easily accuse me of burying the varietal character of each of the varieties. And they'd be right, if that's what they prefer. But somebody who prefers the complexities of all those varieties and the different clones and winemaking techniques - I hope they will appreciate the blend more.
JS:
Discuss how you made the 5th Element and Road 13 wines.
MB:
It is a lot of work putting together these blends. That 2005 5th Element Red [a blend of 65 % Merlot, 28% Cabernet Sauvignon, 4% Petit Verdot, 2% Syrah, 1% Cabernet Franc] took several months to finish the final blend. It numbers in the hundreds of hours, given the number of lots you have to choose from. I would have had 50 or 60 to choose from.
The 2006 5th Element White [61% Viognier, 25% Orange Muscat, 14% Chardonnay] was actually a blend made of necessity. I had Viognier come in at 15.5% alcohol! How can I deal with this? I turned to some Orange Muscat that was sitting at 8.5% alcohol. Without a word of a lie, it just could not have been a better blend.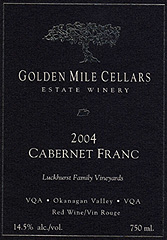 There was a bit of tweaking done. Late in the game, I added
Chardonnay
, just to bring a bit of creaminess to it. It's a good story but it is always embarrassing how I arrived at that blend.
JS:
I note that 5th Element Red won a silver medal and the white captured a bronze at the recent Okanagan Wine Festival, among numerous awards taken by Golden Mile.
MB:
Once I have pulled aside what stands a significant chance of going into my 5th Element, the other wines are a candidate for the Road 13. With the Road 13 Red, I took what was available after the top line had been blended, and came up with what I thought was a good blend, the Road 13 Red. There was some wine left over and I sold that to one other winery.
JS:
How do you assemble blends?
MB:
You bump along and you nudge the walls. You start out with a good core; and you blend up the core and evaluate what you have. Where can I strengthen it? If I need a bit more tannin, for example, I would probably blend in
Merlot
, especially some Merlot hard press.
JS:
I thought Merlot is supposed to be plump.
MB:
In the Okanagan, Merlot has outstanding structure. People often refer to Merlot as soft. In the Okanagan Valley, it is quite the opposite. That is the structure of our blends up here, where California uses Cabernet Sauvignon as the backbone of its blends. That is not because of the greater availability of Merlot here, but because of the tannic structure, texture and mouth feel that it brings to a blend.
JS:
What is the role of barrels in your blending?
MB:
I have about 700 barrels in the cellar right now and about 300 different types of barrels. It's my spice rack. They are not the tomatoes in the pasta sauce, but the thyme and the oregano and everything else. Barrels bring a lot to the blend.
JS:
Do you have a goal in mind when you blend?
MB:
It is defined by what you taste. The wine should have a sense of place. That is very important. We spend a lot of time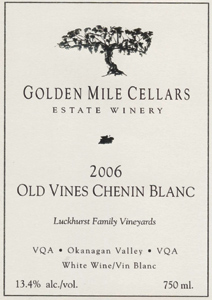 and effort growing our grapes. And this valley is very special to me. This is where I was born. This is a special patch of dirt. I want our wines to reflect that patch of dirt. I want our wines to show that they came from the Okanagan Valley.
I believe that you can always make a wine better, no matter what you are handed. Part of my job is to exhaust all avenues to make that wine better without losing the fingerprint or the character of the soil that it came from.
JS:
Do you make the blends with a team or by yourself?
MB:
Winemaking by committee doesn't work. I am an autocrat when it comes to the blends. You cannot make great wines by committee. Invariably, you will make wine towards the middle. That is not great wine. You want to make wine that is out there! People will either do back flips for the wine or they will be indifferent to it. I would rather that than everybody be indifferent to it.
---
Get a taste of Golden Mile wines. Read John Schreiner's reviews at

APPELLATION AMERICA

.