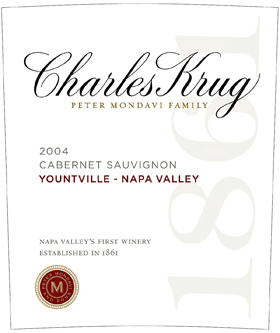 The Fall and Rise of Charles Krug Winery
An interview with Pete Mondavi Jr. reveals the story of how a Napa Valley pioneer is keeping up and going forward.
by Alan Goldfarb
June 25, 2007
---
ALAN GOLDFARB (AG):
First of all, how's your dad doing?
PETE MONDAVI (PM):
He's doing great. He has a little bit of a sore neck and back. But he gets to the winery every day. He'll taste the wines, but he doesn't formally sit down and taste the blends.
AG:
How do you, as a pioneering winery, an older winery, keep up with the changes and fickleness of the wine press and the consumer?
PM:
We've been plagued by that. What we've done – and it's a long process – we started 20 years ago to focus our portfolio and eliminate Chenin Blanc, Riesling, Gewürztraminer, Gamay Beaujolais, and Muscat Canelli and focus predominantly on Bordeaux reds. Now we've gone from one-third Bordeaux reds to two-thirds.
We've revamped the winemaking from top to bottom, revamped the barrel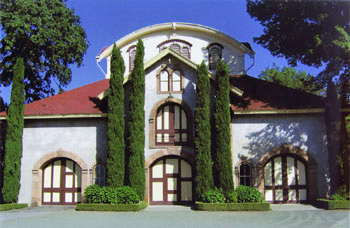 program to French. We're replanting our vineyards because they were planted in the '60s and '70s.
And we've kept our nose to the grindstone and out of the press until recent years until the wines being produced today are exceptional. We're reinventing ourselves. That's how we've combated it.
AG:
Why did you keep a low profile all this time?
PM:
We were busy bringing our wines to the next level.
AG:
Did the situation with your uncle's (Robert) family have an effect?
PM:
Not really. They are so far removed from us. There are very few parallels left: the size and the scope, and the financing. There's very little to compare about these two wineries. (But) their whole direction had a personal impact on us. We were sad to see the family get out into the public.
AG:
Among the changes, you're also going organic. What's the thinking there?
PM:
The driving factor on moving toward organic farming was the health of our local community. We've been here (beginning in 1943) since right after the repeal of Prohibition [sic]. We have kids and want them to continue, and for our workers. If a better wine comes out of it, great.
AG:
You sound dubious about the last part.
PM:
Some people are absolutely convinced that (organic farming) is going to make a better wine and I'm not going to dispute that at all. But I haven't tasted (an organic and non-organic wine) side-by-side.
(But) if you have pesticides coming into grapes, I think that would hamper the fermentation process. Unhealthy, struggling fermentation gives you off-flavors. If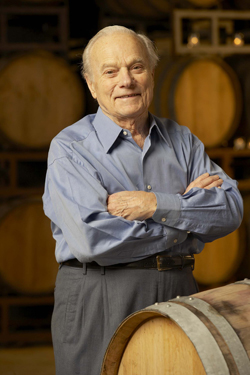 (the grapes) are healthier and robust, you'll get a much better quality wine. Even before converting, we were very sensitive (to organics). It's not a radical shift.
AG:
Will you be making single-vineyard designated wines from those vineyards?
PM:
We're just starting that, in small production. We're focusing on our Yountville properties. (They are the Slinsen and Voltz vineyard, which are both immediately south of Domaine Chandon and the Veteran's Home and are planted to Bordeaux red varieties. (See sidebar)
AG:
Why did you choose your Yountville fruit as single-vineyard designates?
PM:
They rise up to the base of the Mayacamas hills. The higher up (blocks) are Cabernet Sauvignon on rocky soils. Slinsen has always given us exceptional Cabernet. [Note: These wines will be released in '09 with the '06 vintage and priced in the $75 range.]
AG:
How much of your 80,000 case production will be given over to single-vineyard designates?
PM:
Not a huge portion. It'll be a modest, more select portion of our portfolio. We love the ability to blend across vineyards because of the complexity we can add to the wines.
AG:
Why those two vineyards?
PM:
That's when you talk terroir. It emphasizes the qualities and characteristics of that specific vineyard. It's a style of wine that may not be for everybody. Slinsen is still in process. We're still learning about those qualities, although it's been going into our reserve Cabs for awhile. It has great extractions, great color, cedar, and cinnamon spice. It's not a big fruit bomb and it tends to be well-structured and refined. With Voltz, the vineyard was originally planted to
Chenin Blanc
. We planted what we needed to plant back in the '70s. Both vineyards have many of the same terroir qualities: soils, sloping, exposure. We don't get much hot afternoon sun because they're shielded to some degree by the Mayacamas range to the west.
---
---
Charles Krug's Vineyard Holdings
CHARLES KRUG
(St. Helena) Purchased 1943, 137 acres: Originally planted in 1861, planted to Merlot, Zinfandel, Syrah, Petite Sirah and Petit Verdot in gravelly, well-drained soils. Sauvignon Blanc is planted in clay loam. Also

planted here are Carménere and Carignan. A vineyard-designate will be produced from the Zinfandel from here.
LINCOLN
(Yountville) 1966, 91 acres: Krug's oldest Cabernet, as well as Cabernet Franc and Petit Verdot. The soils are sandy and rocky.
VOLTZ
(Yountville): 1971, 106 acres: Cabernet Sauvignon, Cabernet Franc, Merlot and Petit Verdot grown in rocky soils.
SLINSEN
(Yountville) 1968. 58 acres: Cabernet Sauvignon, Merlot in rocky, shallow soil.
FRACCHIA
(Yountille) 1971, 132 acres: This former pear orchard lies on the Napa River floodplain. The vineyard is currently in a resting state (fallow).
HOMEFINDER'S
(Yountville) 1969, 30 acres: Adjacent to the Napa River, the river has influenced this particular vineyard through decades of flooding and deposits of riverbed silt. Planted to Cabernet Sauvignon.
PAGE
(Yountville) 1974, 75 acres: Deep clay loam soils of the valley floor, Page can be dry-farmed in most years, and produces Cabernet Sauvignon, Cabernet Franc, Petit Verdot, Petite Sirah and Malbec.
WILLOW LAKE
(Carneros) 1968, 169 acres: Cool climate grows Chardonnay, Pinot Noir and Merlot. Shallow, nutrient-poor soils tucked within rolling hills.
COLD SPRINGS
(Howell Mountain) 2003, 59 acres: Will eventually comprise 33 acres planted to various selections of Cabernet Sauvi